Light Speed Slot Introduction
The Light Speed slot machine is a three reel, single payline slot game from Real Time Gaming. Popular for players of all levels, Light Speed features a wild symbol, a bonus round, and an impressively large progressive slot machine jackpot!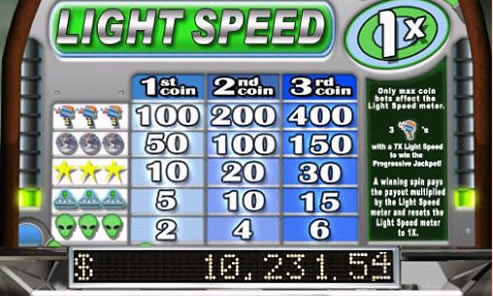 How To Hit the Light Speed Slot Machine Jackpot
A progressive slot machine jackpot is awarded during Light Speed's bonus game. Only players who wager the maximum bet of  $2.25 are eligible to win. The Light Speed slot machine jackpot is awarded when a player has seven Light Speed meters on the screen and three Light Gun symbols appear on the payline.
How To Play the Light Speed Slot Game
Although alien-themed, the Light Speed slot game is fairly simple to understand:
The game begins with a player inserting coins ranging from $0.25 to $0.75 – with the maximum wager being 3 coins.
The player then hits the start button, revealing the regular symbols: alien, earth, spaceship, star and laser gun. Plus the wild symbol, the Robot, which takes the place of regular symbols to complete a winning combination.
Light Speed also has a bonus feature available to players who wager three coins on a spin – all three coins being at the maximum value of 75 cents. The bonus feature is in the form of a Light Speed Meter that appears on the side of the game:
When the player sees a Light Speed symbol appearing in a spin, the Light Speed Meter will increase by one bar up to a maximum of 7 bars. The Meter is reset when the player triggers a winning combination on the reels. Each bar on the Light Speed Meter represents a multiplier, which ranges from 1x to 7x.
With its excellent graphics and sounds, the Light Speed slot game transports players into an awesome space adventure – with an impressively large progressive jackpot to boot. To learn even more, check out our slot machine jackpot tips!
Best Online Casinos To Play Light Speed Slot Game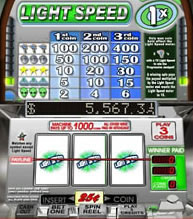 Players can enjoy playing Light Speed at the online casino listed here:
You may also be interested in the following slot machine games: