Mega Money Mine Slot Introduction
The Mega Money Mine slot machine features a single payline game with three spinning reels. Developed by Vegas Technology, Mega Money Mine is very fun and simple to play, offering a progressive slot machine jackpot to boot!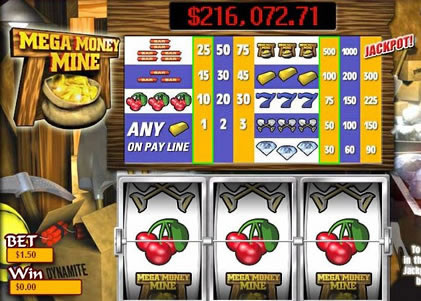 How To Hit the Mega Money Mine Slot Machine Jackpot
The Mega Money Mine slot machine jackpot is progressive, so the value increases every time a player inserts a coin into the game – with this increasing value always on display in playing screens for reference.
The Mega Money Mine progressive slot machine jackpot starts at 2,000 coins, and is won when a player bets the maximum $4.50 wager (three coins) and gets three Mega Money Mine symbols in a spin.
Only players who have the maximum wager of three coins are eligible for the progressive jackpot. However, with a wager of one or two coins, players can win 500 and 1000 coins, respectively.
How To Play Mega Money Mine Slot Game
Since there are no extra features, the Mega Money Mine slot game is very simple to understand and play. Here's how to play the fruit-themed Mega Money Mine slot machine:
Players can buy $1.50 coins from the casino and wager either $1.50, $3 and $4.50 on a single spin. Depending on the combination on the payline after the spin, the player's payout is determined.
Apart from the jackpot winning combination, the game has eight winning combinations for any given wager.
While most symbols have a payout only if they appear three times in a spin, the gold symbol has a payout when it appears once, which is worth 1 coin to the player on a one-coin wager. Incidentally, this is also the symbol with the second highest payout of 100 coins on a one coin wager, when it appears thrice on a single reel.
Other symbols to look out for include the blue seven, cherry, shovel, the 1, 2 bar symbols, and the diamond symbol.
Best Online Casinos To Play Mega Money Mine Slot Game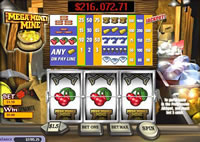 Players can enjoy Mega Money Mine slot games at these trustworthy slots casino sites:
Players may also enjoy these other Vegas Technology slot machine jackpot games: