Pharaoh's Gold Slot Game Introduction
The Pharaoh's Gold slot game features a single payline, three spinning reels, and a progressive slot machine jackpot. Developed by Real Time Gaming, Pharoah's Gold is very simple to play when compared other popular online slots.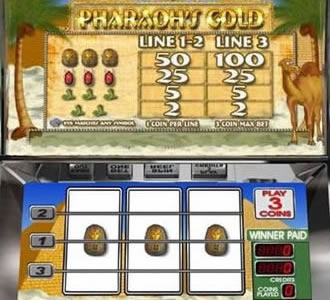 How To Hit the Pharaoh's Gold Slot Game Jackpot
The Pharaoh's Gold slot machine jackpot is connected to Real Time Gaming's extensive network of online casinos, so the progressive value of the jackpot increases with every coin inserted into the game within the network.
To win the Pharoah's Gold progressive slot machine jackpot, a player must wager a maximum bet of three coins on a single spin, and hit the winning  jackpot combination – three Sarcophagi (mask) symbols.
The value of the jackpot is always displayed on the game screen. There are many players around the world logged on to play Pharaoh's Gold, so the value of the jackpot is usually high. When the jackpot is won, the value is reset to the minimum.
How To Play Online Pharaoh Casino Slots
With only three reels and a single payline, the Pharaoh's Gold slot machine offers straightforward play that's suitable for beginner and professional slots players alike.
The game can be played with coins of value from $0.05 to $5, which are available at the online casino.
Players can wager up to three coins per spin. Generally, bigger wagers increase your chance of winning the jackpot.
There are three regular symbols in the game: the Green Cobra, the Pharaoh and Scarab symbols. These symbols all have a payout when they appear three times in the reels – with the one exception of the Green Cobra symbol that has a payout for two symbols in the payline.
The special feature of the game is the wild symbol, which is the Eye of Horus. This wild symbol is not a multiplier, but it can appear anywhere on the payline – taking the place of any missing symbols for a winning combination.
Want to learn even more? Click on this link to learn 5 Tips for New Slots Players!
Best Online Casinos To Play Pharaoh's Gold Slot Game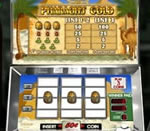 Players can enjoy playing Pharaoh's Gold at these trustworthy online casinos:
Players may also be interested in the following slot machine jackpot games from RTG: