The Shark slot machine is a 5 reel, 9 payline video slot game from Real Time Gaming. The Shark features an underwater-themed adventure, and offers two bonus rounds, plus a progressive slot machine jackpot with 20 winning combinations!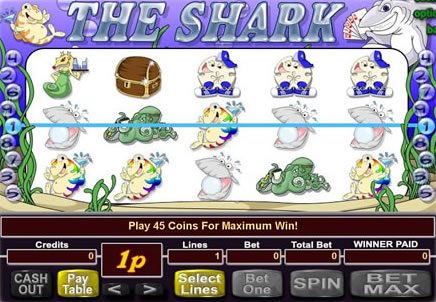 How To Hit The Shark Slot Machine Jackpot
The Shark slot machine features a massive, progressive slot machine jackpot that starts at a value of $1,000, and then progressively increases with every player who pays to play The Shark slots game online.
In order to win The Shark progressive slot jackpot, slot players must wager the maximum bet of 45 coins (only $0.45), and then achieve five of the Starfish symbols on any activated payline.
For easy reference, the jackpot's current total is displayed at the bottom of  The Shark slot game's main screen. Whenever a player wins this jackpot, the value is reset back to game's minimum jackpot value of $1000.
How To Play The Shark Slot Game
4The Shark slot machine is developed by Real Time Gaming. Along with a massive progressive slot machine jackpot, The Shark features an underwater theme, bonus payouts, and more. Here's how to play:
Main slot symbols are a Clam, Octopus, Rainbow Fish, Treasure Chest, Starfish, Sand Dollar, Sea Horse, and Shark.
As a penny slot, The Shark coin value is fixed at a low $0.01, with the max wager on each spin being 45 coins ($0.45).
Each symbol has a payout when it appears three or more times in an activated payline.
The Starfish, Sand Dollar and the Sea Horse offer extra payouts when they appear twice in an enabled payline.
As the name suggests, bonus payouts are triggered when three Shark symbols appear in an activated payline.
Players can also win up to 2,700 bonus coins when three scattered Treasure Chest symbols appear in a spin. Here after, players are given the chance to guess if a given card is higher or lower than the previous one. If correct, the player wins a random bonus that's displayed behind the Treasure Chest symbol.
Check out this page to learn how to win online slot machines like The Shark!
Players may also be interested in the following slot machine jackpot games from RTG: