The Triple Seven Inferno slot machine is a classic 3 reel, single payline video slot game from Real Time Gaming. Featuring a progressive slot machine jackpot, the Triple Seven Inferno has become one of the most popular RTG slots online today!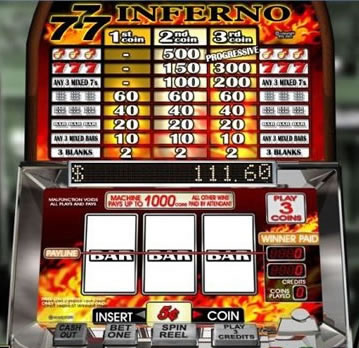 Play This Slot Machine Now - Visit Our Top Rated Casino
How To Hit Triple Seven Inferno Slot Machine Jackpot
The Triple Seven Inferno slot machine offers a progressive slot machine jackpot. This means that the value of the jackpot will continually increase with every coin that is played into it (across a network of online casinos).
The winning combination for the progressive Triple Seven Inferno slot machine jackpot is three Fire 7 symbols, when the player is betting the maximum wager of three coins (a total of only $15).
For easy reference, the jackpot's value is displayed at the top of the screen. Whenever a player wins the jackpot, all the players are notified, and the value of the jackpot is reset to a specified minimum value.
How To Play Triple Seven Inferno Slot Game
The Triple Seven Inferno slot game does not require much prior knowledge of how to play the game. Since the progressive jackpot could mean some hefty prizes, the game is also tempting for professionals as well as beginners.
Players who are unsure of the game can choose to play the free version, which is for trial purposes only. Players who gamble with real money only are eligible to win the prizes associated with the game.
The coin values in range from $0.05 to $5, and with a three coin limit – meaning that the maximum wager in the game is $15, which makes it suitable for low and mid rollers.
Unlike other classic slot games, players have the same payout amount, no matter how many coins they wager when the winning combinations is on the bottom half of the payout table.
When a player spins ANY three 7 symbols in a spin, then there is no payout when the player wagers one coin, and the payout for two and three coin wagers varies greatly.
Check out this page to learn how to win online slot machines like Triple Seven Inferno!
You may also be interested in the following slot machine jackpot games from RTG: