10 Reasons Online Casinos Trump Land-Based Casinos
"Without gambling, I would not exist." – Hunter S. Thompson
The gambling industry has changed dramatically since the 1990s. Twenty years ago, if you wanted to play blackjack, craps, roulette or slots, you'd have to drag yourself to a local casino. If you didn't live near one, you had two options:
Option 1: jump on a plane headed for Las Vegas or Atlantic City.
Option 2: forget about gambling.
Not so today. You have a third option. And it's one that more and more people are choosing every day.
You can place wagers at an online casino. Risk real money and win real money. Places like Bovada Casino and Slots.lv host your favorite games online so you can play them while relaxing at home.
There are a lot of reasons to love internet gambling sites. They upstage traditional, land-based casinos in countless ways. Let's take a look at the 10 most important ways below.
10 Reasons Online Casinos Are Best
#1 – You Can Play At Home
You can lounge on your couch and play Baccarat or slots on your smartphone. You can settle into your La-Z-Boy and bet on blackjack or Pai Gow.
Of course, the ability to enjoy your favorite casino games at home is more than just a matter of comfort. It's a matter of convenience.
For example, suppose you just want to play a few rounds of Let 'Em Ride. Visiting a land-based casino, even a local one, is out of the question. It takes too much time and effort. But firing up your browser and logging into your account at Bovada? You can do that in seconds.
Also, you can multitask. Watch television while playing roulette. Check your email between hands of blackjack. Or get on Skype with a friend while playing craps. You're not sitting in front a dealer who expects your undivided attention.
#2 – You Can Play On Your Phone
The best gambling websites allow you to play their games on your phone. That means you don't even have to be at home to enjoy them. All you need is an internet connection.
Play a few hands of blackjack while waiting for the bus; place a bets on roulette while waiting in line at the movies; try your luck at video slots while taking a short break at the office.
Mobile gambling has made land-based casinos all but irrelevant to today's home-based gambler.
#3 – Better Selection Of Games
The biggest casinos offer hundreds of games. But outside Vegas, Reno, Atlantic City and a few other U.S. cities, such venues are rare. Most are smaller with a smaller number of slot machines and table games.
Maybe you can find your favorite games. Or maybe not. It's a toss-up that varies from venue to venue.
Online gambling sites have much more flexibility. They can offer hundreds of slots and table games because they're not constrained by real estate. The result? You'll almost certain to find your favorites. Want to play Three Card Rummy, Golden Gorilla (video slots) or Double Double Jackpot Poker? Head over to Slots.lv. Are you in the mood for Sudoku, 80-ball bingo or European blackjack? No problem. You'll find them at Bovada.
Will you be able to find your favorite games at Bellagio, Foxwoods or Bally's? Maybe, maybe not.
#4 – You Don't Have To Move
Imagine this: you're at a traditional casino. You've parked yourself in front of a 5-reel slot and have been sitting there for an hour. You're ready for a change. In fact, you're itching to play blackjack. So you collect your winnings, climb off your seat and trudge over to the nearest blackjack table.
After you've had your fill of blackjack, you're ready for another change. You gather your chips, climb off your seat and start looking for a craps table. Then, roulette. Then, Pai Gow.
And on and on it goes as you switch from one game to the next.
You never have to move when you play at an online casino. With a couple clicks, you can switch from slots to blackjack and blackjack to craps and back again.
You'll probably want to stand and stretch your muscles every once in awhile to get your blood flowing. The point is, you don't have to get up every time you want to play a different game.

#5 – Lower Minimum Bets
Ever been to Bellagio in Vegas? The minimum bet amount for blackjack is $10. That's during the week. Once Friday night arrives, the minimums are bumped to $15. And those seats go fast, leaving you to compete for seats at tables with a $25 minimum bet.
That's normal for the Vegas Strip. At some casinos, such as the Wynn, it's tough to even find $15 blackjack tables during the week.
If you have a huge trust fund, this isn't a problem for you. But if you're like most of us, you don't want to risk $25 a hand – at least not at the outset. You want to enjoy yourself and make your money last.
At online gambling sites like Bovada and Slots.lv, you can wager as little as $1. It doesn't matter whether you're playing Pai Gow, craps or Tri-Card Poker. The minimum bets are a fraction of what you'll find in a traditional casino.
#6 – You Can Play With "Fake" Money
This is something you definitely won't see in Vegas, Atlantic City or Reno. When you play online, you can do so without risking a penny. Every online casino worth its salt will let you play its games with "fake" money.
Suppose you want to warm up before putting your money on the line. No problem. Play a few practice rounds to find your groove. Or suppose you're learning the ropes on a new game and want to make sure you know what you're doing before betting real cash. Play for free until you're comfortable.
You won't have this opportunity at a land-based venue. Ask a pit manager at your local casino if you can play craps, roulette or slots for free and watch his expression.
#7 – Big, Frequently-Paid Progressive Jackpots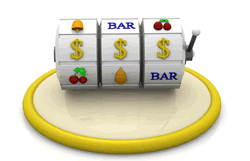 When was the last time you heard about someone winning a huge progressive jackpot at a traditional casino? It happens. But it doesn't happen very often.
Online, it's more common.
A lot of online gambling sites are connected to each other via a vast network. Each time someone bets and loses on a game attached to a progressive jackpot, a portion of his or her bet is added to a fast-growing bucket. See the updated progressives currently at Slots.lv and you will see what I mean.
The buckets grow quickly as tens of thousands of people log on from their homes to play their favorite slots online. If the random number generator (RNG) hits when you "pull" the virtual lever, you stand to receive a life-changing payout.
#8 – No Annoying Casino Guests
You've seen them. You know who I'm talking about.
The guy who sits at the blackjack table and obnoxiously talks everyone's ears off…
The lady who asks the craps table boxman for help every time someone is about the throw the dice…
The blue-haired lady who hovers over your shoulder because you had the audacity to sit down at "her" slot machine…
You'll meet all kinds when you visit a traditional casino. For better or worse.
When you play at home, you're insulated from these "interesting" personalities. You don't have to deal with their shenanigans. Instead, you can enjoy your favorite slots and table games in the peacefulness of your living room.

#9 – You Can Play At Your Own Pace
In a land-based casino, you're at the mercy of the dealer. He or she determines the pace of a game. And you can bet that individual has been trained to deal as many hands as possible.
Remember, casinos have an edge on every game. That's how they make money. The faster the pace of play, the more money they earn. So they try to quicken the pace wherever possible.
That's a problem if you have a limited bankroll (and frankly, all of us have a limited bankroll). A bad stretch at a craps table can easily eat through $1,000.
When you play at Bovada Casino, Slots.lv or any other legitimate gambling website, you control the pace. There's no dealer glaring at you for slowing things down.
If you're playing blackjack and want to consult your cheat sheet before deciding whether to hit or stand, you can do so without pressure. If you're playing craps and want to know the odds on the hardway bets, you can Google them in the middle of your roll. If you want to take a moment to stretch, do it.
You call the shots.
#10 – Generous Bonuses
Online casinos offer big bonuses to new and existing players. New players can receive thousands of dollars in incentives just to register accounts and make deposits. Once they've become registered members, they're given weekly incentives to boost their gambling activity.
The bonuses come with strings attached. For example, you're required to bet a certain multiple of your deposit plus bonus before you can withdraw your money. But play your cards right and the bonuses can help you swell your bankroll.
There are a lot of other reasons that online gambling sites like Bovada and Slots.lv are superior to land-based casinos. But the 10 reasons above are the most salient and compelling.
If you've never experienced online gambling from the comfort of your home, now's a perfect time to give it a test drive. Stick to my short list of legitimate online casinos and find out what you've been missing!
Ready To Give It A Try?