Highest and Lowest House Edge
Highest and Lowest House Edge Card Games
There are two pieces of information that can both enlighten a casino game player as to the makeup of any game that is going to allow them to base their decisions on which games offer them the best chances of winning.
The first is something known as the payout percentage, you will find slot games and video poker games offered at all online casino sites will have a payout percentage displayed or published somewhere on that game, it may be displayed on the pay table or in the games help files, and this payout percentage is the amount of cash that a player can expect, over the long term, to get back in winning's as a percentage of the stakes wagered.
The second piece of information is something known as the house edge of a casino game, and this is basically just another way of enlightening a player on their winning chances of playing a casino card game, however, the house edge of any casino game instead of showing how much a game will payout it shows how much money a casino is going to be expecting to make, over the long term from a casino card game.
Therefore much like a slot player will be religiously looking around for slots boasting the highest payout percentages a casino card game player is going to be looking for card games boasting the lowest house edges, and below we are going to introduce you to the Microgaming software powered card games which are playable due to their low house edges and also their games which are not worth playing due to their high house edges!
Microgaming's Five Lowest House Edge Card Games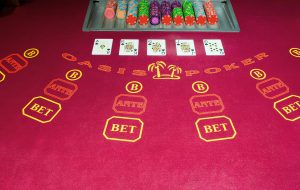 Below are Microgaming's lowest house edge card games, it is worth noting that you are going to find it is their Blackjack games which offer the very lowest house edges. So however tempting any other casino card game looks when you are scrolling through the card game menu in a Microgaming casino site the following games are the only ones you should consider playing!
Classic Blackjack – What other Blackjack game could you possibly ever need to play once you learn that the Microgaming designed Classic Blackjack game has a house edge of just 0.13%, this is the only game offering such a house edge and once you start to compare it will all of Microgaming's other card games listed below we just know this is the variant you will opt to play!
However, before you start to play remember that the listed house edge on this and all other Microgaming games is based on players putting into play perfect strategy, and if you veer off playing perfect optimal strategy then you are going to be increasing the house edge by making game playing errors!
Vegas Single Deck Blackjack – There is a very noticeable increase in regards to the remaining house edges on Microgaming's range of Blackjack games once you get past the above named game and as such if the Vegas Single Deck Blackjack game from Microgaming has caught your eye then be aware this games house edge is some 0.35%.
Vegas Strip Blackjack –The world famous Las Vegas Strip is certainly one place where you will find plenty of Blackjack game variants on offer, and much like that gambling Mecca in the desert Microgaming's version of the game which is based on this variant boasts a house edge of 0.35%.
Atlantic City Blackjack – Whilst Microgaming's Atlantic City Blackjack game variant has a house edge of some 0.36% you will often find yourself put off playing it especially with their extremely low Classic Blackjack game so readily on offer!
Spanish Blackjack – The final lowest house edge card game which you will find offered at all Microgaming powered sites is their unusually structured Spanish Blackjack game, please do checkout the bonus payouts attached to this game as they do affect the playing strategy you will have to adopt to get the games listed house edge of 0.38%!
Microgaming's Five Highest House Edge Card Games
To enable you to avoid playing any Microgaming software powered casino card game that gives you a very low chance of winning due to the high house edge attached to that game, below are the five lowest paying card games offered at Microgaming powered casino sites.
Super Fun 21 – One Blackjack game which has found itself listed here on the highest house edge section of our card game guide is Microgaming's Super Fun 21 Blackjack game, and with its house edge of 0.94% you will certainly not wish to play this Blackjack game variant especially have just read how low the house edges are on their other variants!
Baccarat – There are quite a number of different variants of Baccarat available to play at Microgaming powered casino sites, and as such you will come across their original Classic game and some graphically enhanced Gold Series variants, however as the games all play to the same rules and boast the same payouts the house edge on Microgaming's suite of Baccarat games is some 1.29% on the Player Bet and a massive 15.75% on the Tied Bet and whilst the former is not that low there are plenty of better valued card games more readily on offer!
Triple Pocket Hold'em Poker – Surprisingly one of the newer card games that Microgaming have launched also boasts an unattractive house edge, from a players point of view and this is their casino poker game of Triple Pocket Hold'em Poker on which the house edge is some 2.26%.
Cyberstud Poker – Another casino card game that you will certainly not wish to queue up to play is the Cyberstud Poker game on which due to the games playing format and payouts you will find a very high house edge of 2.46%.
Poker Pursuit – As is often the case it is the oldest casino card games that Microgaming have had available at casinos using their software platforms that offer some very high and unappealing house edges and one such game is their Poker Pursuit game which is one to avoid due to its high house edge of 2.91%.
If Slots are more your thing check out your chances of winning a slot game jackpot!