Can't decide whether you want to play a dice game or scratch cards? With the new Scratch Dice game, you do not need to make that decision. This game combines aspects of both to provide you with an easy, fun, relaxing gambling experience and the chance to win big.
This 101 guide will introduce you to the rules of Scratch Dice, how to play it, strategies and more. We also will tell you which online casinos are offering this thrilling new game!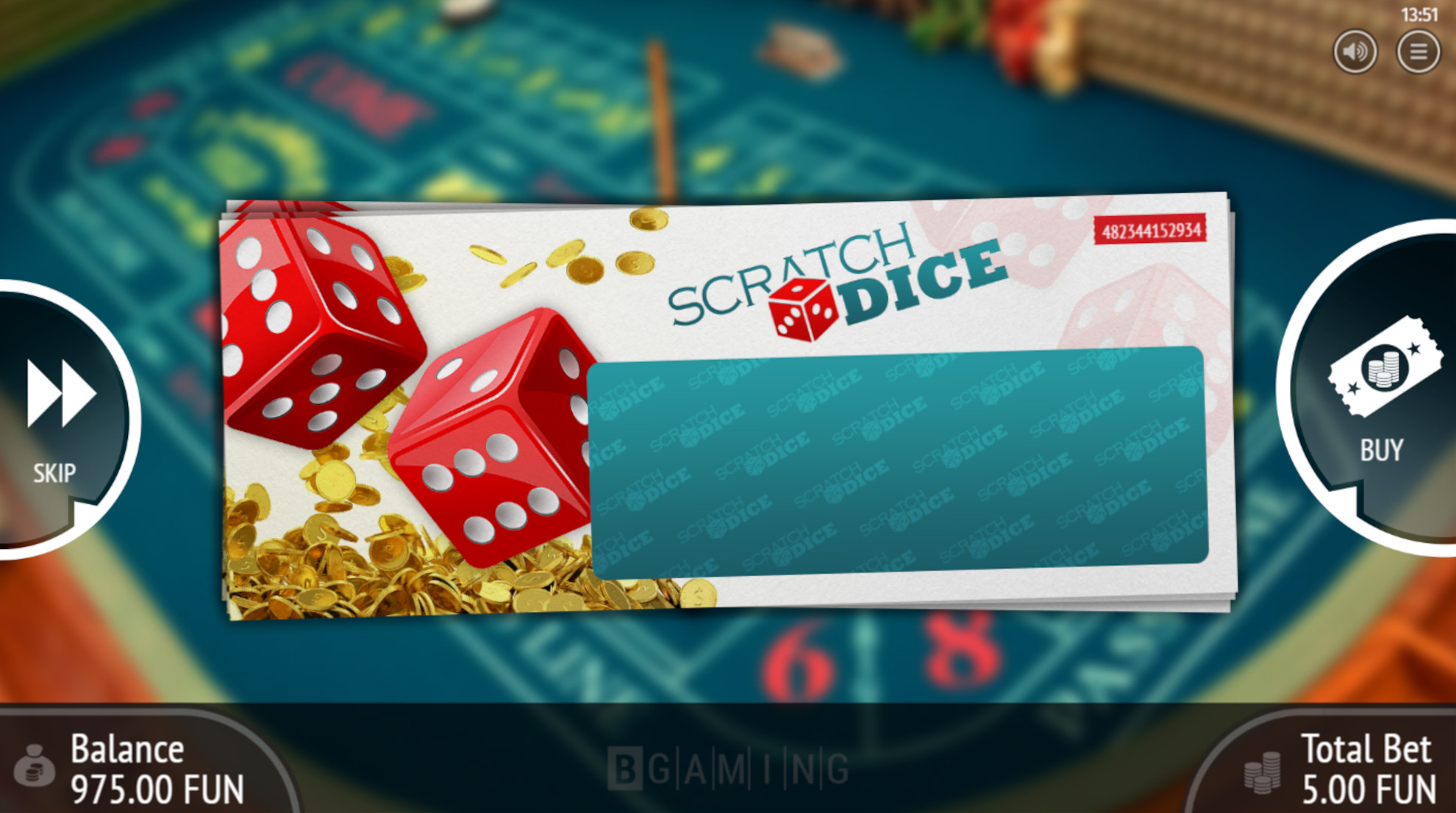 What is Scratch Dice?
Scratch Dice is a game of chance by BGaming that was designed especially to appeal to mobile online casino players. Although it is a mobile-first experience, you can also enjoy playing it on a desktop or laptop.
The official description at Bovada reads, "Prepare for the ultimate in online betting excitement with the simply yet elegant casino game, Scratch Dice. This mobile-first game takes the exhilaration of scratch-off lottery tickets and combines it with the thrill of a real-money dice game, ensuring non-stop fun on your smartphone or mobile device. Brace yourself for some fast-paced action as you roll the dice and scratch your way to some colossal cash prizes."
Where You Can Play Scratch Dice
Here are the online casinos we recommend that are offering the Scratch Dice game.
Cafe Casino
Cafe Casino is an exciting online casino that is constantly adding new games. Among the most recent additions is Scratch Dice!
When you sign up to play at this site, you can claim a $2,500 Welcome Bonus. Other promotions include the Weekly Mystery Bonus, Crypto Exclusive, Cafe Casino Perks, and Hot Drop Jackpots.
Bovada
Bovada is one of the top online casinos and sportsbooks for customers in the US. Their huge game selection now includes Scratch Dice.
You can get a $3,750 Welcome Bonus when you open your new account at Bovada. You can also enjoy a 100% Poker Welcome Bonus, Free Spin Bonanza, the Super Millions Poker Open 2023, and the $5K in Crypto Monthly Contest for Crypto Miner. While you play Scratch Dice and other games, you also will earn cash-back through your membership in Bovada's Rewards Program.
Slots.lv
While Slots.lv may be named in reference to its huge selection of slot games, this site boasts plenty of table games and specialty games. Scratch Dice is now one of them.
When you sign up to play at Slots.lv, you can get a Welcome Bonus for your First 9 deposits. If you deposit using crypto, you can get $7,500 in Bonus Funds. If you use a different deposit method, then you can get up to $5,000 in Bonus Funds.
Why You Will Love Scratch Dice
Here are some reasons to try the Scratch Dice game:
A fun new game:

Scratch Dice is something brand new to enjoy. If you have been getting tired of playing the same old thing over and over again, you will appreciate the novelty.

Combines elements of games you love:

For gamblers who cannot get enough of scratch cards and dice, having the chance to experience a game that merges the two together is a blast.

Easy to learn:

It only takes a few minutes (at most) to learn how to play Scratch Dice. A lot of players will understand the game in seconds. So, there is no learning curve; you can just jump right in.

Effortless to play:

There are almost no decisions to make when playing Scratch Dice. For every ticket, you just choose whether to scratch it or skip it. And since the game is purely random, there is no way to know in advance which decision will pay off. So, you can play the game mindlessly without strategy.

A chance for high payouts:

If you trigger a Gold Ticket, and then get a winning combination, your payout can be very high. In fact, the highest payout is x180! Even with small stakes, that means that hefty rewards are possible!
Scratch Dice Rules
Each ticket you scratch will reveal a combination of 3 dice faces.
The pips on each die face can have anywhere between 1 and 6 pips.
Winning combinations result in a payout according to the pay table. The winning combinations are series of matching dice faces (i.e. 1-1-1, 4-4-4, etc.).
If you get a straight (the rules say "Street" which may be a typo) with ascending values, i.e. 1-2-3, 4-5-6, etc., this triggers a Gold Ticket.
There is a separate payout table for Gold Tickets with higher multipliers than those in the regular table. The winning combinations are the same as they are with a regular ticket, but they pay more.
That's it! Below, we explain step-by-step how you can play scratch dice.
How to Play Scratch Dice
Load up the Scratch Dice game at one of our recommended online casinos.

You will find yourself looking at a screen that shows a blurry image of a casino table in the background. In the foreground, you will see an image of a "ticket." On the bottom, you can see your current balance and your total bet amount. Make sure to set the amount you would like to bet.

There are two important buttons: On the left, is a "Skip" button. On the right is a "Buy" button.

Decide whether or not you want to "buy" the virtual ticket you are looking at.

At this point, you have not staked anything on this particular ticket. If you prefer, you can discard it.

If you want to place a bet on the ticket and scratch it off, then click or tap on "Buy" on the right-hand side of the screen.

If you want to skip the ticket, then tap or click on "Skip" on the left-hand side of the screen. If you choose this option, the current ticket will be discarded, and the game will present you with a new ticket which you may then either skip or buy.

Once you click "Buy," the game will execute your wager on the ticket.

You now "own" the ticket and can scratch it off.

The game gives you multiple options for how you can scratch off the ticket:

If you have a touchscreen, then you can gently rub your finger over the screen to "scratch" off the ticket and reveal the dice faces (obviously, you should not literally scratch your screen).

If you have a mouse, then you can click and drag the cursor around on the ticket to scratch it off.

If you just want the quick and easy option, you can tap or click on "Reveal" on the right-hand side of the screen to instantly scratch off the ticket.

Now, you find out whether you won or lost. Click on "New Ticket" to get another ticket that you can scratch off or discard.
Is Scratch Dice a Game of Chance?
Yes, Scratch Dice is a game of chance. It is similar to playing a lottery. Each time the game generates a new "ticket" for you and you scratch it, a random number generator (RNG) determines which numbers appear on the dice faces. So, whether you win or lose the game is 100% based on luck.
If you want, you can also visualize it as being similar to a slot machine, or a simple game where you are rolling dice out of a cup. No matter how you want to look at it, there is no skill involved.
Don't forget that if you choose to go over to
Slots.lv
to check out the
Hot Drops Jackpots
where there's
Guaranteed Hourly Jackpots
on some popular slots!
If you like games that take little to no thought to get into, why not check out
How To Play Go-Go Bingo
!
Scratch Dice Pay Table
Below, you can view the pay tables for scratch dice. This first table is for the regular scratches/rolls.
| Roll | Pays |
| --- | --- |
| 1-1-1 | x10 |
| 2-2-2 | x15 |
| 3-3-3 | x20 |
| 4-4-4 | x25 |
| 5-5-5 | x30 |
| 6-6-6 | x40 |
The table you see below is for when you trigger the Gold Ticket.
| Roll | Pays |
| --- | --- |
| 1-1-1 | x30 |
| 2-2-2 | x60 |
| 3-3-3 | x90 |
| 4-4-4 | x120 |
| 5-5-5 | x150 |
| 6-6-6 | x180 |
As you can see, those are some pretty epic payouts!
What is the House Edge in Scratch Dice?
BGaming does not specify the house edge for scratch dice, but here is the return table for the game:
| Event | Pays | Combinations | Probability | Return |
| --- | --- | --- | --- | --- |
| 1-1-1 | 10 | 1 | 0.004630 | 0.046296 |
| 2-2-2 | 15 | 1 | 0.004630 | 0.069444 |
| 3-3-3 | 20 | 1 | 0.004630 | 0.092593 |
| 4-4-4 | 25 | 1 | 0.004630 | 0.115741 |
| 5-5-5 | 30 | 1 | 0.004630 | 0.138889 |
| 6-6-6 | 40 | 1 | 0.004630 | 0.185185 |
| Straight | 2.916667 | 24 | 0.111111 | 0.324074 |
| All Other | 0 | 186 | 0.861111 | 0.0 |
| Total | | 216 | 1 | 0.972222 |
So, 97.22% is the overall RTP, and the house edge is 2.78%.
What Strategy Can You Use to Play Scratch Dice?
Some players might be interested in taking a strategic approach to playing Scratch Dice, hoping that there is some way they can increase their chances of winning.
But there is no way to do that. Remember, a random number generator determines whether you win or lose at Scratch Dice. You cannot influence that process. There is no connection between the tickets, either. Every time you scratch one off, it is an independent event. So, there is no causal "pattern" to identify, no way to determine what will happen next based on what happened before.
Plus, you are literally not even making any decisions during game play, aside from how much you stake and whether or not to skip any particular ticket. There is no "technique" involved in scratching off a ticket. You just do it.
What about the strings of digits you see in the upper right-hand corner of each of the tickets? Those are not meaningful. They, too, are purely random. Some players may be tempted to try and find a pattern revealing a connection between the numbers and the scratch-off results, but you will not find any. You can just ignore these strings of digits.
If you are going to focus on anything, it should be money management. Do some math to figure out how many tickets you want to be able to scratch before you run out of money, and then set your stake sizes so that your bankroll can last long enough for you to have all the fun you want.
Play Scratch Dice Now
To experience the perfect blend of scratch cards and dice games now, click on any of the links in this post to visit one of our recommended online casinos. When you sign up for your account, you can claim your welcome bonus, after which you can start playing Scratch Dice and other fun games.
You May Also Have Some Interest In These As Well