Bingo.
We know what you may be thinking. "Bingo? What am I, 80 and just waiting to die? And who doesn't know how to play Bingo?"
For a quick second, we want to agree with you as we thought the same thing for a moment! However, when checking out the game Go-Go Bingo over at CafeCasino we realized that we were kind of wrong! (If you finish this article and want to go and check it out, it's under Cafe's "Specialty Games" menu!)
This isn't your grandma's bingo with the dobbers and the lucky troll dolls. Nope. This is quick, kind of addicting, takes virtually no skill, and then most important thing – there's actually some money to be won!
B – I – NGO
Back in the days of the dinosaurs, when the pilgrims showed up to teach the Native Americans how to play Bingo, it went like this.
The player would be given a card with random numbers. A caller would then call out numbers, usually based on a drawn ball. If the player had that number on their card the number would be marked off and so on, until a certain pattern was revealed, hopefully before another player had the winning pattern.
We are going to go ahead and assume that you remember all of this from your childhood, or from last week at the local Bingo hall, depending on what you like to do in your spare time, so let's get on with how to play Go-Go Bingo!
And Bingo Was His Name-O
While there are some similarities between Go-Go Bingo and plain old everyday Bingo, there are enough differences to keep stuff interesting.
When you start a game of Go-Go Bingo, you will be given 4 cards. On these 4 cards, you will not have the usual 5×5 playfield, but rather a 5×3 field with 5 numbers going across and 3 numbers going down meaning that each of your cards has a total of 15 numbers on it, (there is no "free-space" here!) These are the numbers that are going to be available to you:
Column B = 1 – 12
Column I = 13 – 24
Column N = 25 – 36
Column G = 37 – 48
Column O = 49 – 60
Now as for what to do to win some moolah!
We discovered and tried out Go-Go Bingo over at
CafeCasino
. If you were to go there and join up right now you could get yourself a
350% Welcome Bonus
of up to
$2500
just for joining up!
If you're on the fence and wondering if it's even worth Gambling Online in 2022,
check this out
!
How To Play-O Some Bingo
The first thing you'll do is decide how much you'd like to bet to start off with. While playing at CafeCasino, your choices will be $0.40, $1, $2, $4, $8, or $20.
Once you decide how much to start with you're given your 4 cards.
Hot Tip

When you first get started, if you do not like your cards for whatever reason just click on one of the cards. They'll shuffle and you'll get new ones. Keep in mind that you cannot decide you just don't like one of the cards. If you shuffle, all 4 of them will change!
So now you've decided how much you'd like to bet and you've got the cards that you're happy with. Now just hit the giant "Play" button in the middle of the screen.
At this time a total of 30 numbers are drawn and automatically put on the cards for you. Hopefully, there are some winning patterns made at this point!
The numbers that were put on the board for you are now highlighted so that you can keep track of them.
Any "missing numbers" that could be part of a winning combination are now also marked in a way so that you could see some things:
Exactly what number(s) you would need for a winning combo
How much money the missing number(s) are worth if you get them
Easily marks the closest winning combinations
Now, of course, there's the chance that there weren't any winning combinations in your first draw, but don't worry! With Go-Go Bingo you will be given the opportunity to buy an "Extra Ball" (or more) to go for those wins! In fact, you are able to purchase as many as 9 Extra Balls if you wish. These extra balls do start to cost a little more with the more you buy if you choose to do so.
Hot Tip

Don't just chase the numbers around. Take the time to look at them. Ask yourself, "Is it going to be worth it to pay extra money just for this one possible winning combo that's not really going to pay off that well?"
On the other side of that coin, you may say, "I'm only missing one number out of a possible Full House – It'd be kind of silly to not chase it!
Go-Go Bingo Gameplay Video
Are you still wondering if you should go and check out Go-Go Bingo? Well, we think you should, obviously, but if you would like to see someone else check it out first, we did it for you!
Winning Combinations
We've talked about Winning Combinations and Full Houses, but let's get a little more into that so that you know exactly what it is you're looking for and trying to match!
First off, the simple 3 numbers going in a vertical line don't count. Don't chase those, you aren't going to win anything! But here's an image of the combos that will net you some cash: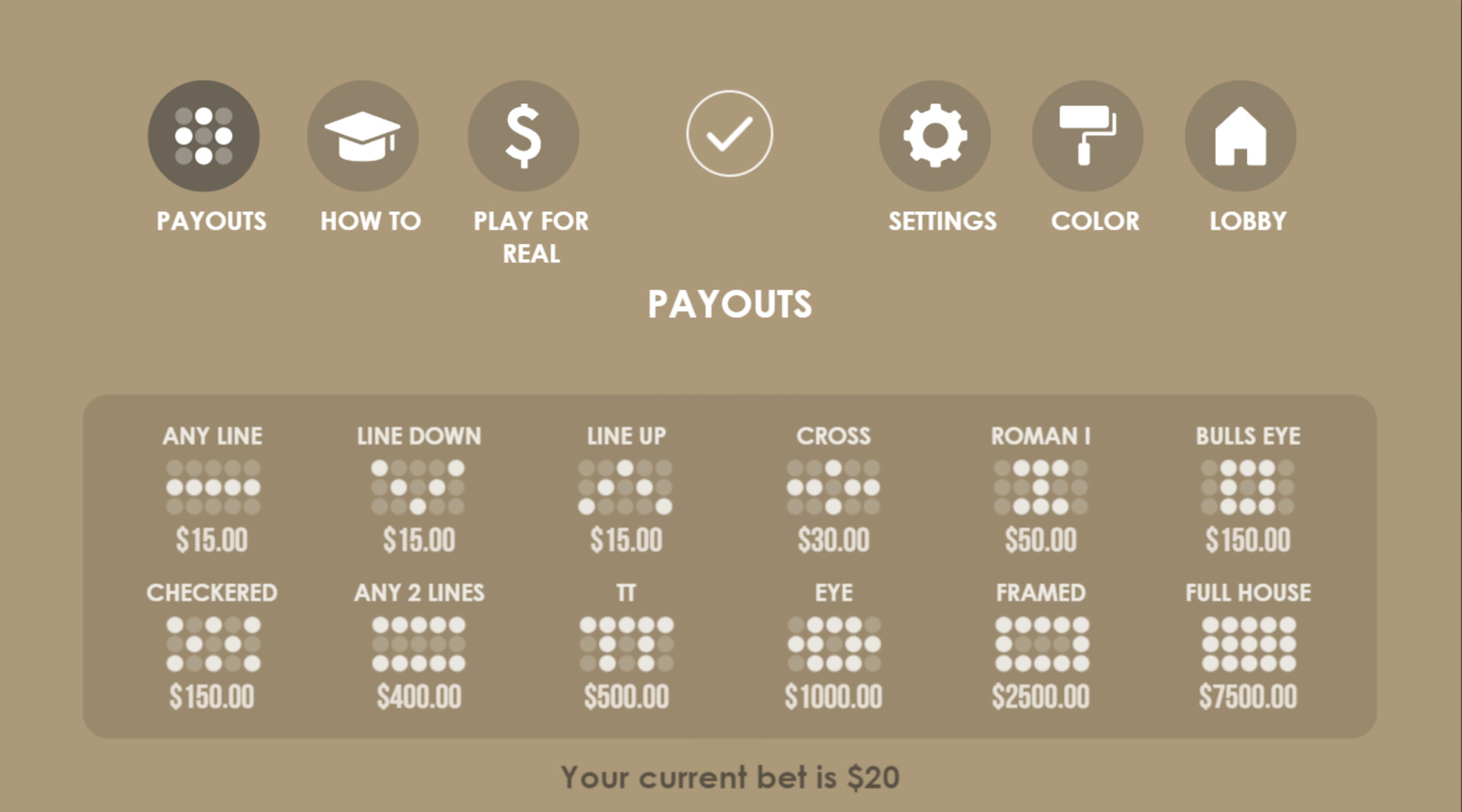 That's the payout structure if you were to play with $20 per start. As you can see, you can win some serious dough! $7,500 for that full house? Yes, please!
If you want to play for less than $20 the paytable will naturally change, however, the winning combos will not. They'll always be the same no matter how much you choose to wager.
Here's an image of the paytable if you choose to go completely the other way and play for the lowest amount, $0.40.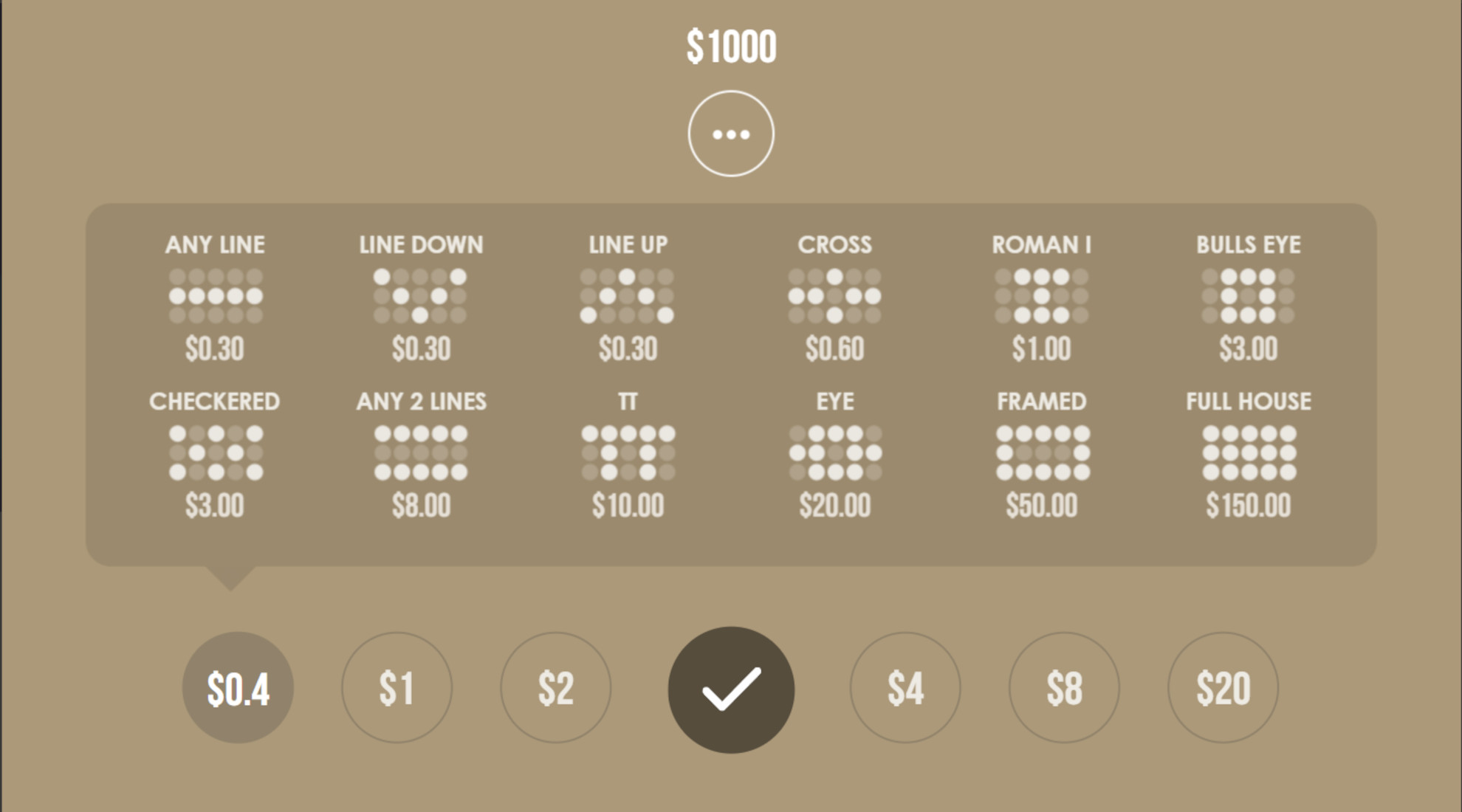 That's some pretty good winning potential considering you would only be going for less than fifty cents a pop!
Conclusion
You know, that's really all there is to say about Go-Go Bingo.
The game turned out to be more fun than we had originally anticipated while taking little to no skill. You can go into this without trying to remember some random, callous mathematical formula. You can get through a game in less than a minute while winning some cash for yourself.
It's different. Sometimes you just need a break from the usual slot offerings an online casino will offer you.
If this sounds even remotely like something you'd like to try, this is one that we highly recommend giving a go!
And as For Other "Different" Games, Maybe You'd Also Have an Interest In: