In search of a simple dice-based game of chance that is easy to learn how to play? You could try the aptly named "Roll the Dice" game that is available to play at Bovada and some of our other recommended online casinos.
In this beginner's guide, we will introduce you to this game in detail. We will explain exactly what it is, how to play it, what the rules are, and what strategies to employ. You can also scroll past the guide to find a list of top casinos that offer Roll the Dice online.
What is Roll the Dice?
Roll the Dice is a dice game from China. It is known by a few other names as well, including Fish-Prawn-Crab and Hoo Hey How.
During each round of Roll the Dice, three dice are rolled. Before you roll them, you place wagers on what you think their faces will show. If you get any of your wagers right, you win a corresponding payout. If you do not, you lose your stake.
Why Play Roll the Dice?
Here are a few reasons you may enjoy playing Roll the Dice;
If you like straightforward, simple games like slots or roulette, you will probably enjoy playing Roll the Dice. You can learn how to play it in minutes.
If you like beautiful Chinese-style imagery, you will enjoy the graphics of Roll the Dice.
Relax and Don't Think Hard.
You do not need to rack your brains trying to think through a wide array of complicated betting decisions. In fact, you do not really need to put much thought into this game at all. Since the results are random, you just need to make sure that you manage your money wisely.
Ideal For Small or Large Bankrolls.
Since you can bet as little as $1 or as much as $500 on each round of this game, it is a good fit for any bankroll size.
While most of the potential payouts for Roll the Dice are fairly modest, the payout if you get three of a kind is spectacular!
What are the Rules of Roll the Dice?
The rules of this game are very easy to understand.
Three six-sided dice are used in the game of Roll the Dice. There is a different symbol on each side. These include a fish, a crab, a prawn, a rooster, a coin, and a calabash.
You can bet anywhere from $1 to $500.
You can choose to bet on one or more symbols.
You also have the option of wagering on 3 of a kind if you think that the three dice will all show the same symbol. You do not have to specify which symbol it will be.
You can actually bet on three of a kind and all the individual symbols simultaneously.
Here are the payouts you can receive when you win at Roll the Dice:
1:1 for one matching symbol
2:1 for two matching symbols
3:1 for three matching symbols
30:1 for any triple
Pretty simple, right? You can understand these rules in a matter of minutes. You can then proceed to play.
Don't forget that if you do head over to
Bovada
to play some
Roll the Dice
that you can also get up to an
Extra $125 Cash
for inviting a friend to come along with you!
And after this, why not take a look at
"Where and How to Bet on the Lottery"
?
How to Play Roll the Dice
When you load up the game screen, you will see individual tiles that show each of the symbols, along with one that has a picture of the dice and is labelled "3 of a kind, 33:1."
Below those are pictures of chips with different wager sizes.
Choose a wager size. Options include 1, 5, 25, 100 and 500.
Click on one or more tiles to wager that amount on those tiles. You can click and drag from the wager size to the tile, but you do not have to. Just clicking on the wager and then clicking on the tile works too.
If you want, you can now select a different wager size. You can then click on one or more tiles to wager that new amount on those tiles.
You can also drag multiple wagers to a single tile. For example, say you want to bet 30 on the fish tile. You can click on 25, and then click on the fish. You can then click on the 5 and click on the fish.
If at any point you mess up, you can hit "undo" or "clear." You will undo your latest bet with the "undo" button, whereas "clear" will remove all your bets and reset the table.
Once you have all of your selections ready, you can click on the "Roll" button in the lower right-hand corner of the game interface.
You will now see a brief animation of the three dice being covered by a bowl. The bowl shakes, then it is removed. You then see the three dice settling into place with their faces revealed. If you won, you will see how much.
After the roll is complete, you are returned to the main screen, where you may place new bets and try again if you want.
Additional Features
Roll the Dice includes a couple more features for your convenience:
If you want to double all of the bets you have on the screen before you roll, you can do it in a single click with the "Double" button.
After you have completed a round, a "Re-Bet" button will be available to you. If you click on it, it will reproduce the bets you made in the previous round. This saves you the time and effort of doing them manually each time if you want to keep placing the exact same wagers.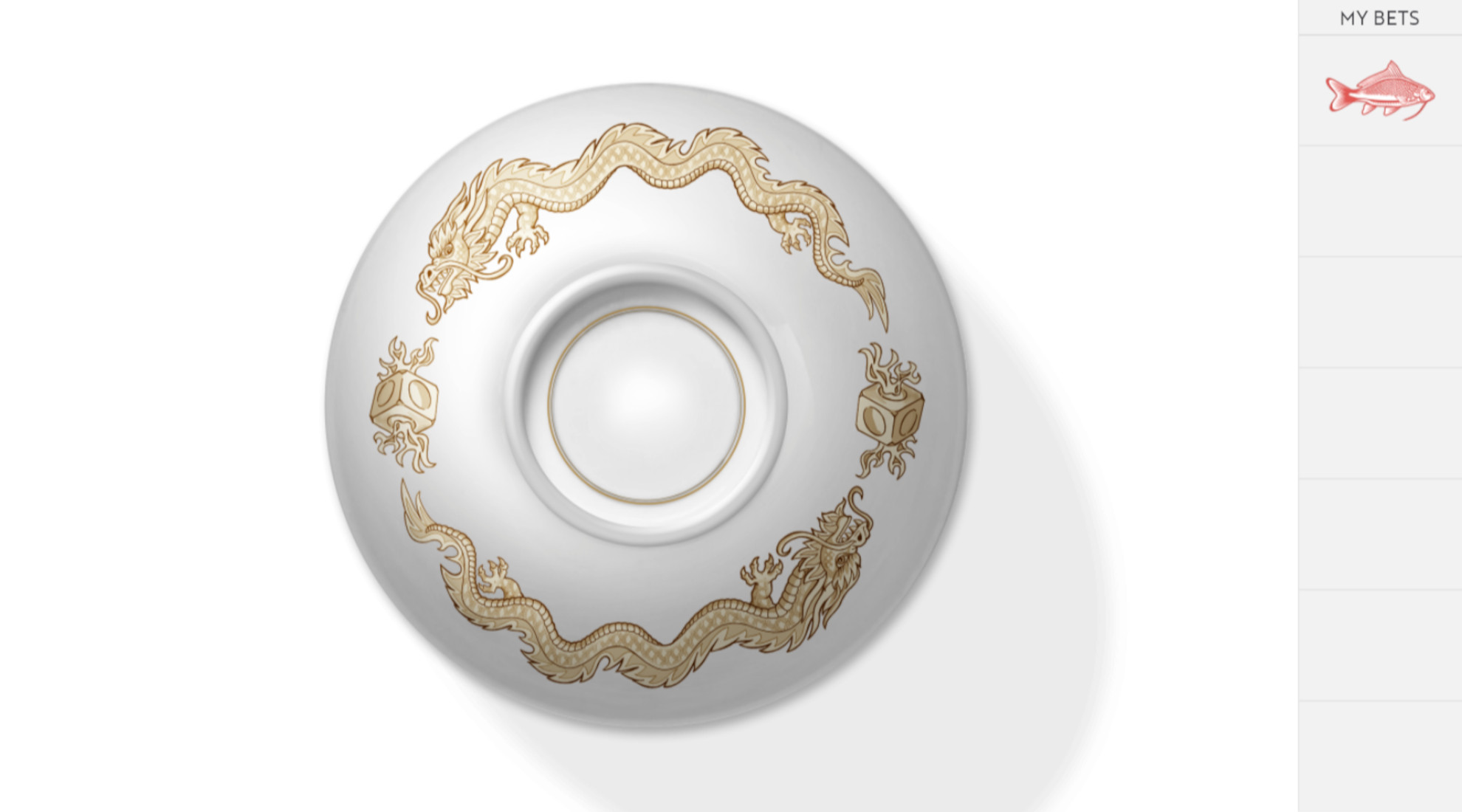 Is Roll the Dice Random?
Yes, Roll the Dice is a completely random game, whether you play it online or offline. Not only that, but every single roll you make is an independent trial. That means the outcome of that roll has no connection to the outcome of the previous roll or the outcome of the next.
It is tempting to think that there are patterns in Roll the Dice. But if you think you see any, you are experiencing a cognitive distortion.
When you are playing the game on a virtual interface like this (as opposed to with physical dice), the game's outcomes are determined by a random number generator (RNG). To check out an article about Casino Randomness, just click here!
This is the same method that is used to determine the outcome of other random games at online casinos such as slots.
Roll the Dice House Edge
We were not able to locate the exact house edge for Roll the Dice (or rather, for each specific bet or combination of bets). But we can tell you that this game definitely has a house edge.
That means that if you play Roll the Dice long enough, eventually, the house will always win. You may come out ahead in the short term, but never in the long term.
Roll the Dice Strategy
With all of that in mind, you may be wondering if there is any sort of strategy you can use to play Roll the Dice.
There is nothing you can do to make the game produce certain results. Since the outcome is completely random, you cannot control or influence what shows up on the dice faces through any decisions you make.
But you can still make decisions about how you structure your bets and manage your money.
Keeping your stake sizes small will help you to conserve your bankroll, giving you more chances to win.
Additionally, if you are going to wager on three of a kind, it makes sense to stake smaller amounts of money since you are unlikely to win.
If you make large bets on three of a kind, you will probably blow your bankroll quite quickly.
And since three of a kind does have a handsome payout if you do happen to win, you can look forward to some nice winnings even if you stake a relatively small amount.
Where to Play Roll the Dice
Now you know how to play Roll the Dice. But where can you enjoy this simple game of chance? Here are our top recommended sites.

Bovada is one of the biggest US-facing sportsbooks online. As it so happens, Bovada also operates a great online casino, and offers quite a few intriguing table games. Roll the Dice is among them.
This site has been in existence since the 1990s, so when we say it has a well-established reputation, we are talking about decades of excellence.
Bovada offers some epic bonuses and promotions, including a $3,000 Casino Welcome Bonus if you are depositing US Dollars, or a $3,750 Bitcoin Casino Bonus if you are depositing bitcoin.
If you also like playing poker, be sure to grab the 100% Poker Welcome Bonus.
Bovada offers a rewards program for earning points for cash back as well. For every dollar you spend playing table games, you can earn 1 rewards point.

Another of our favorite online casinos is Cafe Casino. While this casino has not been operating as long as some of the others we recommend, we have many years of experience with their management team, and know they offer a great experience.
Roll the Dice is one of the may exciting table games that Cafe Casino offers.
When you sign up for an account, you can grab a 250% Match Bonus up to $1,500 if you are paying with credit card. If you are making a bitcoin deposit, you can snag a 350% Welcome Bonus up to $2,500.
Cafe Casino also has a cool Weekly Mystery Bonus Program. The site says, "You'll never know what bonus amount to expect (that's why we call them a mystery!), but one thing is certain, a new bonus will land in your Cafe Casino Perks dashboard every Thursday."
Last but not least, you can earn perk points as you play for cash back. The redemption rate for table games is the same as it is over at Bovada.

If you want to grab even more great bonuses and promotions while enjoying Roll the Dice, head on over to Ignition Casino.
The team that runs Bovada runs this site, so the quality is top of the line. So is the selection of table games.
What are the promotions at Ignition Casino? When you join, you can grab the $3,000 Welcome Bonus. Ignition also offers a "Weekly Boost" program which provides you with a match on your deposit on Mondays.
The amount you can get through the Weekly Boost program depends on the deposit method you choose. If you make a deposit with a credit card, you can get 100% Match up to $100. If you go with a crypto instead, you can get a 100% match up to $1,000!
Along with these promotions, there is also a rewards program for cash back as well as some additional promos aimed at poker players.
Roll the Dice Now for a Chance to Win
Roll the Dice is a simple, straightforward game you can play without putting in a lot of thought. The graphics inspired by traditional Chinese art are beautiful, making for an enjoyable experience as you test your luck. Ready to play Roll the Dice? Click on any of the links in this post!
Some More Simple Games for You to Check Out!