You remember the arcade, right? No doubt that if you were between the ages of 8 and 30 around the late 70's to the mid 90's, you may be the kind of person that will say you "grew up in an arcade". No matter where you found your games, be it the mall, the laundromat, the gas station down the street, there was nothing better than heading on down there with some friends on the weekend with a fistful of quarters just burning the crap out of your pocket! And of course, we have to mention the casino that preys on children, Chuck E Cheese!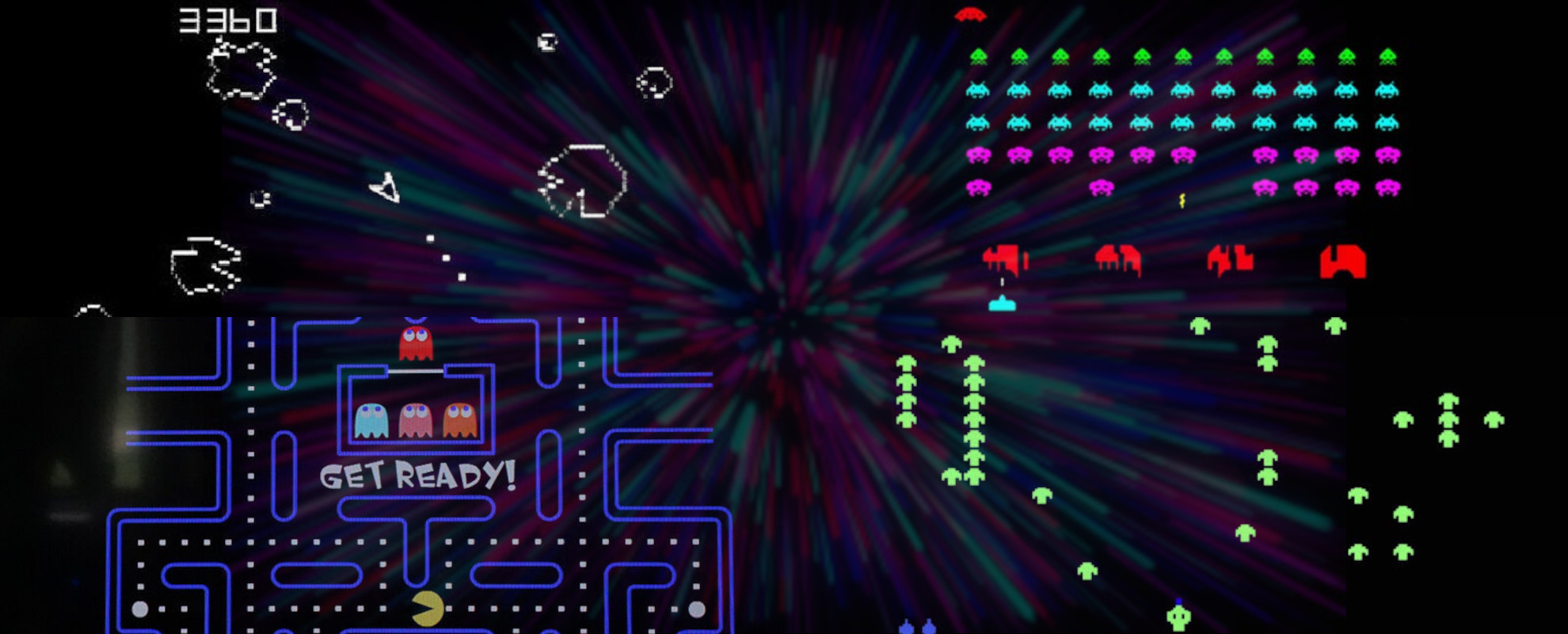 If ever given the chance to go back, we're willing that many, many people would. But check this out! CloudBet is bringing the arcade to you in the here and now!
Okay, so maybe it's not quite the arcade that you remember with the latest in video game technology, but they're doing their best and with what they have to work with! Are they doing a good job with that? Well we spent a day there and found out!
What is the Arcade?
Over at CloudBet the arcade is a collection of seven games that are meant to take little to no skill for you to dive right into and play immediately while you also have the chance to win some pretty good money if you're willing to risk it and of course add a splash of luck.
The games under the section of their arcade really take virtually no thought, and even the ones that do, the average person will be able to pick up in no time, taking in the btc as soon as they get started! One could almost think of these as slot machines, but with just a bit more user input than just pull, pull, pull.
These are games that the average person is going to pick up in no time head on down that road to some (hopeful!) riches. We did go ahead and play all of them so that we can tell you exactly what you'll be in for with all of these and have you ready to go!
So without any further blabbering, let's move on to the games and see what they're all about!
The 7 Games of the CloudBet Casino
Plinko
Oh man! Plinko!
A pretty good day of a childhood may have been getting sick and getting to stay home for the day. Who was there to babysit us? Why, good ol' Bob Barker himself on The Price Is Right as we lay on the couch feeling like death. Of course, being sick didn't take away the dream of one day coming on down yourself and getting to play only the best game ever, Plinko!
Plinko is going to play about as much as you think it would. Drop a ball and watch it go. Okay, so there's a little more.
The first thing to do is choose your bet amount. You are able to choose anywhere from 0.10 to 300
After that you're going to do decide on how many rows you would like your playboard to be, you may choose 12, 14, or 16. Note that this does not change your bet amount, you are always able to choose anywhere from 0.10 to 300 credits per ball drop.
Once you have decided on how much to bet per drop, you'll be deciding on how many rows you would like the playfield to be, be it 12, 14, or 16. Note that this does not change your bet amount, but rather the amounts that could potentially be won with 16 rows showing you the top-most prizes.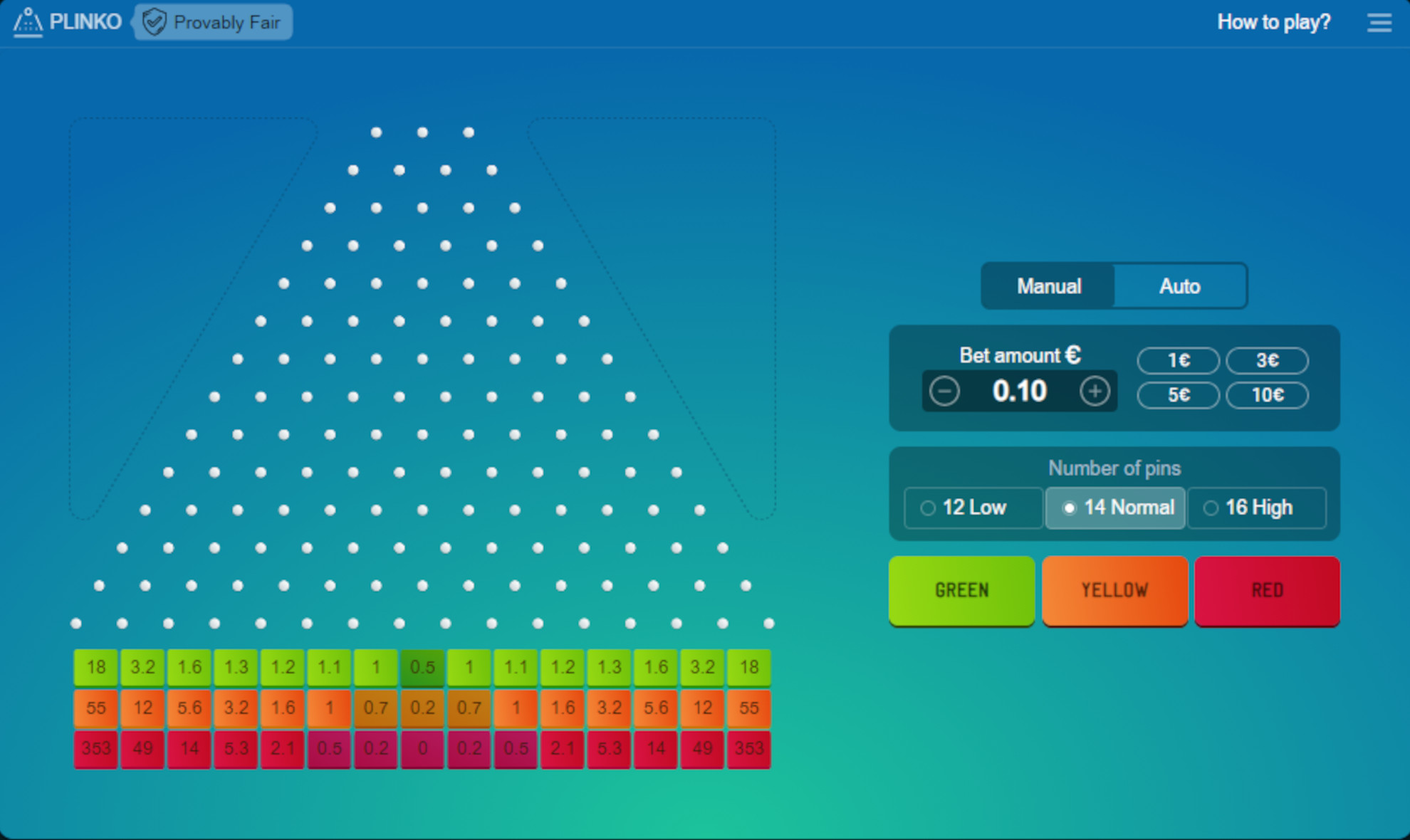 Now for the fun part! You'll simply start to drop your balls down the Plinko board and hope that they all start to bounce in the direction you'd like them to go, with the larger prizes being toward the outside edges of the playfield.
As for the balls themselves, you've got your choice between green, orange, and red. (I know, it says "Yellow", but that's orange!) Once again this has nothing to do with the wager you have previously chosen, but rather which bottom row your ball will land in
Each ball is one bet, and you will win your prizes depending on where the ball ultimately lands. Your prize is Bet times X number shown.
You are able to drop more than one ball at a time by just clicking the mouse quickly. Play it your way, but this author's "strategy" was to drop many balls at once to make them bounce off of each other in hopes and forcing them to move toward the edges of the board.
Lastly, you do have the option to also hit an "Auto" button and let the game just take over, dropping balls until you tell it to stop. Just a little warning, the auto feature seems to be a little on the fast side. This naturally makes for a little more of an exciting game, but you could hypothetically lose a lot of money real fast!
Let's check out the next game!
Mines
We're sure you remember Mines as well, that silly game that has been installed on every computer ever made.
A reminder for you, just in case: In a game of Mines, (or Minesweeper), you were given a bunch of blank squares on a grid. The object was to click a square, hope that there wasn't a bomb underneath, and be given some clues as to where another blank square will be. The end game goal was for you to uncover all of the squares without blowing yourself up.
Mines is close to the same game. Take a look at this.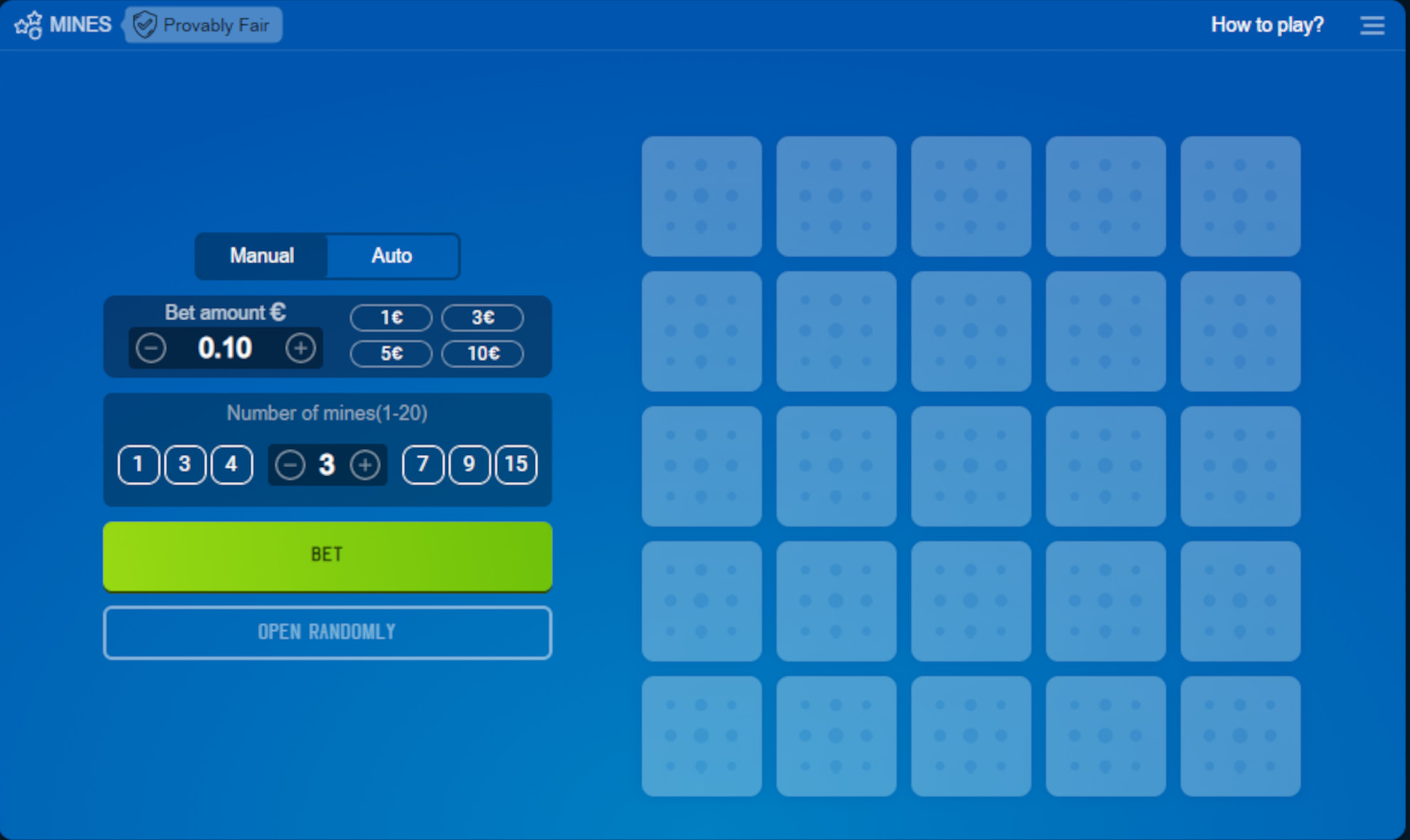 To start off you need to choose the amount you would like to play with, once again starting at 0.10 credits and going up to 300. After deciding on how much you're going to bet per game you'll choose how many mines you would like, or rather, how many you'd like to try and avoid. You'll be choosing anywhere from 1 to 20.
The game field will always be 25 squares no matter how many mines you are playing with. The more mines, the more money to be won.
You will then start to try and clear off the board and you are able to quit at any time. You can stop after just clearing one square if you would like. You're obviously going to win more money as you keep going and clearing off as many as possible until you either blow up or just chicken out and collect your winnings.
A couple of examples while playing for 5 credits per game.
With 1 mine on the board, your bet is multiplied by –
5.05
5.27
5.51
5.77
6.06…

…and so on
Still a 5.00 bet but with 10 mines on the board, your bet is multiplied by –
8.08
13.85
24.51
44.94
85.80

and that's where I got greedy and blew up.
So, as you can see, decide how much you can wager and stack it up with however many mines you're willing to play with, and man! There's some money to be made playing Mines!
Mine Goal
Here's one that's very Mines-esque, but with a little twist. Think of Minesweeper on a Soccer Field for this one!
You'll start off on this one by choosing your bet amount. For the sake of this article, all of the wagering amounts on these games seem to be in the 0.10 – 300 range.
Once you've got your amount all picked out, it'll be time to pick out the field you want to play on. Players are given 3 choices being small, medium, and large. The small plays out on a 4×3 field, the medium on a 7×4 field, and the large on a 10×5 field. Now the player is ready to… well, play!
On your first move onto the playfield you'll pick a square within the first column of squares to place a soccer ball and essentially hope that there isn't a bomb within said square. If there is a bomb, the game is over.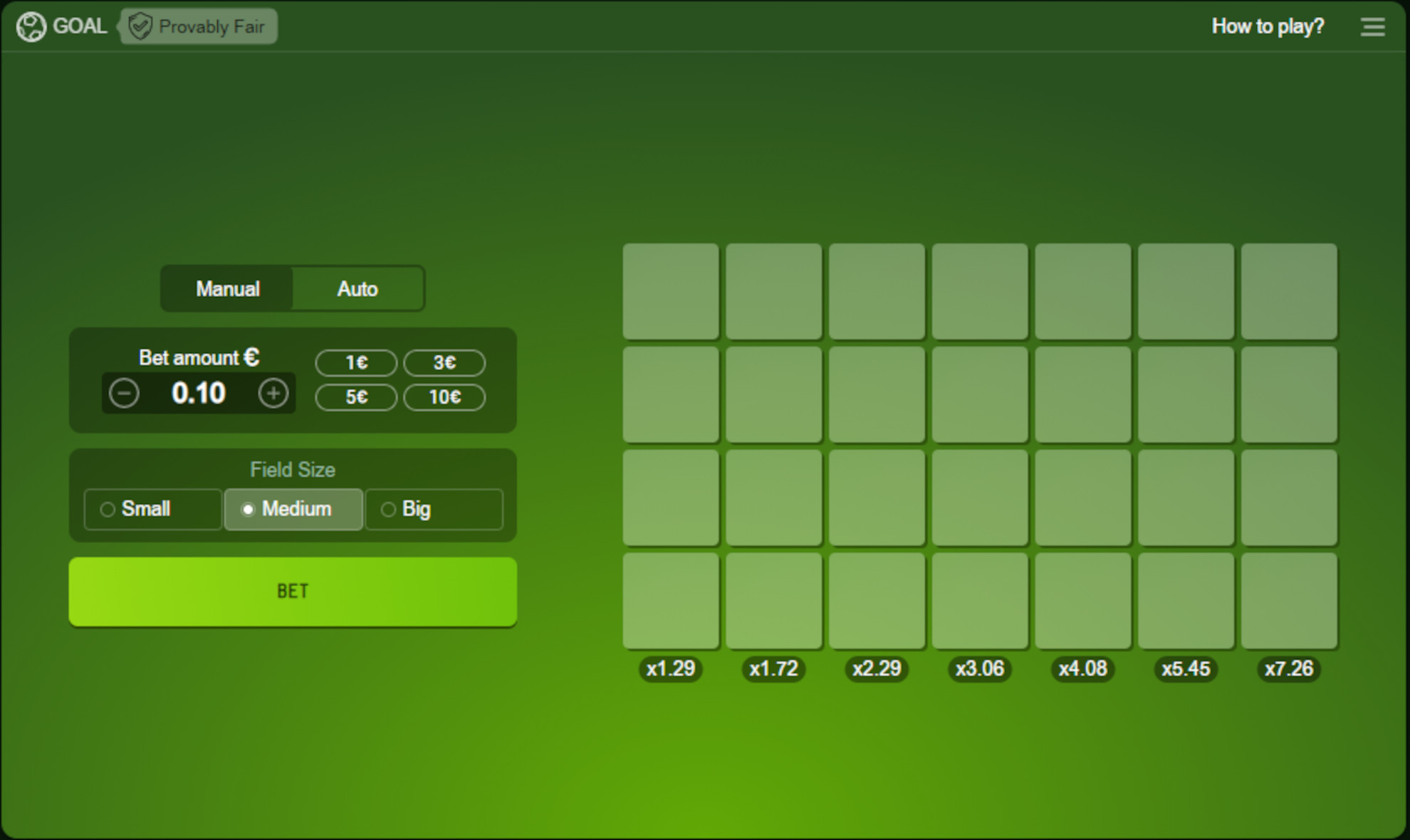 If however the square was unoccupied, you then have the choice of cashing out or continuing on to the next column. The further you make it down the field, the more money you'll make per move.
The bigger your field, the more you can win. With a small field you can win up to your bet multiplied by 4.91, and on the large field you can win up to your bet multiplied by 9.03!
Hi Lo
An interesting take on the game played by drunks all around the world here!
You actually will not pick your bet first here. First you are shown a single card from a standard deck.You can choose to play with this card or have another randomly given to you until you get one you would like to start with.
Once you have the card ready to go, it's time to place your bet!
Now there will be three cards right in front of the player along with 2 buttons. One for "low or the same" and the other for "high or the same". You know what to do here! You'll pick one and be correct or be wrong, one of the two!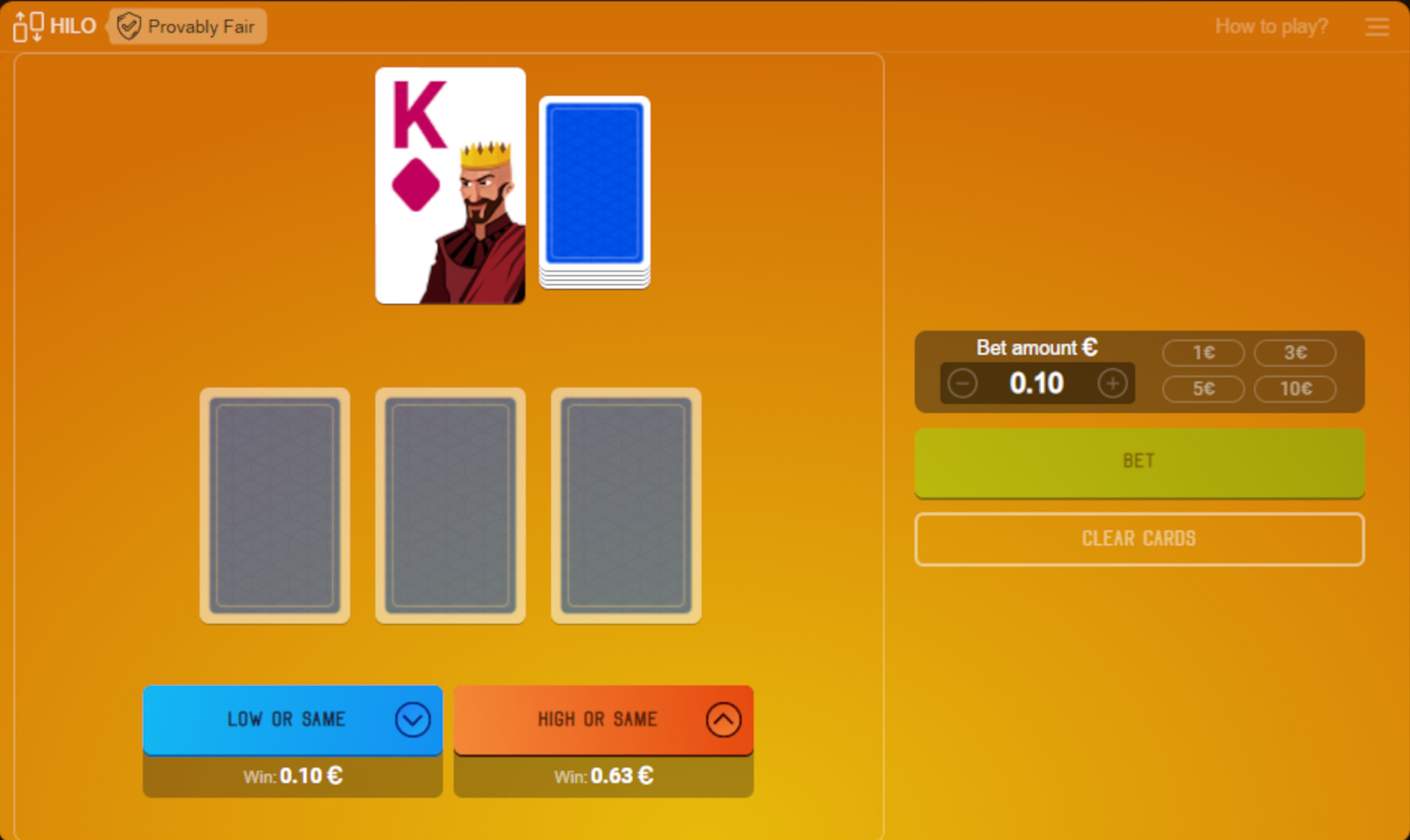 If wrong, the game is over and you can go again.
If correct in your choice you have the option to cash out your winnings, or continue on with your new head card in hopes of winning some more moolah. The more you keep going, the more you stand to win as long as you keep guessing correctly, High or Low.
Dice
Okay, this is an odd one here. To start with, you don't actually see any dice here, rather, a great big meter in the style of an old car speedometer. This game probably didn't do very well in the test markets under the name, "Total Random Number Generator" even if that is all these are!
First things first, you'll choose your bet amount. Right after that you'll choose what kind of payout you want, anywhere from your bet multiplied by 1.10 to an astounding 970!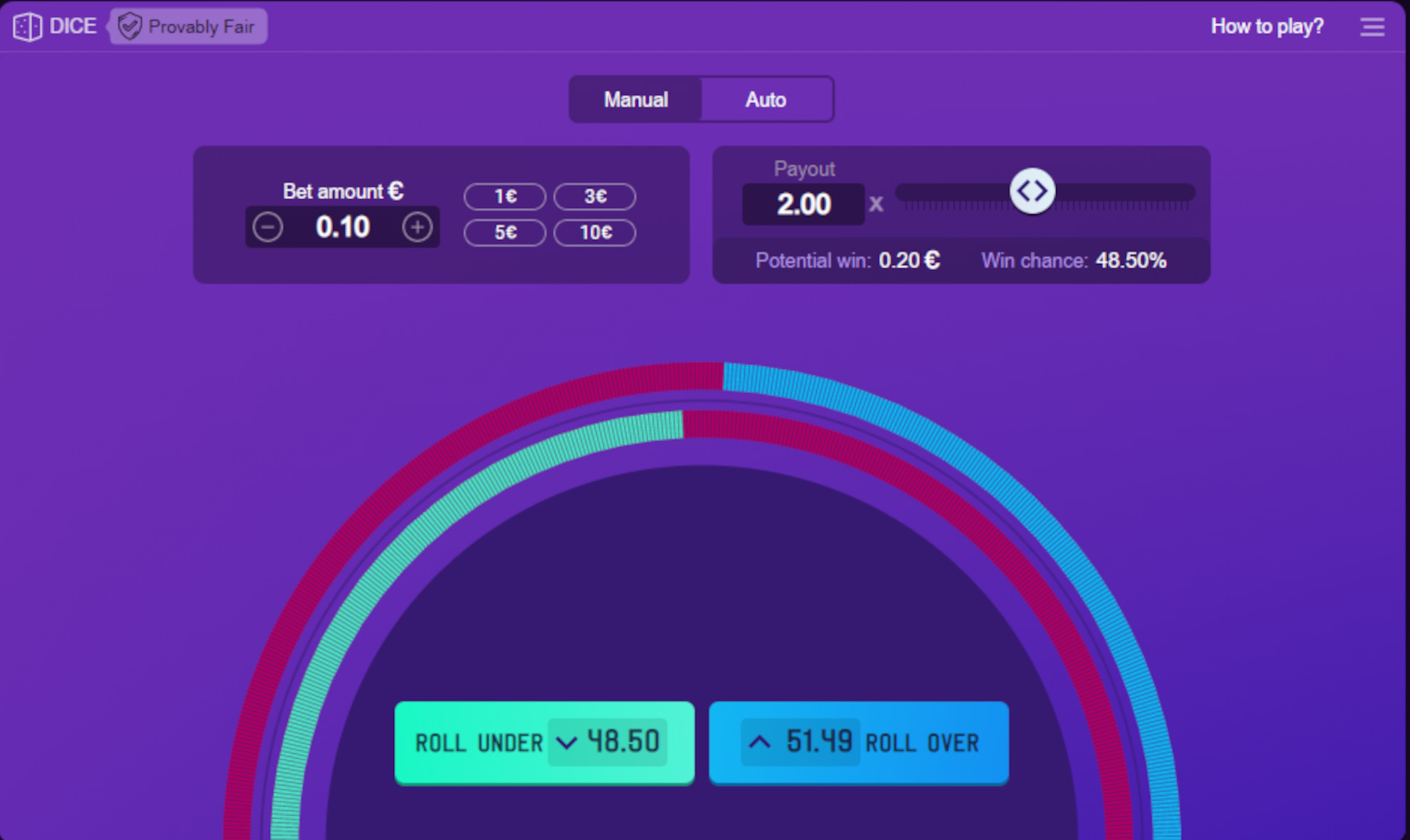 You'll see that as you slide the payout scale back and forth that the great big generator at the bottom changes with you. From there you'll "roll" your luck and choose "over" or "under" and hope that the number to come out agrees with where you chose to put the slider and go either under or over, depending on which you chose.
This is just a matter of opinion here, but if you're essentially playing "High Low", I would stick with the "Hi Lo" game discussed just above. Much more fun and less "technical" to stare at for a while, although Dice does have a bigger payout. Just something to think about!
Mini-Roulette
Hey! It's roulette! Kind of! Hey, it's Mini-Roulette!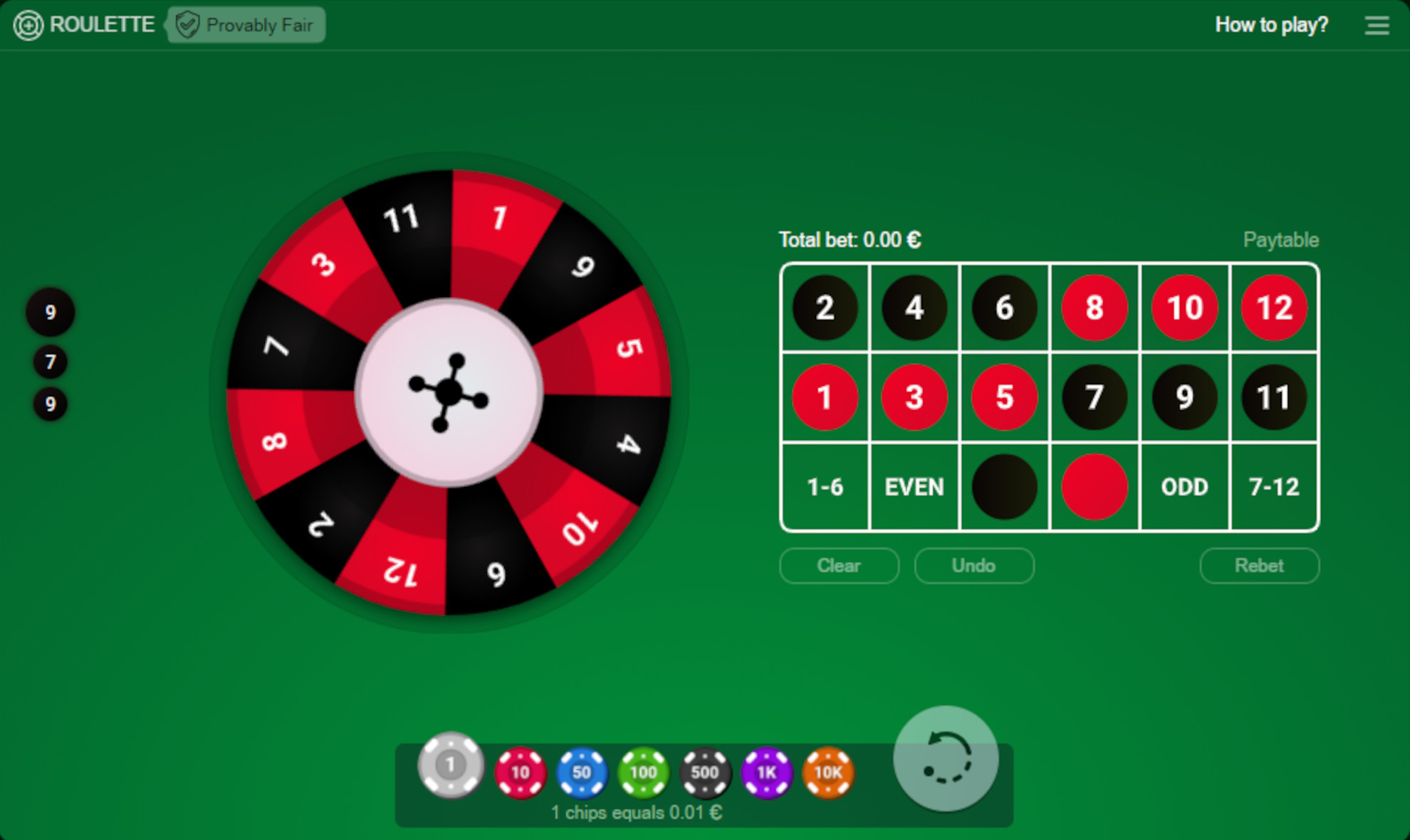 You already know how to play and you're all ready to go! (Just in case you're not, you can always check this out!)
In this version however, it is called Mini-Roulette and the board and the wheel are considerably smaller.
The payout however? So much greater! Just check out this table taken from their site!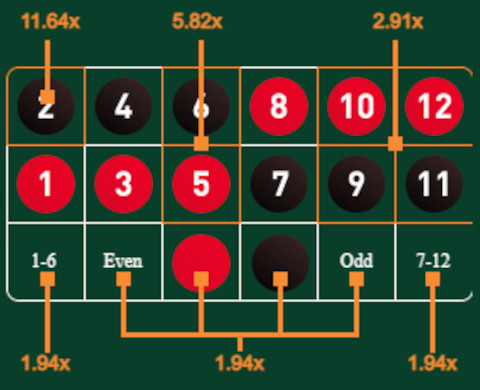 A difference here in this game and the others in this article is the bet size. In Mini Roulette you are buying chips as you would any other virtual roulette table. But here, 1 single chip is .01 as opposed to .10 and the maximum bet limit is one of the big chips, or 10K.
Like any other game here, you'll figure it out pretty quickly. Take a look at the wheel, take a look at the board, you're ready to spin away!
Keno
Ah Keno, the great money sucker.
Like Roulette, there's not a ton of difference here between what you may already know and what's going on in the game. Actually, possibly none.
In Keno you'll choose your bet amount, (back to the ol' .10 – 300) and then you're ready to play.
You will be given a bunch of numbers, 1-36 to be exact. Your job is to pick 10 of them by clicking on each one and then just sitting back once you've made your decisions and watch the computer pick out some numbers. All you're hoping for is that you and the computer pick some of the same numbers, winning more when bigger combinations are made.
After the computer has chosen some numbers you either won some money or you didn't, and that's pretty much it. The board is cleared and players can go again with the same numbers if they're just "feelin' lucky" or go with just some of the same ones, or go all out and pick a whole new set if they'd like.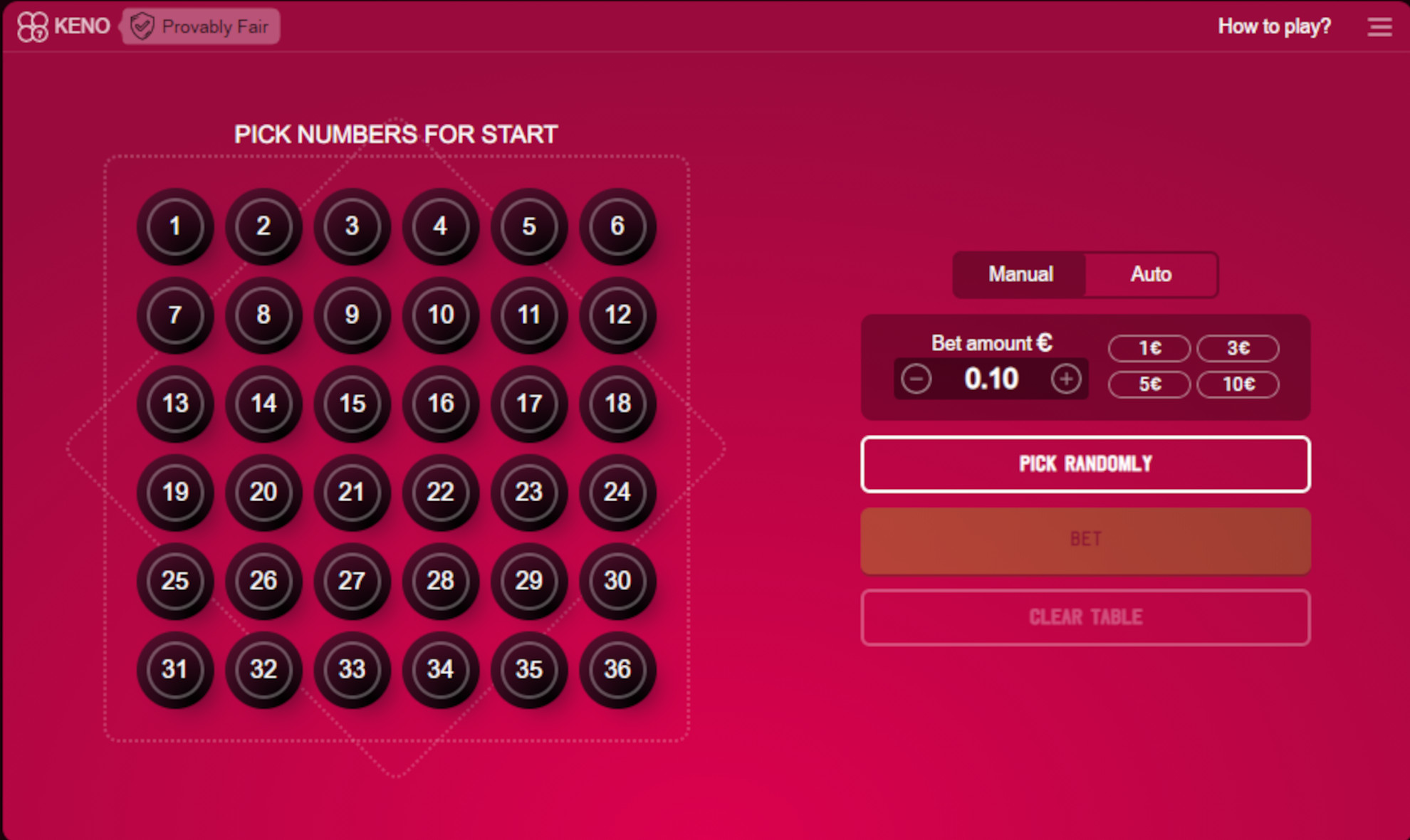 In the interest of fairness, I was thinking that there's no way anyone has ever hit all numbers so I did a quick Google search on the matter. I was wrong. People are able to pick out all "correct" numbers and walk away with all kinds of cash!
I stand corrected!
And that's that in the world of the Cloudbet Arcade!
Conclusion
In putting this page together I had played these games to see what they were like. I'm kind of upset that Cloudbet does NOT welcome American players because I don't mind saying, after checking out my "play money" account, I would have kind of cleaned up!
The Arcade actually offers up some fast, quick, mindless fun which is just the sort of thing people need now and then. Doesn't hurt that the site is fast and responsive itself. If that sounds like the kind of thing you can use for a bit, there's no reason in the world you shouldn't be there checking it out right now!
With the praise that CloudBet has been getting over the last few years combines with some AMAZING bonuses going on at all times, we fully expect to see a lot more people hanging out over at the CloudBet Arcade for quite a while here!
More Readin' Action for Ya!