8 Reasons Why Online Slots Are Better Than Live Slots
Whether you have played online before a couple of times or this is your first time looking for the best online casino to join, you may wonder what exactly is the appeal of online slot machines. They are a counter intuitive concept, after all.
When you play a slot machine in real life, there is that satisfying feeling of pulling the lever and then watching as the wheels spin. You really get that sense of possibility as you wait for the symbols to come up, and when you do win … well, there is nothing quite like the loud noise the machine makes as the coins spill into the tray. It feels like you are surrounded by this amazing aura of luck and prosperity.
Online, you don't get any of that. There is no lever to pull. There are no physical reels. The "machine" may make noise when you win, but nobody but you is going to hear it. And you do not even get to listen and watch in flee as all the coins spill into the tray.
So what is the draw to online slot games?
It is hard to argue that online slot machines are objectively "better" or "worse" than brick-and-mortar versions. In the end, it really is going to come down to your personality and what you enjoy. That having been said, I still feel like a pretty solid argument can be made for asserting that online slot machines are in fact superior. Here are my reasons.
Eight Reasons I Love Playing Online Slots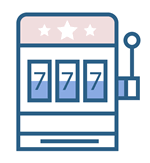 The selection online way outstrips the selection offline.

When you are playing at a brick-and-mortar casino, there are only so many slot machines you can choose from, and quite often, a number of them will be in use. So you are always stuck with limited options. Only every so often do the casino owners get in new machines, so you may end up playing the same games over and over again, which can get to be pretty mind-numbing. Nothing is worse than reaching that point where you have played every slot machine in the casino a thousand times over.

Online, that is never going to happen. There is never any waiting for any slot machine game, so at any time, you can play any game you choose. There are hundreds of different games available at most online casinos, and they get in new games on a regular basis. So that means you will never run out of things to play.

Cutting-edge technology makes for dazzling graphics and sounds.

Brick-and-mortar casino slot machine games do make fun noises, especially when you win a jackpot. But on the whole, they are fairly limited in that capacity. There are video slot machines you can play offline too, but these also tend to be pretty restricted in terms of what they can offer you.

Online, the sky is the limit. Cutting-edge sound and graphics means cutting-edge fun. The experience is so immersive that you will quickly forget that you are just sitting on your computer at home. Soon, you will not miss that physical lever! Think of the hugely popular caveman slot machine, 2 million b.c. This game offers an immersive story as you try to help your caveman collect the things he needs like fire and food.

There is a ton more variety, especially with video slot machines.

Because you are playing slot machines online, there is no limit to the variety of slots you will encounter with virtual slot machines. You will find many slot machine games which are designed to replicate the most basic offline slot machine experience to the letter—but you will also find games which offer you something new.

In particular, online you will find many slot machines which include mini-games. Basically, if you get a certain combo, the mini-game will be triggered, which will take you to a different screen. On that screen, you will either play another game of chance, or you will participate in a game that involves skill. This gives you the chance to win free plays and other bonuses.

Globally linked progressive slot machines mean enormous jackpots.

One of the coolest things about playing online is that you have the chance to win ridiculously huge jackpots unlike any you would find offline.

Both online and offline, you will encounter what are known as "progressive slot machines." These slots are all linked up to each other and share a common pool of money.

So offline, for example, there may be a number of progressive slot machines which are connected to each other in a brick-and-mortar casino. The coins which are placed in each of them by gamblers all go into the same jackpot pool. That means that if someone actually wins the progressive jackpot, they win the money pooled together from all of the machines, not just the machine they were playing.

Now imagine if you did not have to worry about physical limitations … imagine if you could link together slot machines from building to building, from state to state, from country to country. Imagine if you could connect slot machines all around the world to create one tremendous jackpot.

That is exactly what happens online! Your odds of ever winning a global progressive jackpot obviously are remote—but just think what it would be like if you did! There is no denying that online there is a level of thrill and possibility which you will never encounter at a traditional offline casino.

The bonuses online are way better than they are offline.

What kinds of bonuses did you get to take advantage of the last time you played at your favorite local brick-and-mortar casino? A free buffet? Online slot machine promotions are way better. If you become a loyal patron at an online casino, you will probably be given tons of free plays on an ongoing basis along with other exciting benefits like match bonuses on your deposits. Obviously you are not going to get that offline!

You save money on food and transit—which means more money to gamble.

Sometimes you get to eat and drink for free at offline casinos, but certainly not every time. A lot of people end up spending a lot of extra cash eating and drinking while they are playing offline slot machines.

On top of that, there could be travel costs. If you are lucky enough to live in a state where casinos are common, you may still need to drive for 20-30 minutes to get to the nearest one. In some cases, you may need to drive even further. That is a lot of time and money spent commuting.

What if you do not live anywhere near a casino? If you wanted to play slot machines offline, you might need to make a weekend trip to the nearest town which actually does have casinos. That could easily eat up hundreds of dollars or more. For that reason, many gamblers are happy if they simply make enough money to offset the cost of the trip. That isn't something which is likely to happen however if you stick with slot machines. Slot machines are games of chance where the house has a huge edge, so you generally end up losing substantially more than you end up winning.

Online, you do not have that issue. You do not need to get in your car and drive at all. You just turn on your computer or your mobile device, log in, and start playing your favorite slot machine games. How much could you save just on gasoline doing that over the course of a year? Hundreds of dollars? That is all money which goes back in your bankroll—money you can gamble with!

Many games are free-to-play first.

Another very exciting thing about online slot machines vs. offline slot machines is that online, you often have the opportunity to try games for free before you play them with real money.

How long can you play for free? That depends on the game and the casino. Some casinos may restrict this, while others may allow you to play for free indefinitely. You do not have the chance to win anything (unless you are playing with bonus spins—but that is not what I am talking about here) since you are using play money, but you will not lose anything either.

Some people actually enjoy playing online slot machines for free indefinitely. If you go through a period where you do not have a lot of money to gamble with, this can be a great way to still have a good time.

But you can also do it just to preview machines you have never tried before. There is no reason to waste money on a game you end up not liking. You would never have this chance at a brick-and-mortar casino!

You can play anytime, anywhere!

Ready for one more reason why playing online slot machines beats playing offline slot machines? You can play anytime you like, anywhere you have access to an internet connection!

You can play morning, afternoon, evening, or night. You can play at home or you can play anywhere you have access to public wi-fi. You can even play slot machines while you are waiting for the bus. How awesome would it be to win a jackpot during a time when you would typically just be waiting around doing nothing?

Just be careful with this, because online gambling can quickly become addicting. Be sure to set some responsible restrictions on yourself.
So there you have it—eight great reasons why online slot machines are arguably much better than offline slot machines. Have fun playing online, and may Lady Luck be with you!
My favorite online slots casinos are
Slots.lv
and
Black Diamond casino
. You can get free chips and free spins at both online casinos to try them out. Play for free or real money.