BONUS OFFER:
Perk Points Program
Caesar's Victory Slot Review – You probably remember from your junior high history class that we owe a lot to the Empire of Julius Caesar. We may have forgotten these lessons, but we're all still taking advantage of many of the rules and norms of those times. Not all of them, and that's a good thing! But some.
While Caesar may not have foreseen us using his likeness to score some sweet jackpots, we like to think that the ruler really wouldn't have minded all the much if we were to grab some extra golden coins laying around in his name!
Screenshots
This Rival Slots machine is fairly new to Bovada, as well as other Online Casinos. This author cannot find an exact release date, but it has come out in late 2019.
The graphics are not among the best out on the market right now for being such a newer slot, although it does shine in other areas such as the play and the really attractive RTP.
The background shows us a very simple rendition of pillars leading out to a coliseum leading out to fight maybe some gladiators? Some wild animals? Johnson's wife? We'll never know as the big show is being covered up by the 5-reels of symbols being displayed.
There is not a lot of excuses for a slot of this age to have such bland graphics, with no changing background and icons that really, kind of only move minimally. That said, the icons that are there are nice and clean, visually attractive with no distractions. You know exactly what you're getting into, you know exactly what it is you're looking for.
If Rival had gone all the way with their design, this may have been, at least among, one of the greater slots released this year!
Bringing up the icons, there's a pretty good selection giving you plenty to look at while trying out your luck!
There is the traditional 9, 10, J, Q, K, and Ace, and then we combine some more, picturesque icons. There are , (yes! Cleo and Julius did know each other quite well!) a Smiling Horse, and of course, a Golden Coin with a depiction of the man himself emblazoned on it!
The layout of everything is super simple with any and all buttons very clearly labelled for you find at a moments notice. Like most other slots, you've got just the basics. You've got your "Spin", "Auto-Play", "Denomination Amount", and the "Game Rules".
As a whole, this take on the Roman Empire absolutely carries our seal of approval!
With a medium variance, there is a pretty solid chance that yes, you will see everything that this slot has to offer and see any and all special features in one go, but that's not really a bad thing in itself with it's RTP of 96.04%, higher than where we recommend!
Golden Empire Coins Await You
Caesar's Victory is played on a 5×3 board with 20 fixed paylines. This does mean that you, the player cannot adjust the number of paylines, but this does help to simplify the process of choosing exactly how much money you would like to wager per spin.
As stated just above, there is an RTP of 96.04%. As long as you're playing a game that has a worse house edge than Blackjack or Roulette, you may as well find the slots that are working for you just as much as they can! Don't help the Casino take your cash and give them more advantages than they already have!
As discussed, this slot makes it super easy to pick your stake. Just select the value you would like with the "Bet Amount" button and pick out whatever stake amount works with your bankroll and start spinning away! The paytable will change it's values as this happens so that you know exactly what to expect from your matching symbols.
You are able to wager anywhere from 20 cents per spin and various amounts leading up to 200 dollars per spin, so this is good for not only the higher-rollers among us, but also those of is with smaller bankrolls as well.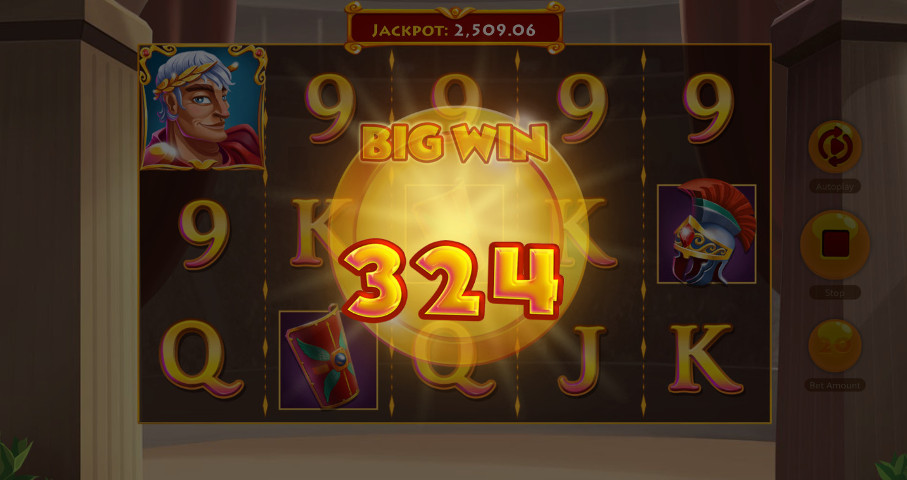 You do get a couple of options if you decide to click and take advantage of the "Auto-Play" feature. You can choose between 10 and infinity spins with a few numbers in between, (yes, infinity), and you can also choose to just auto-spin a given bet amount ranging from 20 cents and 200 dollars.
Most slots with the Auto-Play option gives you the choice to automatically stop if you hit the jackpot, but not Caesar's Victory so you may want to keep an eye on it while it's spinning away!
Victorious Spins
To win, you'll be looking for 3 symbols to match for the 9 through Ace icons, but you'll actually only need to match 2 for the other "picture" icons. You will need these to match on any of the actual paylines, going left-to-right or it will not be awarded.
The most valuable symbol is of course the Golden Caesar Coin, which acts as the "Wild Symbol". This will only appear on reels 1-4 and will triple the prize when appearing in a winning combination.
Next in value would be the "Horse" symbol. This is your "Scatter Symbol" and is multiplied by the original bet up to 100x.
There are some pretty sweet Free Spins being thrown about. To get these, you will have to not only spin yourself a horse on Reel 5, but also get a Caesar Coin anywhere else on the board as well. You'll start off with 10 Free Spins that you can be added to if some more Caesar Coins come out during these free spins. Any more Horse symbols that come out will turn themselves into either Caesar or Cleopatra symbols.
Lastly, there is the Random Progressive Jackpot being awarded at, well, a random time to someone, randomly. There is only one way to make sure that you can be a part of that!
Pros & Cons
Low house edge
Clean images/graphics
A little bland for its release date
Final Thoughts
This is actually the part where we would usually fill you in on anything we've missed with the rest of the review. Again, in the name of honesty, we're not going to do that right here because we've pretty much hit on everything. There really isn't a ton to see with the Caesar's Victory slot.
However, with it's high RTP, easy to scan graphics, and simplistic play, you could do worse than Caesar's Victory!