People seem to have forgotten with all of the sprawling cities and other man-made landscapes that there is an end to the rainbow, even if we cannot see it anymore. You may remember that there's always something special waiting for you over at that end as well!
As we've all gotten a little older we may have forgotten about our little green friends that are just hanging out and waiting to be caught, waiting to give you some of their hard earned dough. It seems as though we all need a reminder that the little dudes and dudettes are hanging out there with their pot of gold to the lucky few that can find it, and Charms & Clovers is here to remind you!
Screenshots
Charms & Clovers
Admittedly, the theme is really nothing new, but it's not a bad thing either. It's got a strong Irish theme with some jaunty, good Irish drinkin' music to keep you going all throughout the night, stomping all over the bar. Combine this with some nice, bright and colorful graphics and you've got a pretty good time coming you way!
The price of admission, per spin if you will, starts off at 40 cents with betting 1 coin per line at a penny per coin, and can go up as high as 200 dollars per spin by playing at a dollar per coin combined with 5 bets per line. This makes it affordable for just about everyone out there that feels the need to get their jig on.
Tons of Special Features
Charms & Clovers comes from the people over at BetSoft. It only features 40 paylines on a 6×4 board that pays left-to-right which doesn't sound like much, but there sure is a lot of stuff to go with these lines!
First of all, you've got the obvious 6th reel in play when you are playing Charms & Clovers. With this 6th reel you are able to possibly kick in one of four bonus features.
Money Wheel

The Money Wheel spins on its own like a "Wheel of Fortune" wheel and can earn you anywhere from 4x your total bet to the great big, monster sized jackpot prize!

Mega-Symbol

The Mega-Symbol can introduce giant, 3×3 Leprechauns for the duration of free spins. Pop this and there will be 8 free spins coming your way.

Golden Bonus

Here you can chase the Leprechaun back to his place and choose a pot of gold to earn a money prize.

Pots O' Gold

Golden coin "Wilds" will be added each spin of the reels during this free spins bonus feature.
If these features aren't enough for you, there is also the possibility of a "Double Up" after every win. With this feature you will be taken to a new screen after a win where a giant shiny golden coin is awaiting you. Simply choose "Heads or Tails" and if you are correct you can potentially double your win. You are able to do this as many times as you would like. After every win of the coin toss you have the option to cash out or to keep going until you lose the toss. Have a big win you'd like to both keep and want to gamble? You are able to toss the coin only gambling 50% of your winnings if you would like.
Charms & Clovers Gameplay Video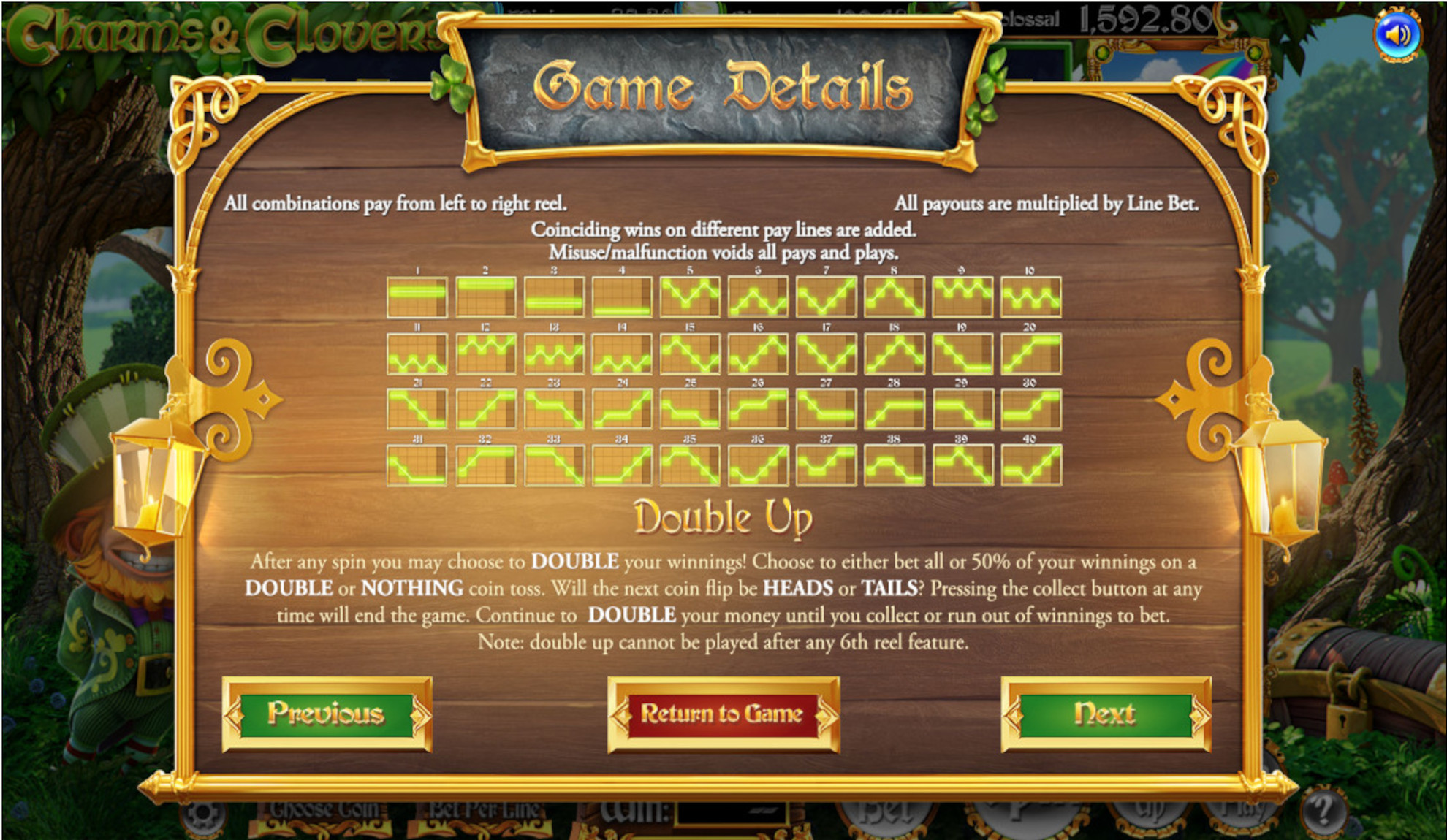 The Symbols of Charm
Some of the symbols you'll be looking for here are expected, some of them may seem kind of random. You have:
Jack
Queen
King
Ace
Bar Sign
Beer Mug
Horseshoe
Pot o' Gold
Clover
Golden 7
Rainbow
Leprechaun
As we said, this pays out with matching symbols going left-to-right, and as with most slots you'll be looking to get at least 3 in a payline. You will win more by matching more, such as 4, 5, or even 6 with that 6th bonus reel going on!
At the lowest possible wager per spin, by matching 3 Jacks a player will win 5 cents. At the maximum bet per spin and lining up 6 Leprechauns, the payer will win $25,000. How much you want to win is up to you!
Pros & Cons
Plenty of Mini Games
Double Your Win Feature
Pleasant Background Music
Static, Non-Moving Background
The End of the Rainbow
While Charms & Clovers may not be bringing anything new to the table, what is does bring is tons of fun with all of the extra bonus features that are added to the normal gameplay. Our advice? Pour yourself a nice glass of Jameson or your favorite Irish whiskey, head on over to play some Charms & Clovers and chase that little booger right back to where he keeps his pot of gold.