I've created step-by-step tutorials for the
most popular casino games
. Up until now, the only one missing has been keno.
In truth, I've been holding off on it. It's not a game I recommend you spend a lot of time playing. The odds are terrible, we'll talk more about that in a moment, and there are much better casino games that are much more exciting to play.
Having said that, I realize a lot of people are interested in keno and want to know how to play it. I'll lay out the rules of the game below and highlight some basic strategy. I'll also share 10 tips that'll help you make your bankroll last while playing it.
If you've ever been interested in casino keno, you're in the right place. What follows is the only guide you'll ever need.
Let's start with the rules.
How To Play Online Casino Keno – Rules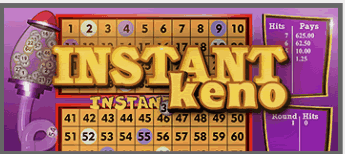 The rules are simple. You choose the amount you want to bet. You select a set of numbers. Then, you sit back and wait to see how many of your numbers "hit" or "catch." You earn a payout if enough of your numbers do so.
You can select numbers between 1 and 80, although some "specialty" keno games limit the range to 40. The maximum number of picks you're allowed to make is usually either 10 or 15 depending on the variant and casino.
Once you select your numbers and click the "Play" button, the software will spit out 20 balls, one at a time. You wait as it does so, hoping several of yours catch.
If you don't want to select the numbers yourself, hit the "Quick Pick" button and 10 numbers will be selected for you.
That's it in a nutshell.
With regard to betting, you can bet as little as $0.01 or as much as $10 per round. You can also choose to "Play 1" card, "Play 5" cards, or "Play 10" cards. Keep in mind, selecting "Play 10" with a $10 bet puts $100 at risk.
The payouts change according to how many numbers you select. (They also vary by casino, of course.) Take Bovada Casino as an example. Suppose you select three numbers. If two of them catch, you'll be paid two credits. If all three catch, you'll receive 45 credits.
Now suppose you select six numbers. Here's the corresponding pay table (listed as the number of #s that catch: number of credits earned):
3: 1 credit
4: 6 credits
5: 111
6: 2,000
Here's the pay table if you select 10 numbers:
5: 2 credits
6: 26 credits
7: 180
8: 1,200
9: 10,000
10: 100,000
Notice that the minimum number that need to catch in order to earn a payout changes according to how many numbers you select. Keep that in mind.
Online Keno Odds
The reason I recommend not spending a ton of time (and money) on casino keno is because it has terrible odds. In fact, practically every other game you'll find at Bovada Casino, Slots.lv, and MyBookie gives you a greater chance of winning.
It's helpful to think of keno in terms of payback percentage, similar to slots. In other words, over time, what percentage of every dollar you bet can you expect to receive back in the form of payouts?
Would you believe the number is as low as 75%? That's comparable to the worst-paying slot machines!
As with all casino games, keno odds stem from the pay table. The problem is, as we covered above, the pay table changes according to how many numbers you select. That can quickly complicate odds calculations.
Fortunately, there's a simple solution. Michael Shackleford has a nifty calculator that'll do the heavy lifting for you. Input the number of picks you intend to make and enter the corresponding pay table, and the calculator will spit out the payback percentage along with lots of other data.
For example, suppose you intend to select five numbers at Bovada. Here's the corresponding pay table (again, listed as the number of #s that catch: number of credits earned):
3: 2 credits
4: 15
5: 850
Basic Keno Strategy: 10 Quick Tips For Winning At Keno

Playing keno is similar to playing slots. You sit back and wait for things to happen. The biggest difference is that, as a general rule, keno comes with worse odds. In my opinion, slots are also more fun because they offer more variation. You can play fruit slots, video slots, multi payline slots, 3-D slots, progressive slots, etc.

With keno, you just choose numbers and wait to see which ones catch. Ho hum.

But there are some things you can do to avoid burning through your bankroll. You might even score a big payout or two along the way. Here are 10 quick tips for playing keno online.
Know Your Odds of Winning

It's always helpful to know the odds whenever you play casino games. It keeps you grounded so your expectations don't outpace reality.

Knowing the odds is doubly important with keno. Nobody plays the game expecting to get rich. Use Shackleford's calculator to get a realistic perspective of your chances of winning.

Bet The Minimum Amount

It's easy to burn through cash playing keno, especially if you choose "Play 10." Do yourself a favor: bet the minimum amount, at least in the beginning. At Bovada and Slots.lv, the minimum is $0.01. It's $0.02 at MyBookie.

Remember, the payback percentage on keno is pretty low. Betting the minimum will help make your money last. If you win big on other casino games, such as blackjack or craps, feel free to increase your bet. Likewise if you score a major payout on keno.

But until that happens, play the minimum.

Select Five to Ten Numbers

As a rule, selecting between five and ten numbers will give you the best odds of winning. Of course, as we covered above, a lot depends on the pay table.

This is where a keno odds calculator, like Shackleford's, comes in handy. Play with the numbers to find the sweet spot. That might be six numbers, eight numbers, or nine.

Play With Number Sequences

A lot of keno fans like to use sequences. For example, they'll pick the following numbers:
2, 4, 6, 8, 10, 12
1, 4, 7, 10, 13, 16
Will using sequences increase your odds of winning? No. But it can make playing keno more fun. That alone makes it worth considering.
Come up with your own sequences and experiment with them.
Use the Same Numbers for Each Round
A lot of players use favorite sets of numbers. They play them over and over. If you have a set that means something to you, why not try them?
Who knows? They might work!
In 2011, Huffington Post reported that 41,763 people used the numbers from the TV show Lost (4, 8, 15, 16, 23, and 42) on the same night for the Mega Millions lottery.[3] The winning numbers were 4, 8, 15, 25, 47 and 42. Four out of six ain't bad; each of those 41,763 players won $150.
Play Numbers That Haven't Hit
Some players believe in the law of averages when it comes to keno. They figure that numbers that haven't recently come up are more likely to do so than numbers that have.
Is this a good strategy? Well, it won't increase your odds. Remember, the numbers are randomly chosen. Just because 23 hasn't shown up in the last few rounds doesn't mean it's more likely to show up in the next round.
Keno is all about luck.
Having said that, tracking numbers that haven't hit, and betting on them, can make playing the game more fun.
Find the Highest Payouts
As I mentioned earlier, keno pay tables vary by casino. Some pay out better than others for select numbers of picks. One of the surest ways to increase your odds of winning is to play where you stand to receive the highest payouts.
Don't assume that a single casino offers the best odds across the board. Use a keno odds calculator to find the highest payback percentage for whatever number of picks you intend to make.
Ignore Keno Betting Systems
Betting systems are seductive. They promise to maximize your odds of winning by increasing or decreasing the amounts of your bets according to previous outcomes. Popular examples are the Martingale and the Reduced Keno betting system.
Forget about them. They won't help you to win. They're more likely to increase your losses given keno's low payback percentage.
If using a betting system makes playing the game more fun and you happen to have cash to burn, go for it. Give the Martingale or the Reduced Keno betting system a test drive. But if making your bankroll last is important to you, you're better off without them.
Set a Keno Betting Limit
This is a bankroll management tip. Set a nightly limit on your keno betting activity.
For example, limit yourself to spending $10. Once the $10 is gone, walk away. Move on to another casino game, such as craps, Pai gow poker, or blackjack.
Take Your Time and Have Fun
By now, you (hopefully) realize the odds of winning at keno over the long run are pretty slim. So the main reason to play is to have fun. Don't rush things in the hope of landing a big payout. You'll only succeed in burning through your money.
Slow down. Bet the minimum. Breathe and enjoy the relaxing pace. If (or when) you grow weary of keno, head over to, slots, craps or blackjack for a more exciting casino gaming experience.
How To Play Keno For Free
I've waxed on about the less-than-great odds and low payback percentages associated with keno. My goal is to encourage you to approach the game with the right expectations. Otherwise, you could easily blow through your roll.
But what if you could sidestep that risk entirely and play online keno for free?
You have that opportunity at Bovada Casino, Slots.lv, and MyBookie. I recommend doing the following:
Visit and register at all three sites.
Claim your welcome bonuses when you make your first deposits.
Play keno in "practice" mode to see if you enjoy the experience.
If you enjoy the game, switch to "Real Play" mode to play for real-money payouts.
Some people LOVE playing keno. They find it's a great way to pass the time, especially when they're bored. If that describes you, get thee to Bovada Casino, Slots.lv, and MyBookie to play the game for free!
Keep On Reading