Quick Way To Evaluate Online Casinos Legitness

While putting together reviews of online casinos, I do a lot of comprehensive, in-depth research.
That research takes time, but through checking out so many sites, I have come to discover that there are certain patterns to the way that information is organized.
You probably don't want to take the hours that I do to research online casinos. Which is one of the reasons I've put together those reviews and why I keep a short list of good casinos.
Basically, I do all the hard work so you don't have to 🙂 (it's ok, I love my job.)
But of course I strongly advise you check out the gambling sites for yourself, especially when it comes to the bonus offer terms and conditions. You should fully understand the strings attached.
It's always good to get in the habit of looking over site details yourself. Plus there are certain site terms you should read directly so that you understand exactly how they apply to you before you join.
So I decided I would put together a guide to teach you how to quickly evaluate casinos online for quality and their legitimacy.
If you do not feel like taking hours to research a site, but you do want to jump around and see the most important details, here is what I recommend that you do at a bare minimum.
1. Scroll to the bottom of the homepage and read the text you find there.
The very first thing I suggest doing is scrolling all the way to the very bottom of the casino's homepage where you will see some small text. Reading this can be very informative, as it usually tells you the name of the company which owns the site as well as the location. In some cases, it also lists regulatory information.
2. Open the FAQ and skim over it.
Next, I suggest that you take a look at any Frequently Asked Questions pages. A good quality FAQ is usually a strong signal that you are dealing with a legit casino.
Take a look at this one from Bovada.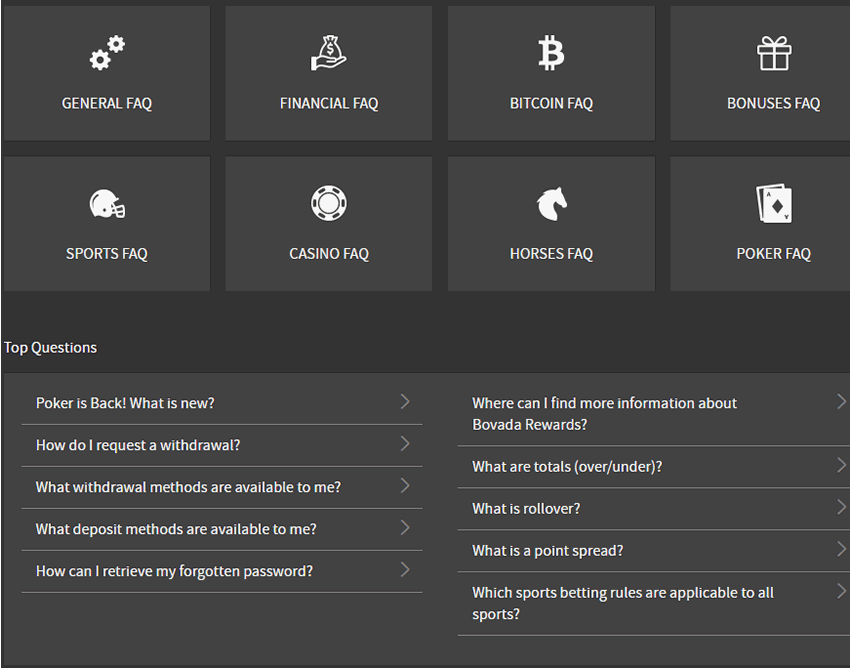 This is usually the fastest, easiest way to get answers to a wide variety of questions you might have involving promotions, deposits and withdrawals, games, software, and more.
Unlike the Terms and Conditions page, the FAQ is usually expressed in clear, simple terms.
3. Jump to the promotions page and check that out.
Next, if you are interested in bonuses and promotions, there is usually a separate page where those are listed out in detail. You can usually find it in the top links. Head over there and see what the site has to offer.
4. Check out the Banking page.
Next, see if there is a page which is dedicated to providing information on deposits or withdrawals. Sometimes this is available to all site visitors, while other times it may only show up if you register an account (this happens when it is the same page where you actually make your deposits and withdrawals).
On the Banking page, look for the following information:
Deposit and withdrawal methods which are accepted.
Can you use different methods for each, or do you have to use the same method for both?
What are the processing times for each of the methods?
What days does the casino review requests for withdrawals?
What are the fees for the different methods?
What is the minimum withdrawal amount?
Are you restricted to a certain number of withdrawals per month or week?
What is the maximum withdrawal amount?
Oftentimes, you will find all of that information listed right on the Banking page. If you do not, you will need to look for it in the Terms and Conditions (see below).
I actually suggest that you check for the same information in the Terms and Conditions even if you do find it on the Banking page. Why? Because sometimes the information contradicts, at which point you will need to investigate further to find out what is correct.
5. Visit the Terms and Conditions page and enter in specific search terms.
When you first open the Terms and Conditions page (which is sometimes a sub-page under a heading like "Legal," but is usually linked directly at the bottom of the homepage), you may feel daunted. These pages are typically quite long and complicated, and may be expressed in legalese.
If you have the time and motivation, I always recommend reading the page from top to bottom. But if you are not interested in doing that (and most gamblers are not), I suggest that you use the "Find" function in your browser to jump to some key sections.
To call up "Find," just hit CTRL+F on your keyboard. You can then type your search terms into the box.
First, I suggest searching for the term "fee," and looking at every instance of it you find. Most of the mentions of "fee" will probably be in the section that relates to withdrawal and deposit terms. Again, read through these thoroughly.
You might find a few other instances of "fee" as well—which can alert you to fees which you would otherwise have likely missed, for example for inactivity.
The next useful term to check for is "bonus." This should take you right to the section of the Terms and Conditions which discusses rollover requirements and other restrictions related to promotional offers on the site.
If you didn't find regulatory information at the bottom of the homepage, you can usually find it listed somewhere in the top few paragraphs of the Terms and Conditions page as well. Looking for words like "license" and "registration" and "regulated" can help. Keep in mind that a general-purpose business license is not the same thing as financial regulation.
6. If there are separate Terms and Conditions pages for bonuses or so forth, look at those too.
Most sites condense everything into a single Terms and Conditions page, but some choose to put together a set of Terms pages, each relating to different aspects of the site and services. It is not uncommon for bonuses to have their own page, so if you did not find the info on the main Terms page, look for it there.
7. Open live chat and ask a question.
Once you have done all that, I highly recommend that you launch live chat if it is available. This is the fastest and easiest way to put the customer service team to the test and find out what kind of company you are dealing with. If you have a real question, ask it. If you do not, make one up.
Pay heed to the following:
How long you wait before someone arrives to talk to you.
How long it takes for that person to answer your questions.
Whether the response you receive is knowledgeable and comprehensive.
How friendly, enthusiastic, and accommodating the agent is.
Whether the agent tries to give you an unwanted hard sell.
It should be pretty easy to figure out for yourself whether you are having a satisfying customer service experience. Remember, this is the level of service that you can expect to receive as a member of the site, so make sure you feel comfortable with it.
8. Look up the business's relevant licenses.
If the casino site is regulated (according to what you see on the site), the next move is to head to the database of the regulator in question and try to look up the applicable license to make sure it exists and is current.
9. Make sure the features and games are what you are looking for.
Finally, check whether you need to download software (not common nowadays) to play. Most sites let you play online, and are compatible with a wide range of devices and operating systems. You should also take a look at the selection of games to see if the site has the slots and table games you are interested in.
10. Check reviews online.
Finally, as one last step, I suggest that you google for reviews that look at whether or not "is xxxx casino legit" or user generated reviews.  Check out casino review sites as well as forums to find out what kinds of experiences customers have had. Never forget that all reviews are biased in one way or another, and some may be left by competitors or others with a conflict of interest. So evaluate them carefully before you draw any conclusions.
Taking the 10 steps outlined above doesn't take that long. There are only several pages you will probably be reading from top to bottom. With the rest, you are just jumping around and skimming for the most part. But you will have ascertained the most important information on fees, bonus policies, company reputation, banking, and customer service.
Again, if you want to take a shortcut in discovering the best online casinos to join, take a look at our homepage. Once you find a few sites that interest you from our list, head on over and check over their features and terms for yourself.
It shouldn't take much time, and soon you'll be all registered and will be having a great time gambling online!
More Great Articles You Should Check Out