Around these parts, we do our best to not really deal with a lot of places that are "new". We don't want to bother with any of these newer fly-by-night casinos or sportsbooks just to find out that they are unreliable, don't pay out, have bad customer service, or do anything that makes the customer have a bad time.
There are exceptions to everything and every rule, and here's one now. We're making an exception for Super Slots!
The reasoning behind this exception is simple. Super Slots is run by the same people who own, manage, and run BetOnline and Sportsbetting, two of the most respected and trustworthy casinos/sportsbooks you'll find anywhere!
We feel confident enough that we're going to be having a good time here before too long over at Super Slots, and there's really only one way to find out if we're wrong. That's by getting into this review, so let's just jump right in and do this!
Some Basics to Know Right Away
Official Site – SuperSlots.ag
Deposit Bonus of up to $6,000 (details down below)
Deposit methods include Visa, MasterCard, AmEx, Discover, bitcoin, bank wire, money order, person to person, bank check, and other cryptos
Software: BetSoft
US Players Allowed? Yes, (check your local laws)
Headquartered in Panama
It does look as though you are not able to play any of their games for free. You must make a deposit first to play.
Screenshots
Super Slots Quick Overview
As we stated, Super Slots is run by some other folks that have been in the industry for almost 30 years. The team behind them has already been established, they've had a foot down since 1991. Forever in Internet years.
Just getting started on this review, I really like them a lot.
The $6,000 Welcome Bonus is huge. Other bonuses give you up to 50% in matched money. There's even a bonus offer that throws extra cash your way just for playing!
The BetSoft software is sleek, fast, and visually on par with pretty much any other software out on the market today.
Those of you that are looking for a sportsbook around here will be disappointed since Super Slots does not have one, but they're not supposed to. That's not what they're in the business of!
Super Slots Current Bonus Offers
You'll always want to check out current offers and promotions for yourself of any sites promotion page along with any T's and C's you've got to follow, but here's a quickie version for you to check out!
A $6,000 Welcome Bonus
Bigger Reload Bonuses Made on Sundays and Wednesdays
Free Slot Spins on Fridays and Saturdays
Earn Extra Cash just for doing what you would have been doing anyway…
…and more! Go see them all for yourself!
Now let's all go and take a look at what types of games are available over at Super Slots.
The Casino Games Available at Super Slots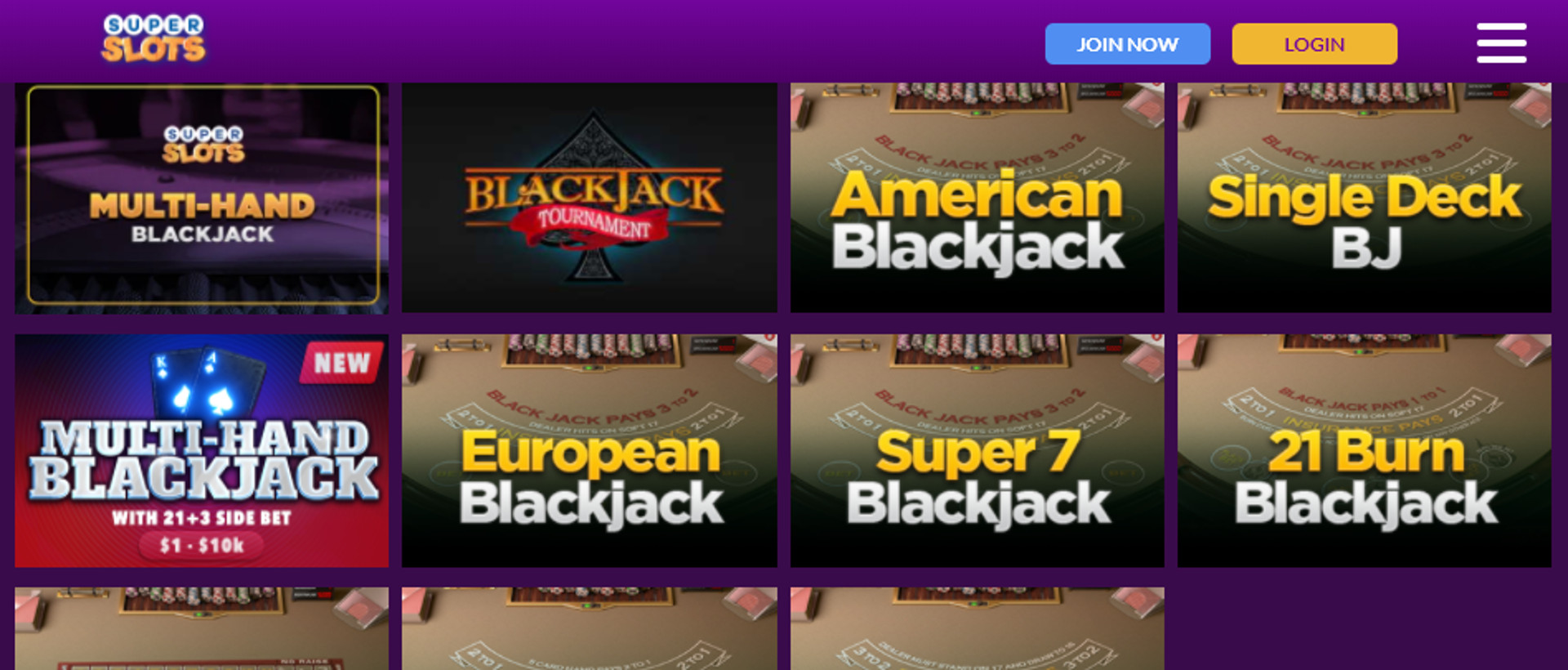 As we had stated above, there is no sportsbook nor a racebook here, but just about anything else that a casino could offer you!
Slot Machines
Blackjack (11 types as of this writing)
Table Games – Craps and Roulette (Many different types of Roulette)
Video Poker (13 types available)
Live Casino (There's 'Black' and 'Red'. Between the two you'll find versions of…

Blackjack
Roulette
Hold 'Em
Baccarat
Super Six
…and once again, so many more!
If you cannot find something to do over at Super Slots, you don't really feel like doing any gaming!
Is Super Slots For Real? Will They Pay Out When You Win?
We are going to go out on a limb here and say "yes" based on the fact that they're being run by the people over at BetOnline and SportsBetting, both of which have been around forever and haven't let us or anyone we know of!
Rest assured, if that were to change, we'd rush here to let you know in this review as soon as possible. Keeping customers happy and being honest with them is how we make our money!
Pros & Cons
High Bonuses
US Players Welcome
Modern Interface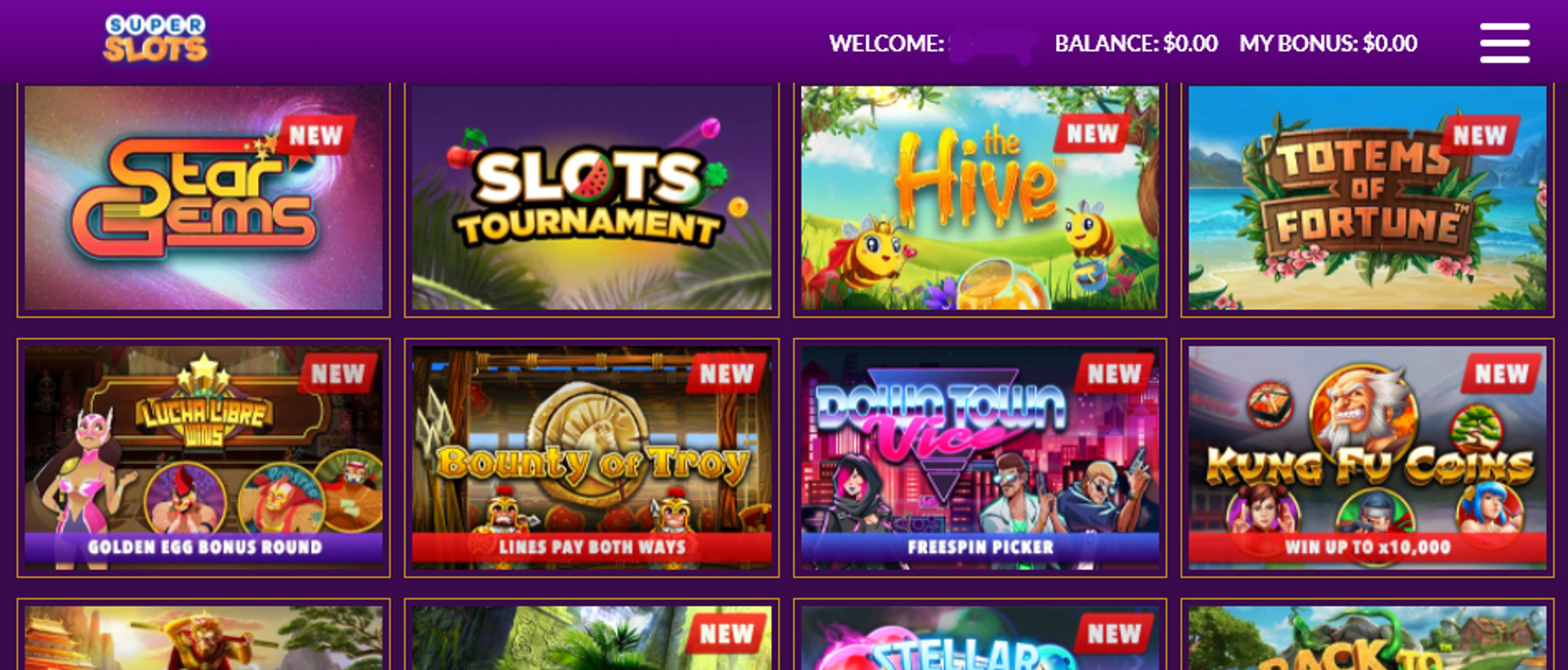 Final Thoughts
I like Super Slots. I ran around the site for a couple of days prior to writing this to check it all out.
The site is very well built, clean and modern.
No "no free gaming" is kind of a turn-off, but not a huge one. When I'm in the mood to do some gaming, I'm in the mood to do some gaming! I'll absolutely make that deposit, especially with the bonuses that Super Slots has going on at any time!
It's a shame that you're not going to find a sportsbook or a racebook around here, but again, that isn't going to bother a lot of people, especially if you already know that going into it.
There is absolutely no reason at all to go and check them out and see the new offerings from some of the well-seasoned industry vets around.