Blackjack variants available on Bovada.lv casino
If you're in a mood for a highly-profitable, competitive hand of Blackjack (or if you just want to practice your "21" skills), look no further! Bovada casino has an extensive offer of both virtual and live dealer tables available to all of their registered members and some even opened to the casino visitors. The popular card game can be found in Casino and Live Dealer categories, with 9 virtual tables and 13 live streamed variants.
Virtual Blackjack Games and Variations at Bovada

You can play these games for free or real money. Here they are:
Blackjack
Classic Blackjack
Classic Double Deck Blackjack
Classic Single Deck Blackjack
Double Deck Blackjack
European Blackjack
Perfect Pairs
Single Deck Blackjack
Zappit Blackjack
Blackjack games in this category can be played even if you do not have an active account, but only in fun-play mode. The versatility is not the only advantage of Bovada Casino and this category. In addition to a range of options, the players can also read an extensive overview of basic rules, tips, strategy and a description of the most popular game variants.
Play these blackjack variants right now for free or real money at
Bovada Casino
! Signing up and joining is absolutely free!
Black Jack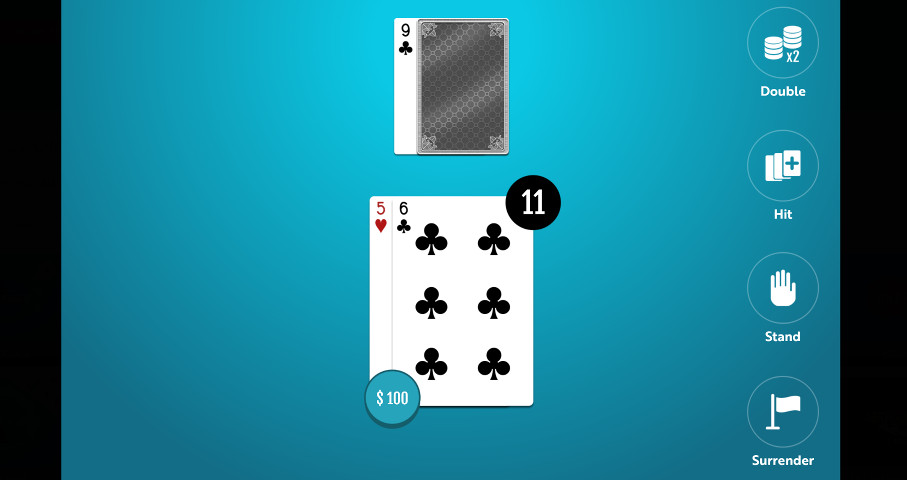 Obviously, this is a traditional 6-deck Blackjack variant, played on an easy to navigate platform that enables the players to select the deck, mute the sounds, and refer to the rule book. The limits are $1 to $2,500, but before submitting the first real-money wager, players can practice for free.
Surrender option can be used for the first two cards and the players can also place the Insurance bet.
The dealer must hit on soft 17 and the players can split their hands 3 times, with the exception of Aces, which can only be split once.
Classic Black Jack
There is no fundamental difference in rules between the Classic Blackjack and the variant described above.
Produced by a another software provider, the Classic version has a different table layout as well as the table limits – $1 to $500.
Classic Double and Classic Single Deck Black Jack
Classic Double Blackjack is played with two card decks and comes with $1 – $250 tables limits. The Insurance bet is available, but this version does not come with the Surrender option. The same goes for the Single Deck Blackjack variant – only one deck is used per session and the maximum bet is capped at $300, without the option to surrender the hand. If you are not a fan of this RTG version of blackjack, Bovada has an extra Double Deck virtual Blackjack table, with the same table limits and rules, but with a different design and background.
European Black Jack
Played with 6 decks, this RTG game requires the dealer to stand on soft 17 and the player can Double on hard 9 and 11 totals. The limits are the same as in this Classic game variant, $1 to $500, and the game is played according to the same rules: split Aces will receive only one card each, while other hands can be split up to 3 times. Blackjack pays 3 to 2 and Insurance 2 to 1.
Perfect Pairs Black Jack
Perfect Pairs are all about the side bets which come with a separate payout table. Insurance and Surrender features are applied to this version as well, but the real action starts when you wager on one of the following outcomes:
Perfect Pairs: 25:1 payout
Coloured Pair: 12:1
Mixed Pair: 6:1
Single Deck Black Jack

A visual alternative to the RTG Single Deck platform, this version also comes with $1 to $300 limits and an integrated rule book. The deck is shuffled before each new round and before every new hand, the player can use the Rebet button to repeat the previous bet or opt for a Rebet X2, doubling the previously wagered amount. If the dealer's card is an Ace, players can use the Insurance option, which will cost them 50% of the original bet.
Zappit Black Jack
Zappit is a traditional Blackjack with a twist. Every time the players are dealt with a hard 15, 16, or a 17 hand, they will be able to zap the cards and exchange them. To do that, just click on the Zap button and the new cards will be dealt. The feature comes with a price and Zapped Blackjack pays 1:1. Table limits are $1 to $500.
Live Dealer Blackjack
Live Dealer Blackjack tables can be categorized according to the limit. The most affordable tables come with a limit of $5 to $100 and there are four Blackjack variants in this group, each with 7 seats and a Bet Behind option, making the table available to an unlimited number of players.
The next in line are live tables with the limits of $15 to $750 and $25 to $1000. Finally, the last two are the high-roller tables with the limits of $100 to $2,500 per hand.
Editors Note – At the time of publication, table limits were a little different for both minimum and maximum. Best guess? Being a "Live" option, these tables may change depending on the time of day.
Bovada also offers Early Payout Black Jack in this category, and this is the only table that comes with three separate set of limits:
$5 – $100
$25 – $1000
$100 – $2,500
The return to the player percentage for this version is 99.5% and the early payout will let you collect a portion of your winnings before all the cards are revealed. Unlike other live tables, Early Payout Blackjack does not have a limited number of seats.
More Great Reads About Blackjack and Other Stuff