With the cold of February setting in, we were more than happy for a bit of the warmth and fun found in a Carnaval, Forever! Fortunately for us, Betsoft decided to organize a trip to the world-famous carnival in Brazil, free of charge.
If you ever hoped to see the dancers and make money while doing so, you're in luck. Because this slot will let you do just that! So pack your bags, and make sure to stuff them with as much luck as possible. Because a jackpot worth over $10,000 awaits the very best!
Screenshots
The game came out in 2019, just a few weeks before the actual carnival. The upbeat music certainly set the mood for the upcoming festivities! The background image shows off a beautiful, starry sky, and some elaborately decorated plants.
The actual symbols look fantastic, even if there's a distinct absence of interesting animations. It's certainly a missed opportunity, if you ask us. After all, the carnival's most recognizable feature are the beautiful dancers! Even if they added some basic dances to the human icons, it would have gone a long way.
Symbols are split into dancers and playing card royals. The numbers and letters have this weird shade of pink that makes them very distinct. Most of the dancers are female and quite beautiful, and are joined by a smiling man. Whether he's a dancer, or just someone lucky enough to join them on the floats is in the air. But his genuine smile makes him the highest paying icon on the board.
The layout is the same one Betsoft fans are used to. The slot smartly uses every inch of space, and places all the important details front and center. Everything looks good, and it doesn't take us more than two clicks to get what we want. That's all we want from a user interface.
Carnaval Forever has a medium variance, and only one special feature. You'd think having just one bonus would be a downside, but leave it to Betsoft to make it work! Under the right circumstances, you could draw out the initial free spins round and make it last for ages. And if you don't feel like waiting for free spins, you can buy them directly!
Slots of Fun
The game is played on a 5×3 board with 10 fixed paylines. Since the winlines are fixed, players cannot turn them on or off in order to lower their minimum wager. We're usually against losing functionality, but we're fine with this. It removes a trap new gamblers often face when they first start out with slots.
RTG's release has an RTP of 96.22% during regular gameplay. If you decide to shell out cash to activate the bonus, the RTP increases to 96.63%! And while the low house edge is good, we wouldn't recommend constantly buying into free spins. The cost of entry is too high to make it feasible.
At the very least, it's easy to change your balance. Simply select the total bet of your choosing, and start spinning! No need to keep track of how much each coin is worth, or how many active paylines you have. The betting range is great for casual players, too! Gamblers can stake between $0.10 and $10 per spin.
Carnaval Forever has an Autoplay option. Before activating it, you can choose the number of spins to be played, as well as the cost of each spin. There are no win or loss limits that you can set.
To win, collect three or more identical symbols in adjacent positions from left to right. The winning combination must follow one of the 10 active paylines, otherwise it will not count.
The Wild is the highest paying icon in the game, worth 100x your total stake. After it comes the smiling man, then the red and purple dancers. The green and blue dancers are the next in line, followed by letters A and K. Finally, the least valuable symbols are Q, J and 10. The Scatter does not grant any wins.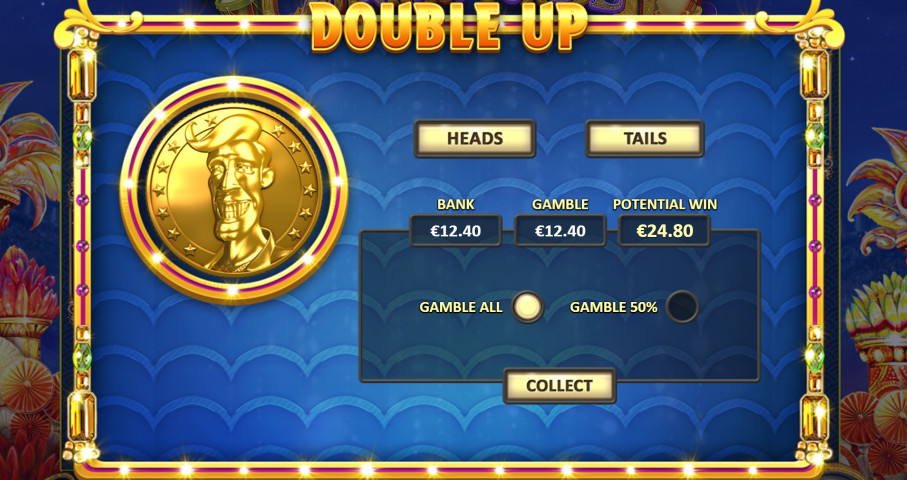 The Queen's Bonus
Collect three, four or five Scatters to win five, seven or nine free spins, respectively! After the extra turns are activated, each Scatter will grant two more free spins. Theoretically, this means you could keep playing extra turns forever! Even so, that's not the most impressive part. What truly amazed us is the fact every spin is guaranteed to win during free spins!
Pros & Cons
"Buy-able" Feature Guarantee
Bright, pleasant graphics
With such a fantastic special feature, we can understand being impatient. The slot gives you a way to skip the wait and go straight to the fun stuff. If you pay 100x your total bet, you get 10 free spins. The initial price is quite steep, so keep a lookout for the bonus coin. Each time it appears, it lowers the cost of the Buy bonus. Once the price drops to zero, the special feature automatically plays.