BONUS OFFER:
150 Monthly Spins
BONUS OFFER:
Weekly Mobile Award
BONUS OFFER:
Daily Promotions
It really doesn't matter whether the holidays are coming up or have already gone by, Santa is ready to let you into his big ol' bag of goodies and presents with Epic Holiday Party!
Okay, so maybe not Santa himself as much as some weird pervert-looking dude in a Santa suit, but maybe that will remind you of your own childhood. How awesome and wild were your parents?
Screenshots
This new for the 2020 holiday season slot comes at you from Real Time Gaming and brings all of the fun of the holidays straight to you no matter the time of the year.
Epic Holiday's graphics are very clean and modern looking with a lot going on but without being distracting from the main gameplay.
On the left you've got the famous Vegas Vic welcoming you and on the right the neon martinis of Miami making sure that no matter where you are, you're welcome to come along and party with Santa and all of his helpers.
Not only are we being treated with 243 ways to win, but there is a festive amount of other treats for you such as the opportunity to open up different levels of gaming giving you different jackpots and even higher payouts.
We know that this particular slot is listed as "high volatility" which is nice, but unfortunately we cannot seem to find the RTP of this machine. Usually we do not recommend slots that are under a certain amount, but by being "unknown", we leave it up to you, the reader to make your own decisions. Maybe it's horribly low, maybe it's incredibly high. Who knows?!
Epic Hoiday Party Gameplay Video
Epic Gameplay, Free Spins, Multi Jackpots…
…and a partridge in a pear tree…
Maybe no fowl hanging out in trees, but plenty of other stuff to keep you entertained over the holidays!
As stated, there is a total of 243 ways to win on this slot giving you plenty of chances to win big, and win even bigger depending on which level of game you would like!
As you start off, you are given the option to play the base game itself or pick one of four other levels to live a little, wager just a little more and bring in bigger wins with your spins! See this table below to check out the different levels.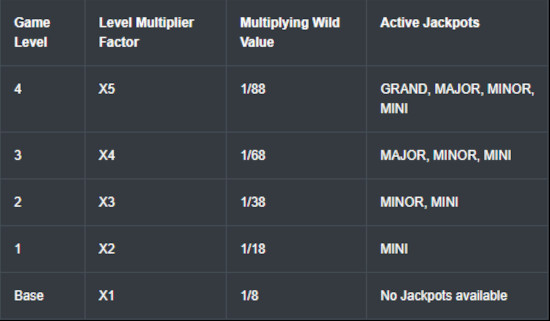 Once you start off playing, make sure you're playing for the level you want to go for! You don't want to hit that big win just to find out you were only playing the base game!
As with most other slots, as you go through your spins you will be looking to match up three or more symbols going from left to right for each win.
As you take your spins, you'll see the Free Games Christmas Tree spinning around and this is also the "Scatter Symbol" of the game. Three of more of these anywhere on the board will net you a sweet, sweet win. However, getting three, (or more) of these consecutively will get you 12 Free Spins!
Epic Holiday features a wild symbol in the form of a big ol' bag of gold. This can appear on reels 2,3, and 4 and will substitute for all other symbols except for the Scatter and the Multiplying Wild.
This is a snow globe and will appear only on reel 3 and will substitute for anything except for the Scatter symbol. This will greatly multiply your winnings when it is part of a winning combination.
Other symbols include a facsimile of Santa himself as well as a sleigh-load of beauties to come and help him out. Even Mrs. Claus herself has come along for the party and isn't looking half bad for an older woman!
Beyond that, you've naturally got the Ace, King, Queen, Jack, Ten, and Nine symbols to match up to try and rake in some money.
Pros & Cons
243 ways to win = a lot of winning!
Different levels of gameplay make for an exciting time
Nice looking graphics and music for holiday lovers
Different levels of gameplay maybe not so fun for those not so good with multiplication
Unknown RTP
The "choose your own level of play" is where this slot really shines through. Feeling a little on the timid side and want to play without risking too much per spin? Epic Holiday Party has you covered. Feeling a little more frisky and know that sometimes you've just got to risk it for the biscuit? You'll also be ready to go!
Santa is here to make sure we all get to have a jolly good time!