BONUS OFFER:
$1,000,000 in Monthly Prizes with Daily Tournaments
BONUS OFFER:
Weekly Mobile Award
Nowadays, most people live in sprawling cities, free of any Faerie Spells. Embracing technology, we have forgotten the magic lurking just behind the veil, hidden from our eyes. The luckiest few among us might just have the chance to meet these magical creatures.
Those who earn the trust of the fairies may have the honor of studying their magic so long as they swear to use it for good, and not for their own selfish needs. Like say, winning one of those four jackpots above the reels?
Screenshots
This was Betsoft's first slot in 2019, and what a strong showing it was! The developer started the year strong, with some gorgeous graphics. The background image shows the depths of a forest, with twisted trees hiding this hidden grove from the outside world.
We were hoping the new year might bring some interesting animations. Sadly, no such luck! That said, we're not going to complain too much. The game more than makes up for it in other areas, especially the symbol design. That said, we can only imagine how awesome Faerie Spells would have looked if it had gone all the way.
Speaking of icons, there's a whole lot of them! Playing card royals, water spirits, wands, wristbands, dragonflies, trees, and lots and lots of fairies! Then, during free spins, you get a whole different batch of symbols. Various coins, golden bars, and expensive jewelry flood the reels, alongside beautiful diamonds and powerful potions.
The layout is the same one used in previous Betsoft releases. It looks good, and it's super easy to navigate. It has our seal of approval!
The slot has a medium variance. It also comes with a whole host of special features that make it incredibly satisfying to play! Odds are, you won't be able to see everything in one go. But with a little luck, you'll be able to learn all the faerie secrets, and line your pockets along the way!
A Slot That's Pure Magic!
Faerie Spells is played on a 5×3 board with 10 fixed paylines. This means players are unable to turn winlines on or off in order to adjust their total bet. This simplifies the process of choosing your total stake, so we don't mind losing flexible paylines.
The game has an RTP of 96.03%, which is just above our recommended threshold. We consider anything below 96% not worth your time in most cases. Slots already have a worse house edge compared to table games like blackjack or roulette. No need to give the casino any extra advantages!
As we already mentioned, picking your stake is super easy in this game. Just select the value you want, and you're ready to start spinning! Even the paytable will change its values depending on your total bet, so you know exactly what kind of rewards you can expect. Gamblers can stake between $0.10 and $10.00 per spin. Great for casual players, not so much for high rollers.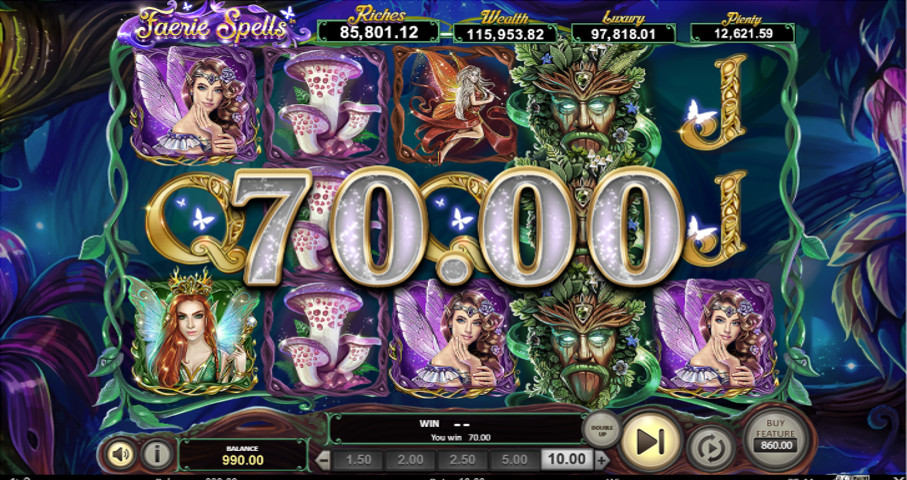 The Autoplay is a bit more expansive in Faerie Spells compared to other Betsoft releases. Here, you can choose the number of spins and wager, but you can also set a win and loss limit. Gamblers can also choose to stop Autoplay if they hit a jackpot.
To win, collect three or more identical icons in adjacent position, from left to right only. The winning combination must follow one of ten active paylines, or it will not be awarded to the player.
The Wild is the most valuable symbol, worth 100x your total stake. The two fairies are next on the list, followed by the large tree. The dragonfly and wristbands share the same value, as do wands and water spirits! For playing card royals, letters A and K and Q and J award the same cash prize. J and Q are the lowest paying icons, worth only 7.5x.
Pros & Cons
Easy to Navigate
Modern graphics
Older, already familiar layout
A Faerie's Many Blessings
Collect three, four or five Scatters to win ten, fifteen or twenty-five free spins, respectively. The extra turns are played on a separate set of reels, using different icons. It also upgrades you from 10 paylines to 1024 ways to win!
During free spins, there are four jackpot trails. Each trail is filled when the appropriate bottle appears on the playing field. When a jackpot trail is completed, the associated prize is awarded to the gambler.
There are purple mushrooms, called Magic Toadstools. Each one comes with an attached cash prize. To release the coins so you can pocket them yourself, you need a Scatter to appear on the same spin as the toadstools.
You can also choose to buy the free spins directly, instead of waiting for free spins to arrive. Buying in will set you back 86x your total bet. This is great for high rollers, but not so much for casual and mid-range players.