Buffalo buffalo Buffalo buffalo buffalo buffalo Buffalo buffalo
What? That's a perfectly good, legitimate sentence. Don't believe us? Just click on this link here, we'll be here when you return!
Screenshots
But moving on, man, that's a lot of Buffalo's! And there's plenty more to see and chase down as well with the Hot Drops Jackpots slot, Golden Buffalo!
Are you aware of what a Hot Drops Jackpots slot is, exactly? If you aren't sure, we've got your back! Just take a look at this post here where we lay it all out for you!
With that jazz out of the way, let's get to the excellent stuff, the Golden Buffalo Review!
Across the Desert Plains
If you are a genuine slots player then there's a pretty solid chance that you're already familiar with the Buffalo o' Gold here. This slot did come out in 2008 which is, well, forever ago. But here it is as part of the Hot Drops Jackpots family and we never gave it a proper review, so let's go!
Golden Buffalo takes place across the Desert Plains with a 6×4 playfield and an incredible 4,096 ways to win! While traversing the wilderness, you'll not only come across these Wild Buffalo, but there are also going to be Wolves, Racoons, and Eagles along with the Nine, Ten, Jack, Queen, King, and Ace.
There is also the Desert Symbol which will act as a Wild and substitute for all other symbols, (except for the Bonus Symbol) bringing you big wins as well as the Scatter Symbol that will trigger Free Spins and multipliers where you can win prizes of up to $500,000 at a time!
Let's get a look at these symbols here! Note that these winning amounts will change depending on just how much you would like to bet per spin. The amounts listed here are as if you were playing for $20 per spin.
| Symbol | Match 6 | Match 5 | Match 4 | Match 3 | Match 2 |
| --- | --- | --- | --- | --- | --- |
| Ace | $50 | $25 | $10 | $5 | |
| King | $50 | $25 | $10 | $5 | |
| Queen | $50 | $25 | $10 | $5 | |
| Jack | $25 | $10 | $5 | $2.5 | |
| Ten | $25 | $10 | $5 | $2.5 | |
| Nine | $25 | $10 | $5 | $2.5 | |
| Racoon | $100 | $50 | $20 | $10 | $5 |
| Wolf | $125 | $75 | $50 | $20 | $7.5 |
| Eagle | $150 | $100 | $75 | $40 | $10 |
| Buffalo | $200 | $150 | $100 | $50 | $25 |
Taking a look at that table there, you will see that you don't even need to get three of some of those symbols. Just getting two of them to come out will help you win some dough!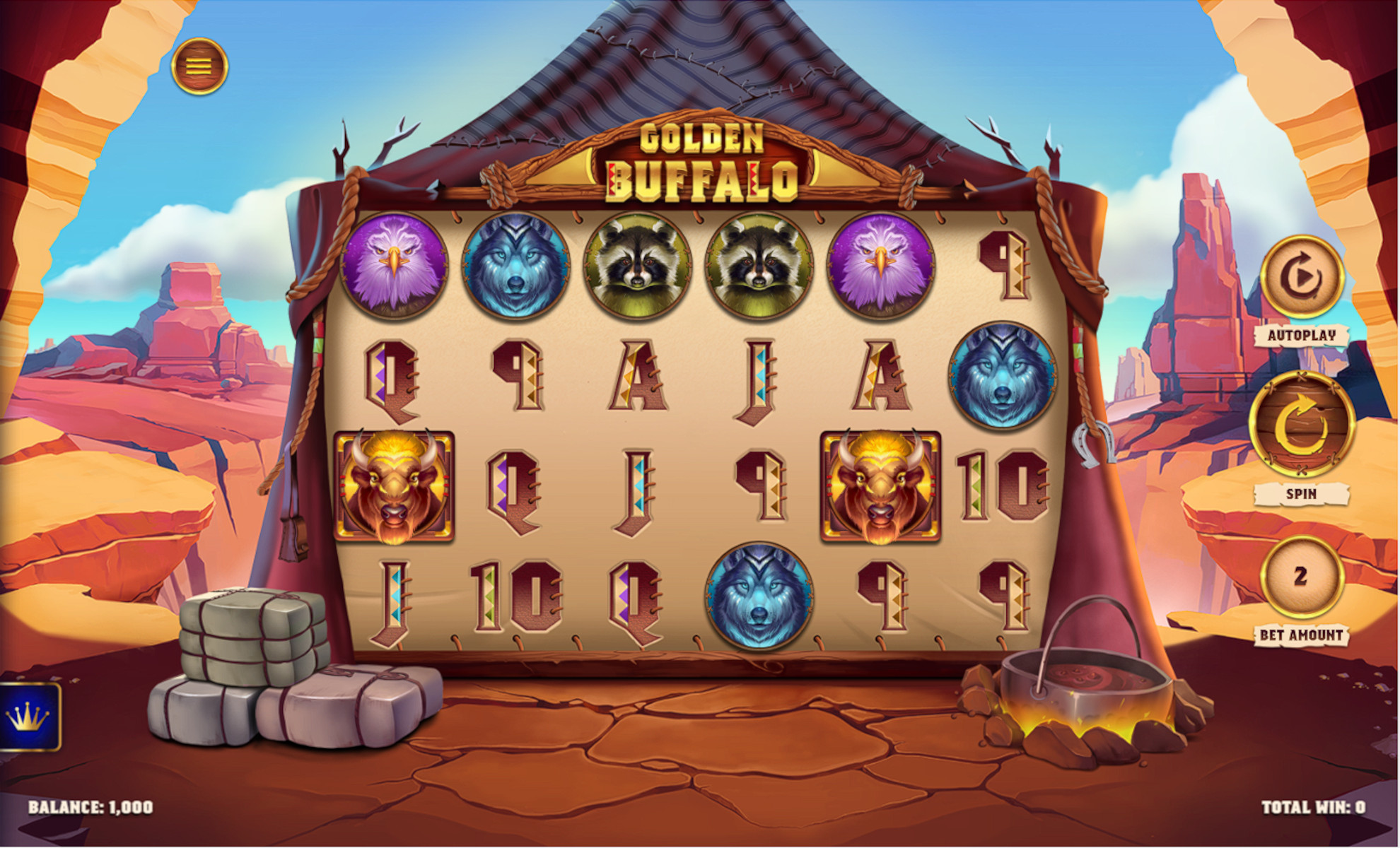 We have mentioned the Wild Symbol and the fact that it will substitute for just about any other symbol to help you out in obtaining some winning combinations.
There's also the Bonus Symbol which is represented by a Golden Circle and will spit out some Free Spins as long as you get at least three of them. Get more than three and you've got more Free Spins coming at you!
In fact, it's entirely possible to trigger up to 100 Free Spins at a time, and once these spins are taking place, it's also possible to get more Bonus Symbols adding to the spins you've already been awarded!
As for the price of the Golden Buffalo, the player will be given the option to play from 0.40 all the way up to $200 per spin. Golden Buffalo makes sure that everyone gets to play and has a chance at winning no matter the size of the player's bankroll!
Golden Buffalo Gameplay Video
Pros & Cons
Stood the test of time
Many free spins to be won
Part of the "Hot Drops Jackpots" group
The Sights and Sounds of The Desert
This is a great slot here in this aspect. Visually, the artists over at iSoftBet really outdid themselves with this one considering it was released 14 years ago!
The graphics are crystal clear, and clean, and most people just wouldn't guess that this slot is nearly as old as it is!
The same goes for the sound which isn't the worst in the world. The player is treated to the kind of tune they would expect from the old Spaghetti Western films. Even the sound of the reels spinning and stopping blend in quite nicely and don't take away from the experience.
Screenshots
Conclusion
There are a lot of products out there that will say something like, "This ain't your dad's *blank*". This isn't one of them, having been around for so long. As we have stated, if you're a regular slots player you've more than likely already seen Golden Buffalo if not flat out having played it in the past. If your parents like to play slots, they've probably played it as well.
So what makes it so great now?
Why is anyone really talking about it now, here in 2022?
There's a simple answer to those questions. Okay, actually 2 answers.
It's now part of the Hot Drops Jackpots which means there's even more money to be won, and
This is one of the few Online Slots out there that have truly stood the test of time. While many other slots go the way of the Dodo Bird within a few months, this just isn't one of them!
With so much money at stake and so many Free Spins just being tossed around all willy-nilly, the slot jockeys out there can sure do a lot worse than taking a few spins with the Golden Buffalo!