The 10 Most Common Mistakes Gamblers Make At Online Casinos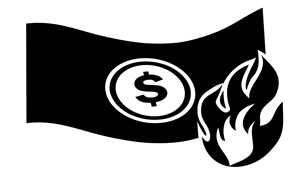 You play craps, blackjack, roulette, and other casino games to have fun. To blow off steam. To relax and let the stress of your day evaporate.
But in the back of your mind, you hope to win real money. That's one of the lures of online casino gambling. Like sitting at a real blackjack table or blowing on dice before shooting at craps, there's an element of anticipation online.
The cards might favor you. The dice might land on your numbers. If you're playing roulette, the ball might find its way into the right numbered pocket. With slots, the symbols might line up perfectly, rewarding you with a sizable jackpot.
The point is, gambling online is more than just a way to blow off steam. You hope to end up with more money than you started with. In other words, you hope to make a profit.
Sadly, a lot of gamblers unwittingly sabotage themselves. They make mistakes that wind up costing them money. There's no need for you to endure the same experience. Below, we'll cover the ten most common mistakes people make at online casinos so you can avoid them from the outset.
Top 10 Common Mistakes Gamblers make Playing Real Money Casino Games Online
Mistake #1 – Registering With Incorrect Personal Details
It's tempting to remain anonymous when you gamble online. To that end, some folks register using fake details, such as a fictitious name, a false mailing address, and a throwaway email address.
The problem is, all legitimate online casinos verify the identities of players before they send out checks. They have to. They must be able to confirm that you are who you say you are.
Some casinos will conduct the verification process when you sign up. Others will do it weeks later. Still others will wait until you formally request a withdrawal of your winnings. The point is, it's important to provide accurate, verifiable account information. That's the only way you'll be able to withdraw your cash.
Most casinos will accept a government-issued ID, such as a driver's license. Some may ask for a second form of ID. Be prepared to provide it. Don't wait until you request a withdrawal as that'll only delay your check.
Mistake #2 – Failing To Take Advantage Of Casino Promos


Every reputable online casino hosts promotions each week. These are in addition to the welcome bonuses you receive when you register your account and make your first deposits.
For example, here are a few of the promos you'll find at Bovada Casino:
Blackjack Weekends – earn points playing blackjack Friday through Sunday, and turn those points into hard cash worth up to $100. The opportunity is available every weekend.
Table Mania Tuesdays – do you like playing craps, roulette, or baccarat? Do you enjoy playing War, blackjack, or Pai gow poker? If you bet $250 on these (and other games) on Tuesday, Bovada will give you a $10 bump on Wednesday.
Mobile Casino Bonus – did you know you can play your favorite casino games for real-cash payouts on your phone? Bovada will even give you a $10 bonus your first time. All you have to do to receive it is wager $250 between Monday and Sunday.
Again, all trustworthy casinos host ongoing promotions. Keep your eyes open for them. It's in your interest to take advantage of them.
Mistake #3 – Being Seduced By Huge Casino Bonuses
A $5,000 welcome bonus is tough to ignore. You can't help but daydream about having it deposited into your casino account in the form of free money.
But welcome bonuses don't work like that. They come with strings attached. For example, you have to meet the site's rollover requirements. Also, bets made on certain games don't contribute to those requirements. In short, the casino isn't just going to hand over $5,000 for registering an account and making a deposit.
If you come across a huge welcome bonus, don't assume you'll walk away with the entire sum. Most gamblers earn out a small portion. Some earn out none at all. The amount you earn out is based on how much you wager.
Mistake #4 – Neglecting To Learn How Bonuses Earn Out
Whenever you see online casino bonuses and promotions, the first thing you should do is read the terms and conditions. Look closely for the following three items:
percentage bonus match
rollover requirements
eligible games
Many online casinos offer a 100% bonus match on your first deposits. (The percentage match can be as low as 10% and as high as 200%, but 100% is the norm.) Put $5,000 in your account and they'll match it with another $5,000. Put $50 into your account, and you'll receive another $50.
It's important to realize the bonus money doesn't go directly into the account you use to make wagers. It goes into a bonus "bucket." From there, you earn it out incrementally as you place bets. The more you bet, the more of the bonus that gets transferred from the bucket to your account.
In order to withdraw the bonus money, you have to meet the site's rollover requirement. This requirement may be 25, 30, 50, or even 100 times your deposit plus bonus.
For example, let's say you deposit $100 and receive $100 in welcome bonus money ($200 total). If the casino's rollover requirement is 50X, you'd have to place $10,000 in wagers ($200 multiplied by 50) before you'd be allowed to withdraw the $100 bonus.
Most casinos will only count wagers made on certain games as contributing to their rollover requirements. For example, bets made on Pai gow poker may be eligible, but not bets made on craps.
In short, always read the terms and conditions.
Mistake #5 – Using "Foolproof" Betting Systems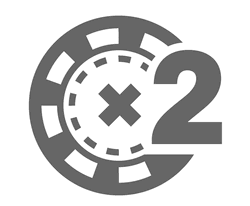 If there's a way to place a bet, you can count on someone coming up with a betting system "guaranteed" to help you win.
The thing is, no such system can fulfill that promise. No system is foolproof. None can guarantee a profitable outcome.
Casino games are based on odds and probabilities. That's where the house's edge comes from. The edge on every game bears out over millions of iterations (hands dealt, dice rolled, wheels spun, etc.).
No betting system can alter the house's advantage.
For example, the house edge on the Pass/Come line in craps is 1.41%. It'll remain 1.41% regardless of whether you're using the Martingale, D'Alembert, Paroli, or any other system.
To be sure, you might make money betting the Pass/Come line in the short run. Anything's possible. And if you manage to do so, you may be tempted to attribute your good fortune to the infallibility of your betting system. But in truth, your win would be attributable to chance. Were you to wager a million times on the Pass/Come line, and place no other types of bets, you'd most certainly lose.
Why? Because of the 1.41% house edge. No betting system will reduce or eliminate it.
Mistake #6 – Making Bets With Terrible Odds
As you know, some casino games carry better odds than others. And in certain games – craps is a fine example – some types of bets carry better odds than others.
It's worth knowing which games and types of bets offer the worst odds. Those are the ones you should stay away from (if you want to make your bankroll last).
Here's a quick list of online casino games and bet types that pose terrible odds:
any bet on Keno
tie bet in baccarat
hardway bets in craps
single-number bets in roulette
side bet in Let It Ride poker
insurance on blackjack
tie bet on casino War
progressive bet in Caribbean Stud Poker
That's not a complete list. But it's enough to get you started.
The main point is that you familiarize yourself with the casino games and types of wagers that pose the worst odds in the house. Avoid them. You'll save yourself a lot of frustration.
Mistake #7 – Risking (And Losing) All Of Their Winnings
If there's a way to sum up this mistake, here it is: don't get greedy.
A lot of gamblers win big and develop an unshakable confidence in their ability to do it again. They start to feel as if they have the Midas touch, and nothing can go wrong.
That mindset is dangerous for a couple of reasons.
First, remember that the house enjoys an edge, an advantage, on every game and every bet. If you win big and continue to gamble, the casino will eventually recoup its money. That's the reason so many experienced gamblers advise taking your winnings and walking away. Doing so locks in your profit.
Second, overconfidence sets the stage for making costly errors. For example, if you've won big on craps, you might throw caution to the wind and make hardway bets. That's a surefire way to surrender your winnings.
If you win big, don't get greedy. Set aside some of your winnings. You'll be glad you did when your good fortune expires.
Mistake #8 – Neglecting To Create A Bankroll Management Plan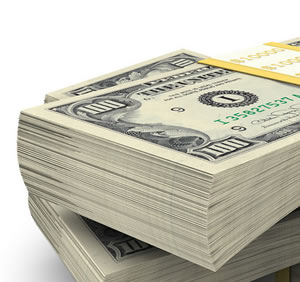 Every gambler intuitively knows he or she should have a plan regarding how to manage their money. Otherwise, it's too easy to hemorrhage cash. Despite that intuition, bankroll management is one of the most commonly-ignored aspects of playing at online casinos.
What should a solid plan include? Decide on the following before you place your first wager:
amount of money you'll risk each night
number of bets you'll make each night
size of each wager
cumulative losses at which point you'll stop betting
percentage of winnings you'll set aside following a big score
which casino games you'll play
which casino games you'll avoid
when you'll deposit more funds into your account
A bankroll management plan that addresses these items will help you to make your money last. You'll not only be better able to ride out losing streaks, but you'll also be ready to take full advantage of winning streaks.
Mistake #9 – Dismissing A Potential Gambling Addiction
This is something that's rarely talked about. Consequently, few people realize that it's a potential problem.
Gambling online can become addictive, particularly for folks who already have an addictive personality. Over time, the recreational gambler might develop an uncontrollable impulse to place bets. It's like getting hooked on an illicit drug. Placing bets causes dopamine to flood the brain. That produces an exhilarating sense of satisfaction.
The result? The gambler places more bets – often increasingly larger ones with greater frequency – in an attempt to reproduce that feeling.
That's the basis of all addictions.
Be aware of your mental state when you place wagers. Play responsibly. If you start to feel the impulse to make bigger bets more quickly, step back and take a break. Turn off your computer – or put your phone away if you're playing via a mobile casino – and go for a walk. Come back fresh and clearheaded.
Gambling addiction is real. Don't assume you're immune to it.
Mistake #10 – Chasing Losses
One of the worst things you can do at an online casino is to chase your losses. I know the feeling. You suffer a losing streak and convince yourself that things are soon going to turn your way. All you have to do is stick it out.
The reality of online gambling is that things may not turn around as soon as you hope. As you make wager after wager in the hopes of recouping the money you've lost, you succeed only in risking (and losing) more of your bankroll.
Your losses grow. The hole deepens. This is a common scenario. Many gamblers lose their shirts trying to win back money they've lost at the tables. And nothing makes a casino happier.
Your bankroll management plan should prevent, or at least dissuade, you from chasing your losses. It just takes discipline and the willingness to let things go. The upside is that you'll preserve your remaining cash rather than wasting it in pursuit of a false hope.
Bonus Mistake: Choosing A Casino Without Doing Due Diligence
This is a mistake that trips up a lot of newbie online gamblers. They assume all online casinos are essentially the same.
But nothing could be further from the truth.
Some casinos are legitimate while others are decidedly less so. Some set reasonable terms regarding their bonuses and promos while others make it practically impossible to withdraw your bonus money. Some have a track record of quickly sending out checks to their customers while others seem to impede the withdrawal process without good reason.
In an upcoming tutorial, I'll show you exactly how to know whether an online casino is trustworthy and worth your time. For now, I strongly suggest you stick to the ones listed here.
If you avoid the ten – actually, eleven – mistakes we've covered above, you'll do better than the majority of online gamblers. You'll also have more fun playing your favorite casino games with the anticipation of possibly making a profit and building your bankroll.
Keep On Reading