If you have ever played slots, heck, if you have ever seen some slot machines, there's a good chance that you're already familiar with the "777" game. You've got some 7's, you've got some fruit, you hope that they'll line up to pay out some prizes. *yawn
So is there a reason you should maybe go and check out 777 Deluxe? Well, let's just jump right in and find out!
Screenshots
We're strong enough to admit it. We weren't too jazzed about doing a review on this kind of slot. Read just a couple of sentences above about the yawn-fest it kind of is.
With 777 Deluxe, there have been some big updates to this classic and we stand corrected. 777 Deluxe is fun!
Classic Slot, Modern Gameplay
777 Deluxe plays out on a 5×3 board with 10 non-adjustable pay lines. This makes it so that as you enter the game you may think of the slots of yesteryear. There are in fact just some 7's and some fruit symbols that you're hoping will line up on a small board and pay out some cash. There are, however, some fantastic updates to this that actually did make this worth playing!
We'll hit up the first big update and then talk about the gameplay symbols and other updates. The big update in question?
777 Deluxe is part of the Hot Drops Jackpots family!
You may be familiar with the Hot Drops Jackpots, but maybe not. If you are a "not", that's okay, just check out this link here and it'll all get laid out for you!
With that in itself, you know there's already some serious cash that's going to be won by someone!
Let's go ahead and talk about something really, really nice going on in 777 Deluxe. Usually, on a slot machine the symbols will pay out Left-to-Right with some exceptions here and there, but those exceptions are rare. With 777 Deluxe not only do they pay out Left-to-Right but also Right-to-Left as well as the 3 In-the-Middle!
Going along with the updates we have mentioned, there's also a Mystery Symbol which is new to the old-school 7's slot. This is a welcome new addition with a symbol that will randomly turn into other symbols during your gameplay, but that's not all. Get three of these symbols and you'll open up the Bonus Game!
Super simple one here but will open you up to winning all kinds of cash!
During this game, a single reel will come out on the board with various 7's that will come out and pay various amounts. This reel will keep spinning along and paying out the dough until a stop symbol comes out and ruins everything. During one of our test plays, this game went on for a good solid 4 minutes before stopping!
During this Bonus Game, the prizes paid out will be your bet x1, x2, x5, x10, x25, x50 each spin.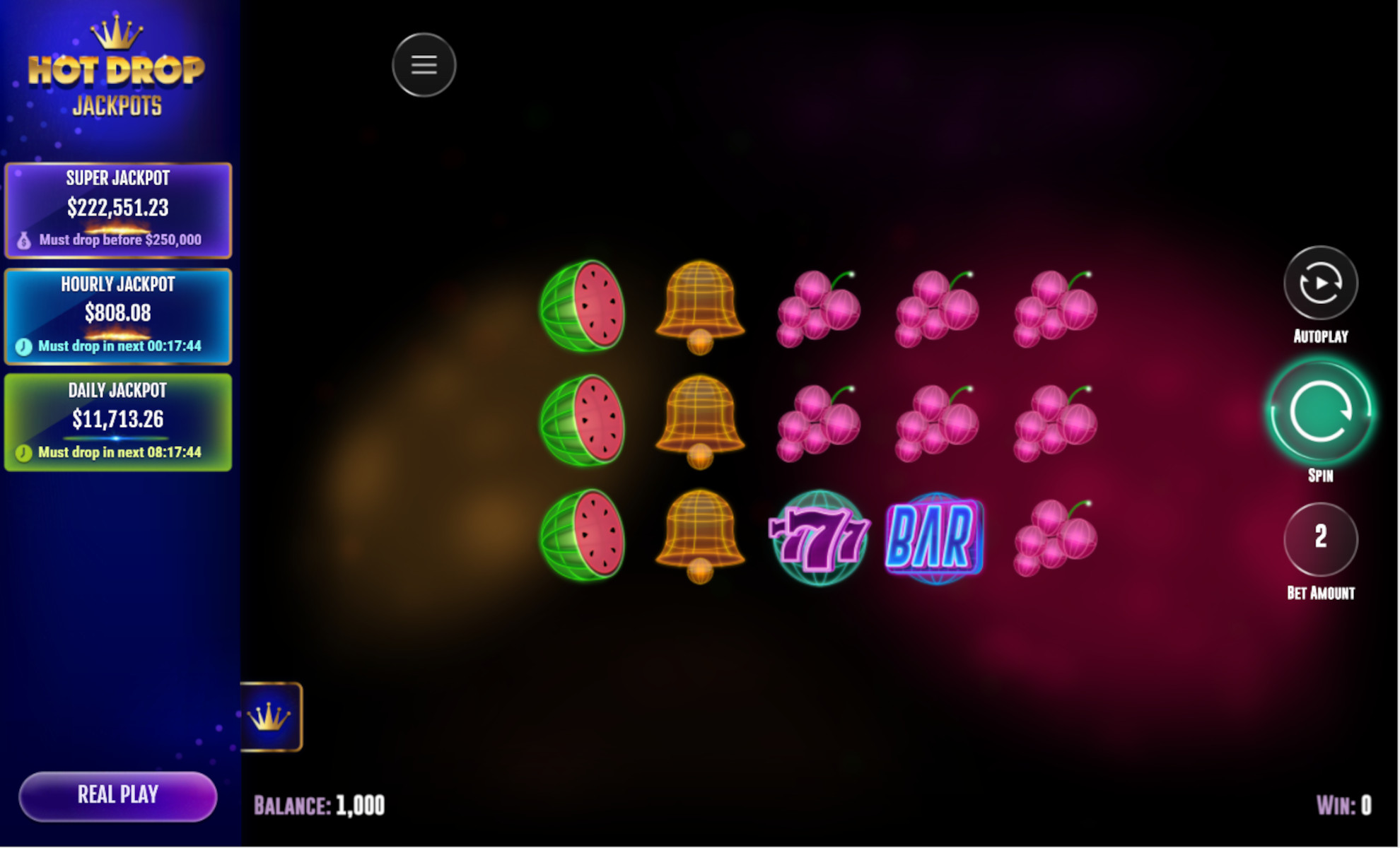 Moving past that, there is some classic gameplay going on with some recognizable symbols such as Bells, Bars, 7, Fruits, and so forth, but there are also Mystery Symbols, Bonus Symbols, even Golden 777 Jackpot Symbols floating around that will trigger some huge prizes!
Let's get a look at these symbols and payouts so that you know what to be on the lookout for!
(All of the prizes are listed as if you were playing for $5 per spin. This amount can go up and down depending on how much you would like to gamble per spin.)
| Symbol | Match 5 | Match 4 | Match 3 |
| --- | --- | --- | --- |
| 7's | $500 | $50 | $25 |
| Bar | $250 | $40 | $20 |
| Horseshoe | $150 | $30 | $10 |
| Bell | $150 | $30 | $10 |
| Watermelon | $100 | $20 | $5 |
| Grapes | $100 | $20 | $5 |
| Orange | $50 | $10 | $2.50 |
| Lemon | $50 | $10 | $2.50 |
| Cherries | $50 | $10 | $2.50 |
777 Deluxe Gameplay Video
The Sights and Sounds of 777 Deluxe
While the sights of 777 Deluxe aren't really groundbreaking, they're still quite pleasant! They do hold a strong 80's vibe with a neon, grid-style theme. Think of the movie "Tron" and think about what they would play if they were playing slots.
While you do still have the old-school style 7's, bars, cherries, and so forth, they've been updated and you probably won't feel as though you stumbled across some old slot that you'd find at the gas station.
These were actually also very nice. You've got a simple beat in the background to keep things interesting and all of the actions of the game have their own sound to get you immersed, from the chimes of winning symbols, the sound of the Mystery Symbol changing, down to the reels themselves just stopping.
There isn't anything that will come as a surprise to you and ruin the ambiance that the game brings.
Pros & Cons
Part of the Hot Drops Jackpots
Amazing Updates for the Theme
Only 10 Paylines
Unless you count the Bonus Game, there are no Free Spins
Screenshots
Final Conclusion
As we have stated, we actually became pleasantly surprised with this slot.
Could such an old slot be updated so that it's still recognizable yet fun again? It turns out that the answer is a big ol' fat "yes"!
We know that we listed the "only 10 pay lines" as a con, but the reality is that not all Online Slots are going to have hundreds if not literal thousands of pay lines. Sometimes you're just going to play something with a smaller amount of pay lines, and this may as well be one of them.
Beyond that, you'll have an RTP of 96.18% which isn't the worst around!
Overall, if you were to ask us if this slot is worth playing the answer is "yes, definitely". Add in the fact that it's part of the Hot Drops Jackpots and we really cannot think of a reason that the people should not be playing this!