The A to Z of Slot Game Bonus Features
The A to Z of Slot Game Bonus Features
In this slot playing guide we are going to take a look at many of the different and unique bonus games and bonus features that can be triggered and awarded to you when playing slot games online.
This listing is presented in an A to Z type of layout, and when you are looking for something completely unique by way of bonus game feature rounds then do refer back to this guide for we can guarantee that all of the following bonus game features are unique and not found on many online slot games!
You will find the slot games listed below at casinos using Microgaming, Playtech or NetEnt gaming platforms, and as you can play these games at no risk and for free online then why not give them a try for free to see if you like the way these bonus game features play when they have been awarded to you?
Anytime Bonus – One bonus game feature that may appeal to you is the Anytime Bonus which is found exclusively on Microgaming's Wealth Spa slot game, this feature allows you to take the bonus games attached to this slot whenever you like once you have spun in one or more of the special Token symbols, and that will give you full control over when you take and play off the bonus games!
Bongo Drum Bonus – The strange looking Bush Telegraph slot game will award you with a Bongo Drum picking bonus game when three or more of the Bongo Drums spin on a winning payline from reel one onwards, the more Drums that appear the more picks you will be awarded with and this bonus game can payout up to 2,500 coins!
Contract Killer Bonus – Microgaming's Hitman slot game is the slot to play if you want to play a unique but potentially very large paying Contract Killer type of bonus game feature, once awarded you have to pick a victim and a weapon to kill him with then watch as that wicked deed is played out on the bonus game screen!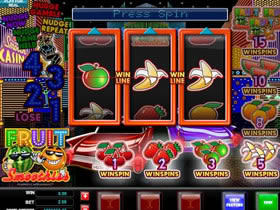 Dart Throwing Bonus – The Fruit Machine games found in Microgaming powered sites are the games that often have the largest and most varied types of bonus games attached to them, and when playing the Pub Fruity Slot you could end up triggering a Dart Throwing based bonus game, and the higher the score you make with your three darts then the more cash you will win!
Electric Shock Bonus – You will have to choose one of several switches to flick when you trigger the Electric Shock bonus game on the Franken Cash Slot game and when you do you will then see Frankenstein's Monster being given a high voltage shock, depending on which switch you opt to flick and the bigger the shock he gets the more cash you will be awarded with!
Free Spins Bonus – There are hundreds of slot games online that will award you with various amounts of free spins when you spin in a certain number of Scatter symbols, however if you want to play a slot which gives you 100 free spins for spinning in just three scatter symbols then make a beeline to play Microgaming's Gladiator slot!
Gamble Feature – You are going to find some quite unique types of optional Gamble games offered on many bonus video slot games, however do make sure you take a look at the Untamed Bengal Tiger Slot which comes with a brand new type of Gamble Game and one on which you can control the amount of risk and winning payouts when you opt to gamble any base game winning spins value!
Hold Feature – It is the Fruit Machine slot games you need to play if you want the chance of being awarded with Hold Features, when you play most of Microgaming's slots you will find you get awarded this bonus base game feature quite often and when awarded you can choose to lock in place one, two or all three of the reels for the next spin you play!
Insignia Bonus – We mentioned the Hitman slot game above, and this video slot found in Microgaming powered sites comes with an additional bonus game known as the Insignia Bonus Feature, this is a simple picking type game where you have to use your skill and judgement to select one of the Insignia Logos in the hope the one you pick has a higher valued winning payout hiding behind it!
Jacuzzi Bath Oil Bonus – Make sure you checkout the Wealth Spa slot game from Microgaming for this games comes with lots of unique bonus games one of which is a Jacuzzi Bath Oil bonus game and as you sit in the cyber Jacuzzi you will be awarded a cash payout depending on which Bath Oil you select!
Kung Fu Fighting Bonus – One bonus game which is going to put a smile on your face and maybe some large amounts of cash in your wallet is the Kung Fu Monkey game, and when playing it one of the bonus games that you can trigger is a Kung Fu Fighting game where you will be hoping that the Monkey manages to knockout his opponents, and if he does a large cash payout will be awarded to you based on just how many opponents the Monkey manages to beat!

Lower or High Bonus – The World War II themed Bomber Girls slot game is one on which you can be awarded a higher or lower playing card predicting bonus game, the game is very easy to play for all you have to do is to study the face up playing card on the bonus game screen and choose whether you think the next card is going to be higher or lower than that face up card!
Matching Bonus Game – Playtech, Microgaming and NetEnt software powered casino sites have huge numbers of Pick and Match type bonus game awarding slots, and whilst these bonus games are not overly complicated to play or understand with some luck you can often win some large amounts of cash when awarded with this type of bonus game, more so if the bonus game can award progressive jackpots!
Nudges – Much like the Hold feature mentioned above you will have to play the Fruit Machine games online if you are looking for slots offering this type of feature. When you are awarded Nudges you can then use your allocation of them to move the reels down one step at a time in the hope they help you complete a bonus feature or a cash paying combination on the payline.
Open the Box Bonus – You will find it is the Deal or No Deal slot games, of which there are many available at Playtech software powered sites that are going to offer you the most exciting and highest paying open the box type of bonus games. These slots are all based on the television game show Deal or No Deal and are proving to be very popular with online slot players it does have to be said!
Pick to Win Bonus – Microgaming, NetEnt and Playtech all have a huge and very varied selection of slot games that can award you with a pick to win type of bonus game feature round. One slot that is well worth playing is Playtech's A Night Out slot, for when you trigger its main bonus game you get to play a two stage picking game.
You first need to select one of the onscreen women and then pick off a cocktail to present to her, based on your decision you will first be awarded with a set of free spins once you have selected one of the women and your choice of cocktail to present to her will determine just how high the multiplier attached to each of your free spins will be!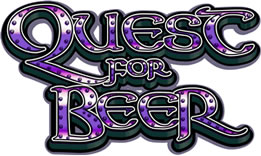 Quest for Beer Bonus – Microgaming's Stein Fest slot game has one of the funniest bonus game features you will find attached to any online slot game, when triggered you are faced with picking one of several onscreen characters and your chosen one is then faced with having to drink as many tankards of beer as he can, and the more of them he manages to drink, before falling into a drunken stupor the most you will win!
Roulette Bonus – There are not many slot games which can and will award you with a Roulette based bonus game feature round, however if you choose to give the Riviera Riches slot game some play time which is found in Microgaming powered casino sites then that is one of the bonus games that can be triggered!
Snakes and Ladders Bonus – Do make sure you give Microgaming's Big Kahuna Snakes and Ladders slot game some playtime if you are looking for a unique bonus board type game that is of course based around a game of Snakes and Ladders, when the bonus game triggers you need to roll a dice and try to get as high up the board as you can using the Ladders, but try and avoid the Snakes which just like the board game will send you back down the board when you land on them!
Treasure Trail Bonus – The Fruit Machines found in Microgaming powered sites often come with a Treasure Trail type of bonus game, one slot which can and does award this type of bonus game a lot is the Bingo Bango Boom slot, and as soon as you spin in numbers totalling 8 in value you then get to play one of several additional bonus game features.
Underworld Bonus – The Hellboy slot has an unusual bonus game which is going to see you being sent underground and using your judgement you have to work your way around a maze of sewers in the hope you will uncover lots of cash bonus payouts as you do so.
Voodoo Magic Bonus – Microgaming's Witch Doctor slot game is completely based around the Black Arts and spinning in three Chicken symbols they will then be sacrificed and will be turned into a set of free spins which will see you playing off 15 free spins with all winning combinations formed being worth double their usual payout amounts!
Wheel Spinning Bonus – Playtech's Lotto Madness slot game is one game that will appeal to slot players who both enjoy playing free spins bonus games and also wheel spinning ones, for when the bonus game is awarded to you then you have to spin a large bonus wheel which is divided up into different segments, each segment has attached to it a different number of free spins and one of several different multiplier values, whichever one spins in opposite the pointer is the one you will be awarded with.
X Marks the Spot – One slot that is going to see you having to pick off locations from a treasure map when its main bonus game feature round is triggered in the hope you reveal cash amounts as opposed to a cross which ends the game is the Age of Discovery slot which has 25 optional paylines and many varied stake level options!
Yoke Splat Bonus – One quite bizarre slot game bonus feature is offered on the Cashanova slot game, when you spin in three of the Egg reels symbols on its last three reels then you get to splat some eggs! You get to pick three of nine onscreen Eggs to be awarded with free spins a multiplier value and an additional cash payout awarded alongside every free spin awarded to you!
Zombie Shooting – Should you be a fan of Zombie films or television shows such as the Walking Dead then do make your way over to a NetEnt software powered online casino site and give their Zombies slot some play time, for when you trigger this games free spins round you will, in addition to playing off your awarded free spins, be hoping to shoot as many onscreen Zombies as is possible to accumulate additional winning payouts!
Use this A-Z bonus guide at 32Red.com today!