BONUS OFFER:
Bad Beat Bonus
Here's one for those that are looking ahead to the future!
Taking its design from the well known "Blade Runner" movie, Cyberpunk City is a slot for those that love the dismal look of Ridley Scott's vision of the future with it's dark and gritty design. There's the constant rainfall and the bleakness of society only being broken up by the sudden lights from the neon signs grabbing your attention, and please mind the piles of trash on the ground there.
We here at GoodCasinos decided to go ahead and take a little trip to the future to see what this slot was all about, and great news! You're invited along!
Screenshots
All of the Wild, Futuristic Features
The player will have just about all of the same symbols that are found within just about all of your modern slots. There won't be a whole lot of surprises in that department.
Taking a look at all of them, you will have,
Expanding Wilds

Among these features that are being offered by Cyberpunk City we've got an expanding wild symbol to be on the lookout for. This is represented by a shirtless cyborg, (half-man, half-machine) missing an eye but still keeping the other on you.

He will randomly appear on reel 3 right in the middle there and will stand in for any other symbol except for the scatter symbol.

Random Wild

This guy may pop up and turn any of the high paying symbols into wild symbols.

Cyber and Punk

This is actually 2 different symbols to be on the lookout for. One is an octagon with the word "Cyber" on it and "Punk" on the other.

With these 2 symbols in mind, you'll actually want them both to pop up at the same time with the "Cyber" on reel 1 and the "Punk" on reel 5.

Good news, when they do pop up at the same time the player is rewarded with 10 Free Spins with the prize multiplier at 2x. During this time you cannot change the bet amount. However, it is possible for the "Cyber" and "Punk" symbols to arrive again giving the player another 10 free spins.

Jackpot Symbol

Obviously, you'll really want to see this one. Represented by our heroine with a vibrant pink mohawk, you know she's here to kick ass and chew bubblegum, and she's all out of gum.

This is actually a progressive jackpot that will randomly be triggered.
Cyberpunk City Gameplay Video
At the time this is being written, the jackpot for this over at Bovada is just a little over $96,000!
Edit – while this was being written, some lucky dog won the jackpot! Good for them! The jackpot now currently sits at just a fuzz under 25k. That's still pretty nice!
As you read this review, you will see the names
Bovada
and
Ignition
pop up a couple of times. Joining up at Bovada today can get you a sweet
100% Welcome Bonus
of up to
$1,000
when you use the
NEWWELCOME
when making your initial deposit.
Use bitcoin? Use the code
IGBITCOIN200
when making your first bitcoin deposit over at Ignition for a
200% Welcome Bonus
with them!
Symbol Payout Table and Gameplay
To kick things off over here, you'll have the higher paying symbols. These are represented as such.
Guy with Green Neon – Match 5 = 250, Match 4 = 25, Match 3 = 5
Guy with Blue Neon – Match 5 = 50, Match 4 = 10, Match 3 = 4
Girl with Pink Neon – Match 5 = 20, Match 4 = 4, Match 3 = 1.50
Robot with Yellow Neon – Match 5 = 15, Match 4 = 2.50, Match 3 = 1
And then we of course have the lower paying symbols.
Ace – Match 5 = 12.50, Match 4 = 2, Match 3 = .50
King – Match 5 = 12.50, Match 4 = 2, Match 3 = .50
Queen – Match 5 = 10, Match 4 = 1.50, Match 3 = .50
Jack – Match 5 = 10, Match 4 = 1.50, Match 3 = .50
Ten – Match 5 = 10, Match 4 = 1, Match 3 = .50
Nine – Match 5 = 10, Match 4 = 1, Match 3 = .50
Cyberpunk City is like most slots that you are going to find now running on a 5×3 playfield with all of your wins coming from matching your symbols from the left to the right.
It has 20 non-adjustable lines meaning that you cannot change them and play any less lines as you go spinning, although at Bovada you may choose anywhere from 20 cents to $200 per spin and take advantage of all 20 of them every time you go for a turn.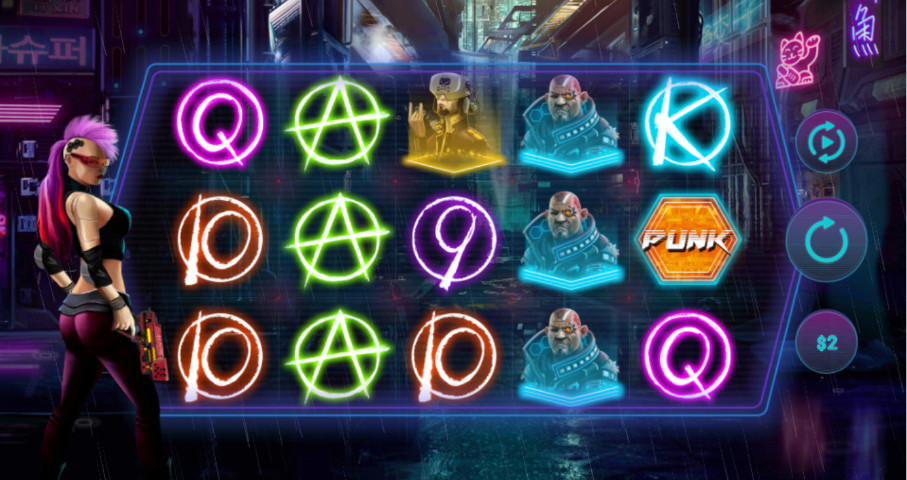 Gritty Graphics and Bouncy Sounds for All
The graphics in Cyberpunk City are very dark and gritty, almost dirty looking. Yes, this would normally be a bad thing, but not here! This is exactly what the artists were going for with this release, taking cue from Ridley Scott's dystopian classic.
There is a market for this with people. You've got the classic movie "Bladerunner". There are even more recent films such as "Sucker Punch" that are made in this style. There was a Billy Idol with the name "Cyberpunk"!
If you're one that likes this art style, you will probably love the look of Cyberpunk city!
The sound of this slot fills your senses quite nicely. It's very reminiscent of the sounds one would hear as they entered the dark, pulsating floor of a rave in the 90's. While most people aren't really hanging out and listening to this very much anymore, it does fit with the theme of this slot very well.
Pros & Cons
Plenty of free spins tossed around
Original theme
Development
Normally we like to tell you the developer of each slot, but we cannot find the information for this one. You can find it over at Bovada and Ignition, and we could be totally wrong, but there is a chance that this one was made in house by their parent company.
Unfortunately, with not a whole lot of information to go on here, this also includes the fact that we cannot find any RTP information and we love to tell you all about that. We just don't recommend any slots that are below a certain percentage, and as stated, we cannot find it for this one. Player beware!
Conclusion
As we had discussed up above, it's actually kind of hard for us to recommend this one with having no RTP information.
However, this is a slot that is obviously very aimed at a specific crowd. If you happen to be part of this crowd you'll probably love it!
One of the best things this slot has going for it is the fact that it is probably created by the parent company that operates both Bovada and Ignition casinos, both of which are among the best, most reliable and trusted casinos out there today. If you would like to see more about either of these, as well as the other casinos that we have tested out ourselves, just click on this link right here!