BONUS OFFER:
Live Casino Weekly Challenge
BONUS OFFER:
100% bitcoin Bonus
Many people grew up watching the adventures of one Mr. Indiana Jones doing his thing and though, "Man. Being an archaeologist must be awesome" but ultimately grew up to do something else to pay the bills. Well, here's your chance to live out at least one of those of those childhood fantasies!
BetSoft is bringing you "Lost Mystery Chests and giving you the chance to find not only some chests full of all kinds of dough, but there's also plenty of other Egyptian symbols, free spins, and bonuses abound just waiting to be uncovered as well!
Screenshots
Gameplay
While you're spinning away you'll be looking to get 3 matching symbols, (or wilds) going from left to right as with most other slots.
Lost Mystery Chests plays on a 3 by 3 board with 10 fixed pay-lines. This may be the only real complaint we have on this particular slot. Fixed pay lines are already not-so-savory, but only 10 of them? That kind of stinks.
Auto-play is a feature for those of you out there that want to do some spinning without the need for player input every few seconds. Also available for the player is "turbo play" if you'd like the game to speed up, and even turbo play combined with automatic play for those that want to just feed in some money and win some cash with absolute, minimal effort.
Egyptian Symbols
Mysteries, Scatters, Free Spins!
As we're sure you've already figured out, Lost Mystery Chests is taking place in a deep, dark tomb of unknown origin but may very well be taking place in one of the great Egyptian Pyramids given the slot symbols you're trying to get matched up.
One of the main symbols that you're going to want to come out on your spins is the actual Mystery Chests themselves. On every spin it is possible for 3-5 of these to come out on the reels. These will stay closed until the end of the spin at which time they will open and present you with the high paying Ahnks, Pyramids, Instant Cash Prizes, Wilds, or even Scatter symbols!
And speaking of Scatter Symbols, those will also be nice as you can get plenty of FREE SPINS PLUS INSTANT CASH when these come out! Here's what you can get just with those:
(All of the prize values shown are as if you were playing for 7.50 per spin at BitStarz Casino. These will change if you change your bet amount and may or may not change if you were at another casino.)
3 Scatters = 6 Free Spins + 37.50
4 Scatters = 8 Free Spins + 75.00
5 Scatters = 10 Free Spins + 150.00
And the cash still hasn't stopped coming!
During these Free Spins, there is a guarantee that 3, 4 or 5 Mystery Chests will come out on Each Spin!
And that's still not all!
While you're going on your free spins that you accrue, Free Spins can continuously keep getting re-triggered keeping the spins coming for longer!
And here's a look at the other symbols that'll come out as you're out on your expedition:
| Symbol | Match 3 Value |
| --- | --- |
| Pink Bird | 1.50 |
| Blue Scarab | 2.25 |
| Yellow All-Seeing Eye | 3.75 |
| Pyramid | 15.00 |
| Ahnk | 37.50 |
| "Wild Treasure Chest" | 187.50 |
The Wild Treasure Chest is mentioned right up there. This can come up and will substitute for any other symbols except for Mystery Chests.
Gameplay Video
Gameplay Feature
Now for one of the best parts of the digging around in the dirt that you'll be doing –
We discussed the Free Spins feature up there and the Mystery Chests Guarantee as we started talking about the gameplay and symbols.
If you're anything like us, you may feel greedy. You may just want that bonus feature and not have to work too hard to get to it. Well, good news. You can just buy your way into it! If you would like to just see that in action, take a look at the gameplay video on this page and skip to the 9 minute mark!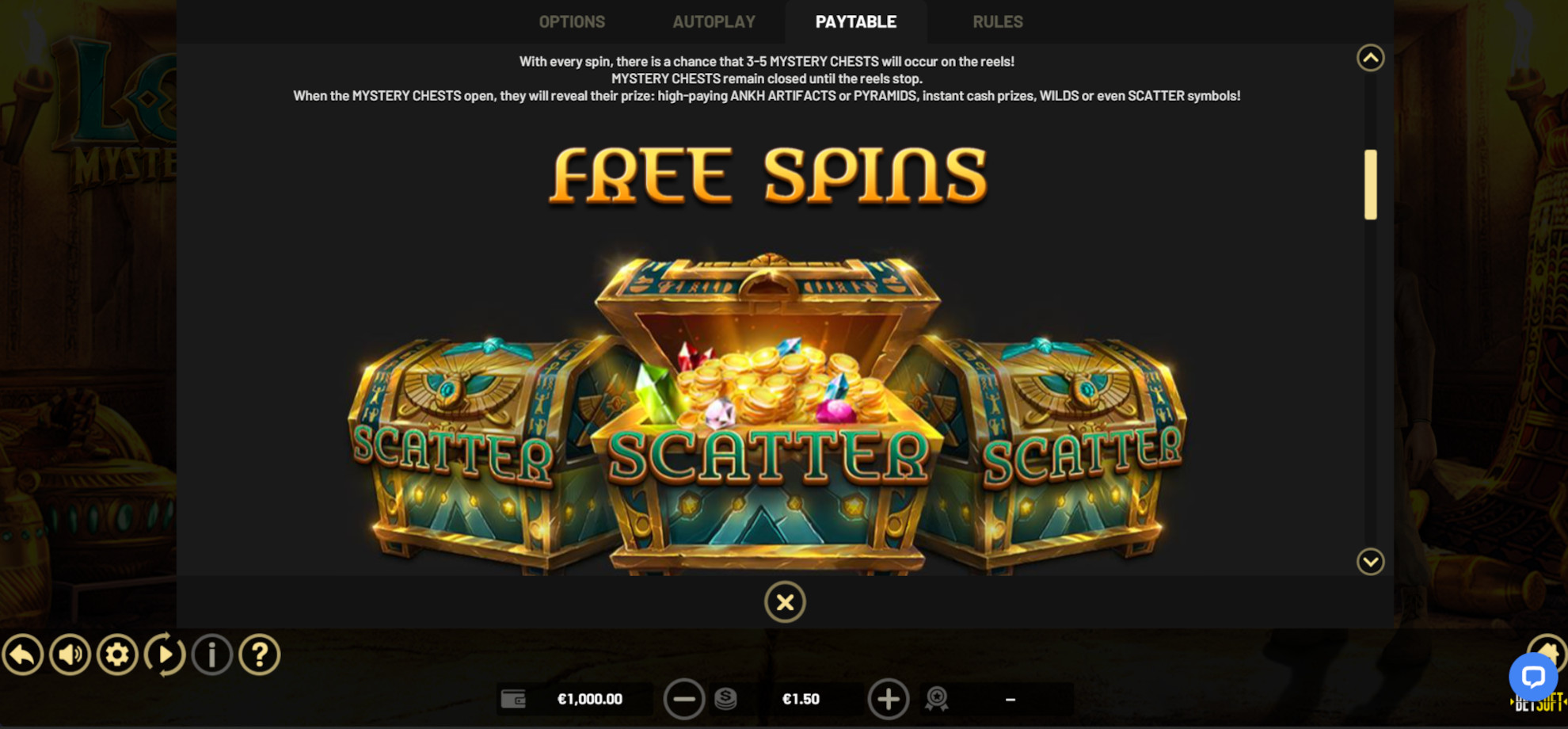 Visuals and Sound
Lost Mystery Chests may not be the flashiest slot to come around as of the last few years, but, it's still pretty nice to look at!
Visually, the game is nice and clear, the artwork work very well done. The background has some slight movement to keep the game fresh as opposed to the static image many other slots carry.
Now, nobody is going to say, "I want to go home and listen to the music that's featured in X slot," but the music and sounds are not bad at all coming from Lost Mystery Chests. All of the sounds coming from the slot are nice and clear and the music versus the sound effects can be turned on and off independently if you don't like one or the other.
Pros & Cons
Not shy at all with the Mystery Chests
Free Spins can be come by easily
You can buy into the feature for those in a hurry
Only 10 pay lines
Unknown RTP
Conclusion
"Lost Mystery Chests" isn't the greatest slot of all time, but we still highly recommend it!
We actually couldn't find the RTP for this one and that also kind of stinks, but the gameplay itself totally made up for that in our review gameplay.
During our said play we managed to win all kinds of cash with it's high volatility, there's no reason that some of it cannot be yours!