Maybe these days it would kind of be frowned upon to chug on a bottle of rum, strip down to your undies and go shout "Yo-ho-ho" at the neighbors, but that shouldn't stop you from winning some cash from Pirates Pick!
This new slot from WooHoo Games is sure to throw some booty in your chest along with free spins, multipliers, and plenty of hidden treasures to be found along the way.
Let's get a good look at this one here and get ready to go dig up some buried treasure!
Screenshots
Shwashbuckling Features
Pirates Pick is a 5×3 slot that plays out like most slots in that it pays out left to right with 30 non-adjustable pay lines.
While spinning you will have a minimum bet size of 0.30 and $90 per spin. This makes it so that it's not the cheapest slot on the face of the planet, but it's still affordable for just about everyone.
While playing you will also have a whole mess of Special Features coming at you to be aware of.
You already know that Pirates Pick is going to feature a Hook in it somewhere! In this slot, there are plenty of hooks that also represent the Wild Symbol. This will substitute for all of the standard symbols to help you grab some winning combinations. Note that this does not count as either of the two Scatter symbols.
No Pirate-themed slot is going to be complete without some Treasure Chests, and Pirate Pick really comes through with not one, but two chests that will bring you plenty of booty!
Both of the Chests act as Scatter symbols meaning that they do NOT have to be on a pay line together, they just simply have to be on the screen! These will both come with their own paytable, let's get a look at those.
First off is the Silver Chest. Getting at least three of these will get you a win and it's possible for many more to come out at once giving you a huge win!
(*Note that all of the prizes listed are as if you were playing for $7.50 per spin. This amount will go up or down depending on how much you would like to wager with each bet)
Match Three = $7.50
Match Four = $37.50
Match Five = $75
Match Six = $375
Match Seven = $750
Match Eight = $4,875
Match Nine = $15,000
And next up we have the Golden Chest! You're just not going to get as many of these as you would the Silver, but the pay-out is very, very nice.
Match Three = $15
Match Four = $187.50
Match Five = $37,500
As you can see from those two tables, man, there's a lot of cash to be won just from the Scatter Symbols! And we haven't even gotten to the Bonus Game yet!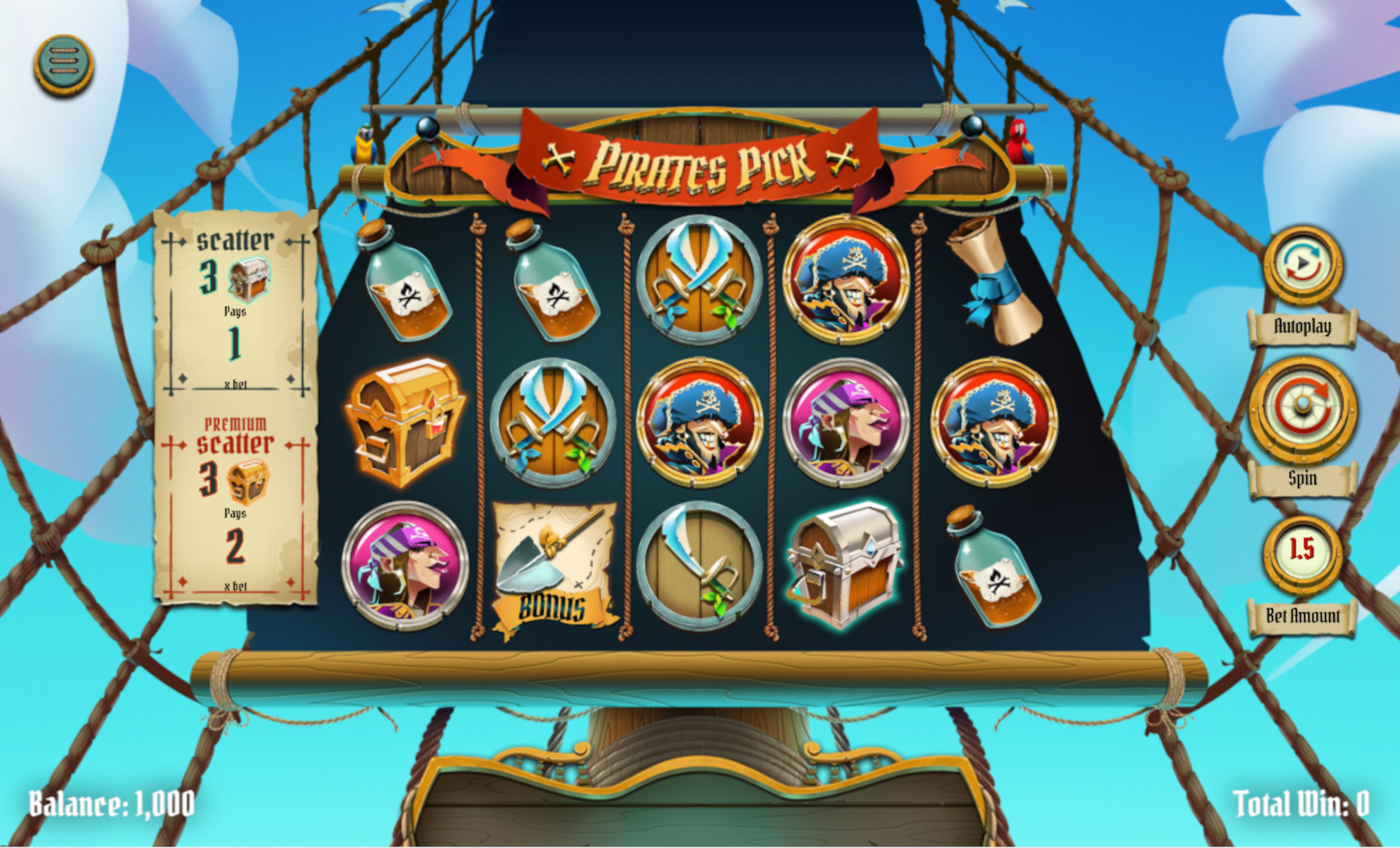 Bonus Game Symbols and FREE SPINS
X marks the spot with the Bonus Game over at Pirates Picks! These Bonus Symbols are represented by a Treasure Map and a shovel for you to follow and dig up some dough!
If three of these come out anywhere on reels two, three, and/or four, first off you will be given some Free Spins, but that's not all! You will also be taken to the "Pick Me" Mini-Game.
In this Mini-Game, you will be given 20 tiles to choose from, choosing 1 at a time with a prize shown under the tile. When you have chosen three of the same prize, you will be awarded the prize and a Bonus Multiplier which will be applied to the Free Spins that you have acquired.
Now there's even more stuff to get excited about here!
When a "Wild" Symbol is revealed during your Free Spins, it will substitute for any tile to make the highest possible winning combination as well as awarding you with another 5 Free Spins!
The Free Spins can be re-triggered in which case the same number of initial Free Spins is awarded and the multiplier will still be in place.
The Free Spins will end when you either use all of them or when the maximum number of spins (50) has been reached.
As we have said, your prizes will change depending on just how much you want to wager per spin. Let's get a look at the Regular Symbol paytable as if you were still playing for $7.50 per spin.
| Symbol | Match 3 | Match 4 | Match 5 |
| --- | --- | --- | --- |
| Wild Symbol (Hook) | $625 | $250 | $50 |
| Pirate (red background) | $250 | $125 | $25 |
| Lady Pirate (Pirateess ?) | $125 | $50 | $12.50 |
| Pirate (blue background) | $50 | $25 | $6.25 |
| Any Other Combination of Pirates | $25 | $12.50 | $2.50 |
| 2 Swords | $25 | $12.50 | $2.50 |
| 1 Sword | $12.50 | $6.25 | $1.25 |
| Any Other Combination of Swords | $6.25 | $1.25 | .50 |
| Bottle of Booze | $6.25 | $2.50 | $1.25 |
| Rolled up Treasure Map | $6.25 | $2.50 | $1.25 |
Pirates Pick Gameplay Video
The Sights and the Sounds of the Seven Seas
There certainly is no shortage of Slot Machines featuring a Pirate in one way or another, but this may be one of the best ones!
The graphics are nice and clear but also with a good amount of detail added to them. You can even see the age lines on the older Pirate!
The point being, visually, you could do a lot worse than Pirates Pick. The artists over at WooHoo did a great job and it looks as though some time was put into this one.
As for the sound, it's not bad, it's not life-changing. There's the generic Slot Machine music being played through the background along with the sounds of the Slot itself.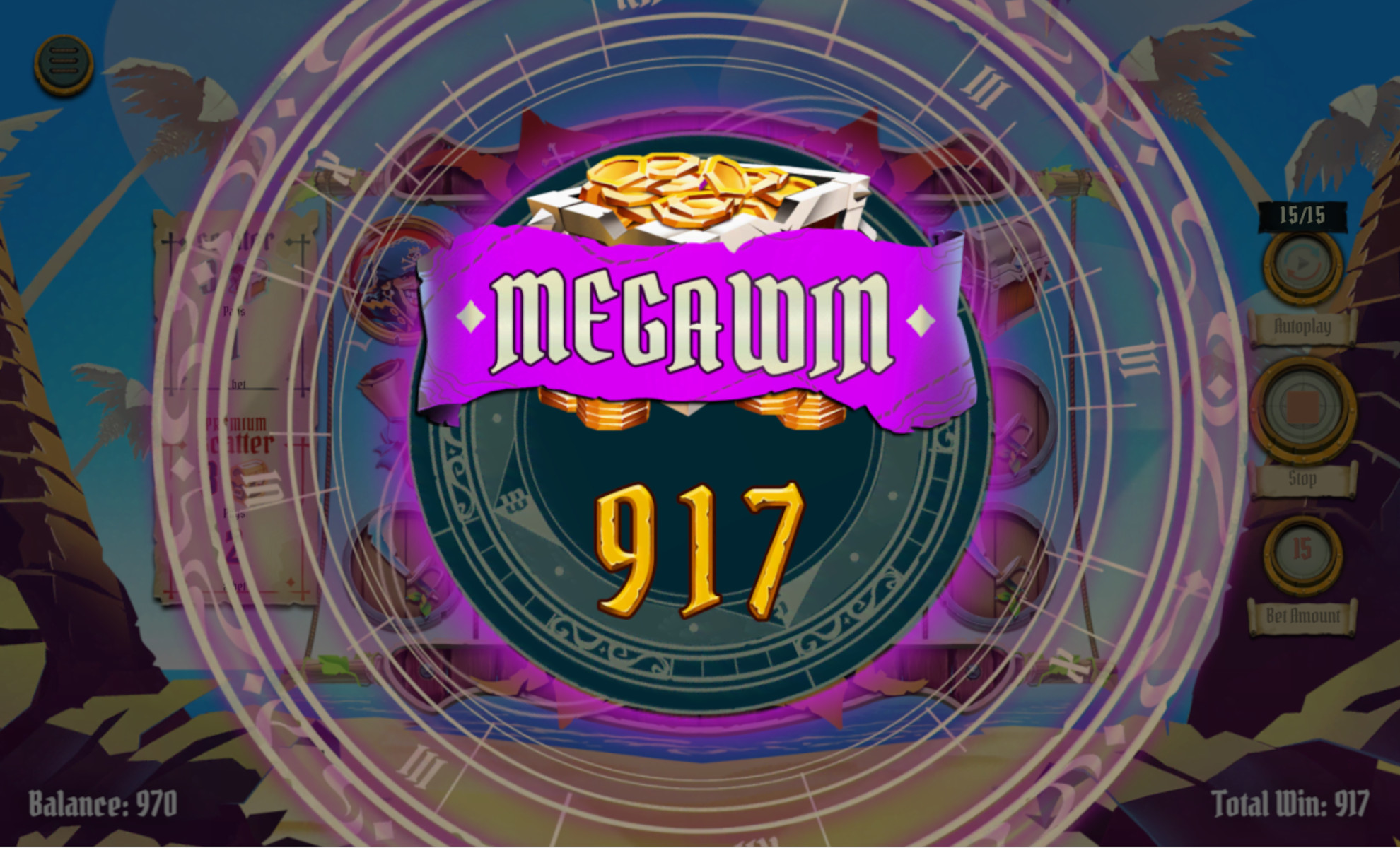 Pros & Cons
2 Scatter Symbols
High Paying Mini-Game
Modern Graphics
Conclusion
Pirates Pick is a fun game. It's a great way to throw some spins out there and take your chance at doing some winning!
The only real downside we can find is the fact that we cannot find the RTP for this game, but unfortunately, it's starting to look like this might be the new norm. Many slots don't seem to be publishing the RTP until the slot has been out for a bit.
Beyond that, this may not quite be getting out on the boat and cruising the seas, plundering and doing whatever you want – but it's the next best thing!