Are Slot Game Bonus Bets Worth Placing?
Are Slot Game Bonus Bets Worth Placing?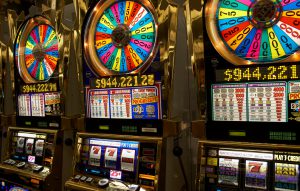 Slot games come with all manner of different playing formats and structures, and by opting to play at Microgaming software powered sites you are guaranteed to find every single type of slot game you can think of, and we can also guarantee there will be plenty of slot games you will never have come across before.
We are however seeing quite a number of Microgaming slots being launched online which give players the optional chance of placing a bonus bet which can be placed alongside the base game standard bet, and by placing this bet a range of additional features can be awarded to you.
In this guide we will pinpoint and give an overview on just which of Microgaming's many slot games do offer such an additional wagering opportunity, and will enlighten you to what benefits and additional features can come into play should you opt to place such a bonus bet wager.
Microgaming Slots Offering bonus Bets
One aspect of the bonus bet option you do need to be aware of is that the actual cost of placing such a wager is going to be different on each type of slot game you play, all of the information surrounding the cost of these slot game bonus bets will be found in the listing below.
Sonic 7's Slot – The Sonic 7's slot game from Microgaming is one of several slots offering an optional side bet known as the Power Spins wager, when you opt to place this bet you are going to be charged an addition three times your line bet per spin as the cost of the side bet option and for placing this wager the Wild symbols will become random multiplier wild symbols and can increase any win they help to complete by x8 their normal values.
Golden Goose Slots – You will be given the option of playing four different slot games at Microgaming powered sites which make up their Golden Goose series of slots, these slot games are revamped versions of some of their standard video slot games and include their Totem Treasure, Winning Wizards, Crazy Chameleons and Genies Gems slot games.
On the game play control panel of these four slots you will find a Golden Goose bonus bet button, and once clicked an additional 50 coins will be wagered alongside you base game staked amount and this additional stake will give you the chance of winning one of four different bonus games completely at random.
Hot Ink Slot – One of the newer Microgaming slot games on which you are playing, on each spin you put into play, 1024 ways to win is their Hot Ink slot. This slot offers a very high risk type of bonus bet which can be played at the end of any single spin of the slot reels you have made.
There is a special Respin display panel underneath each of the five reels and once you have played off a spin and before you set the reels into play for the next spin you are given the option of not playing the slot is the standard way but can, for a fee, spin just one of the five reels instead.
Be aware that the aim of you taking the one reel respin option is that you then spin in a set of reel symbols that form new winning combinations, and the cost of this bonus bet option can be huge depending on which reel symbols are in view on the other reels!
This Hot Ink slot is not the only slot from Microgaming which offers this respin bonus bet option, there are several of them now on offer on the slots that make up their Retro Reel series of slots.
Atomic 8's – One slot game which may appeal to you is Microgaming's Atomic 8's slot game, this is a slot on which there is a bonus bet option which is structured in a similar way to the Sonic 7's slot game mentioned above in as much as you can place a side bet wagering option which will cost you an additional stake of three times your line bet.
However, in exchange for placing that side bet you can then activate a both ways payout structure on the games 9 paylines, and as such you will be awarded a winning payout whenever a set of winning combinations form on the paylines from left to right or right to left.
However it should be noted that many of Microgaming's original video slot games such as their Crazy Chameleon's 5 reel, 5 payline slot have this both ways paying structure in play and there is no additional bonus bet required to activate that payout structure, so if you do like the way both ways slot games work then why pay that additional stake on the Atomic 8's slot when you can play the Crazy Chameleons slot and get that both ways playing structure at no extra cost!
Wheel of Wealth – If you prefer playing the three reel slot games as opposed to the video slot games then Microgaming's Wheel of Wealth slot may be right up your street. This slot is a fixed coin slot so the coin values are set on this game at 1.00, however putting into play three coins per spin you will see a bonus game being able to be triggered when playing the base game.
When play maximum 3.00 spins should you get the Spin button landing on the third reel on the payline then a spin a wheel type of bonus game will be triggered, however we have noticed the published RTP of this slot game is a high 96.04%.
So you should expect that payout percentage to be in play whether or not you play maximum coin spins or not, so that addition bonus bet option on which that bonus game can be triggered will not give you an increased winning chance, other than you get the chance occasionally to pick up a range of bonus payouts via the bonus game!