BONUS OFFER:
FREE Entry $202,100 Slots Tournament
Halloween and the Day of the Dead may have just passed us by, but that's not a reason that we cannot have a little more spookiness in all of our lives! Some of you out there live for a little macabre!
The Addams Family and The Munsters have proven time and again that there are those people that will gladly welcome all of the witches, werewolves, and vampires they can find into their lives. Enter Spooktacular Spins!
Screenshots
Here you've got witches, spiders, the stars, and the moon going along with the usually fanfare to fill your ghoulish appetite as you spin away toward that big win!
Spooky Business
Spooktacular Spins is not played on your traditional 5×3 board, or anything close to that. Rather, here you'll be playing on a hexagon board split into 5 rows with each of these 5 rows containing a number of tiles.
1st Row – 3 tiles
2nd Row – 4 tiles
3rd Row – 5 tiles
4th Row – 4 tiles
5th Row – 3 tiles
While with a more "traditional" slot, you would usually be looking for 3 or more symbols to line up from left to right. With Spooktacular, you're still going to be looking for that, but also just about anywhere diagonally going across any of the rows on the board.
Also, a pretty neat feature is that these symbols do not have to start at the beginning of any payline. Now, they can't start necessarily anywhere, but pretty damn close! See the paylines table below: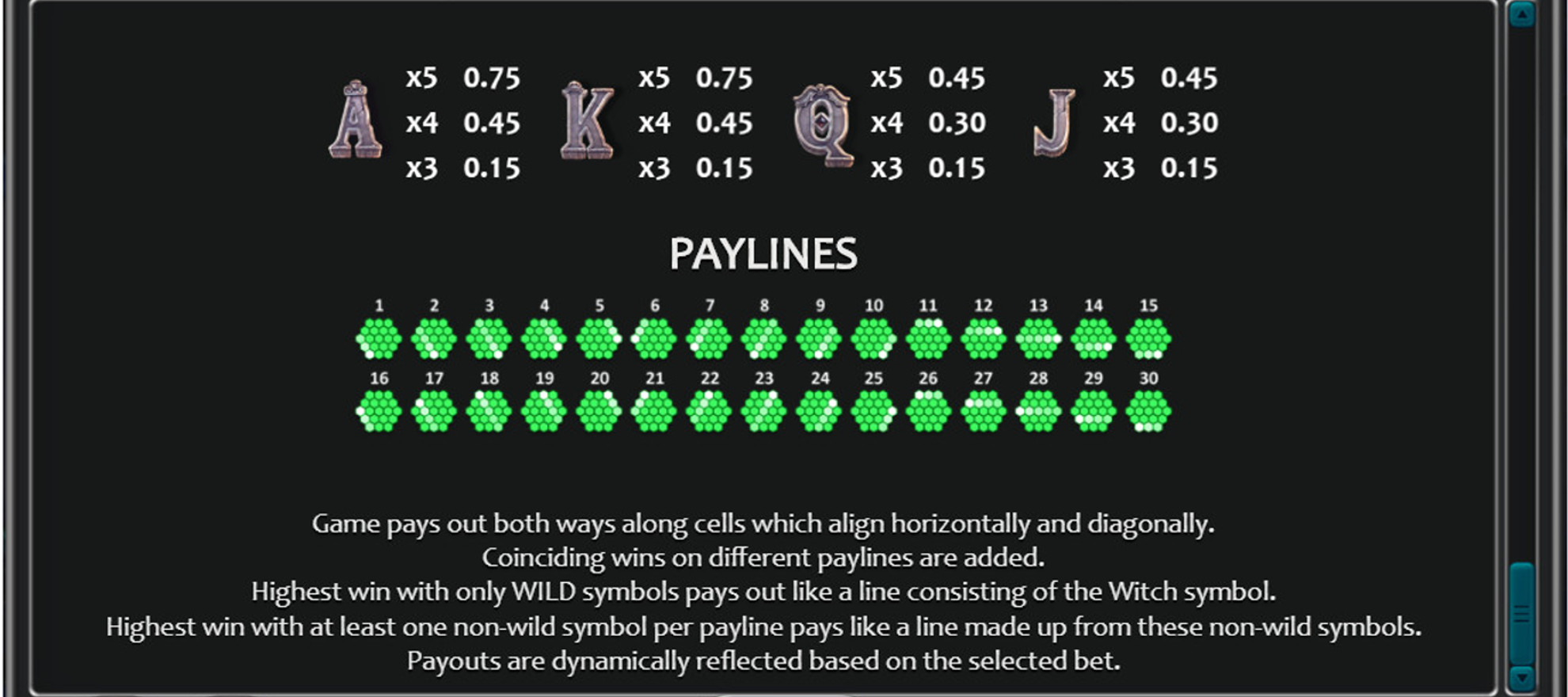 Spooktacular Spins
Once going for your spins, you are able to choose anywhere from 0.10 to $90 per spin while playing over at MyBookie, making sure that everyone can play from the complete and total beginner to the sharks with some larger bankrolls.
Once you've decided how much you would like to spend per spin, it's time to go!
Among our symbols to be looking out for, you've got these to look for:
The Witch
The Spider
The Moon
The Candy
The Star
and of course the A, K, Q, and J
and the Wild

.
Take a look at the following table here and you can see what the payout is for each of the symbols, (take note that the image was taken when the bets were set at $1.50. They'll get smaller if you wager less, and naturally much, much bigger as you wager more.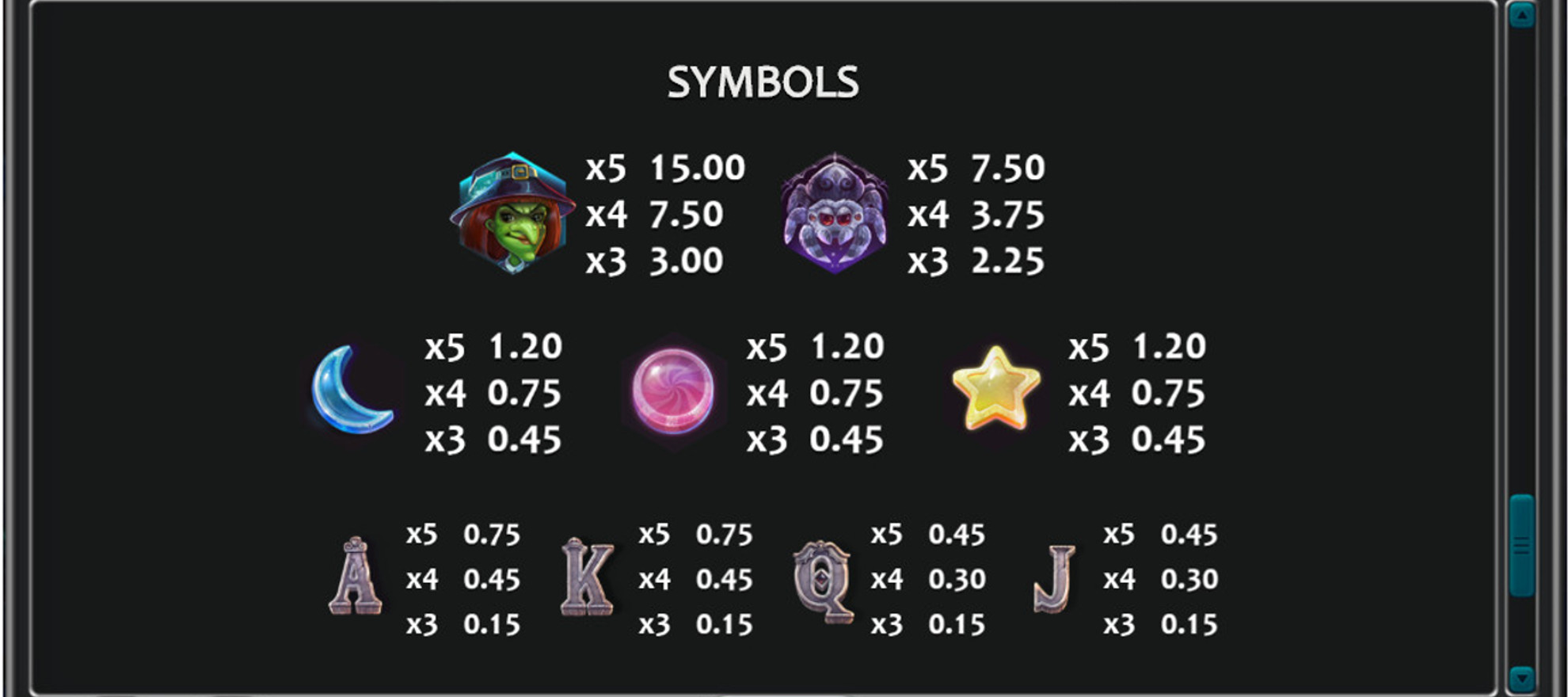 The wild symbol will take the place of any other symbol that creates a win and pays what the other symbols are worth. If one were to take a spin and get a group of just wilds, they'll pay out the same as the witch!
Spooky Free Spins and Spooky Multipliers
Coming out at random are a couple spooky little characters to look out for.
You've got the ghost
While the ghost flies around your board, moving each time you spin, he'll randomly make an effort to fill up an ectoplasm reservoir on the left side of the screen Once this reservoir fills, it's time for some free spins!
Once your free spins are all used up, the container empties and it's time to refill it again and go again for some more free spins.
You've got the bat
Like the ghost, the bat will fly around your board and randomly move about.
Whenever you hit a win that's "touching" a bat, this bat will turn into a multiplier boosting all of your winnings!
Spooktacular Slots Gameplay Video
Pros & Cons
Clean and detailed graphics
Wild free spins seemed to come up quite often
The Spooky Scenery and Sounds
This slot from Nucleus nails it in the looks and sounds departments.
Visually, the graphics are nice and clear. It takes place in a graveyard with plenty going on to catch the eye of the gambler that likes to wander a little. There's a zombie trying to claw his way out of his resting spot, a vulture that will make faces at you when he thinks you're not looking and plenty of other "I saw that!" moments going on. Look closely and you can even make out the warts on the witches pointed little nose!
The music carries the campiness of monster television shows of the past, for example, The Munsters or The Addams Family. May not be everyone's cup of tea, er, red wine in a goblet, but there certainly are games out there with much worse sound.
In The End
In the end, we're all going to end up at the cemetery anyway, may as well stop at this one on your way out!
With plenty of free spins to go around, high scoring multipliers, and wilds galore, you could do a lot worse than stopping on your way to your final place!