How to Choose a Progressive Slot to Play
How to Choose a Progressive Slot to Play
There are so many differently structured progressive slot games available online when you are considering giving some of these types of slots any amount of play time you can often become a little overwhelmed by them all.
However, below we have put together a relatively straight forward yet very easy to understand progressive slot game playing guide which is going to help you quickly and easily select the type of slot game to play based on your own unique playing strategy.
All of the progressive slot games listed below can be found at online casinos that utilize the Playtech, Microgaming or NetEnt gaming platforms and as such you will find no shortages of casino sites online that have these slots readily available!
Click here for the best micrograming slots and the ones not worth your time.
Progressive Slot Game Staking Options
One aspect of playing progressive slot games that you will have to keep in mind is that there are a huge and diverse range of stake options available on all progressive slots, and you should always play the slots that you are going to be able to afford playing and not be forced to play for too high a stake level.
There are several low stake slot games on offer and as such you will have no problems selecting one that is going to be cost effective to play and will give you a decent amount of play time based on just how much cash you have available in your casino account.
If you are looking for very low stake progressive slot games then do consider playing the Marvel Jackpot slots which are found in Playtech software powered casino sites for these games can be set into play for stake and coin values as low as 0.01, and even when playing for tiny stakes you can still have a chance of winning the progressive jackpots attached to them!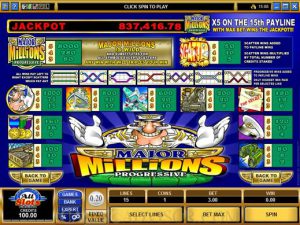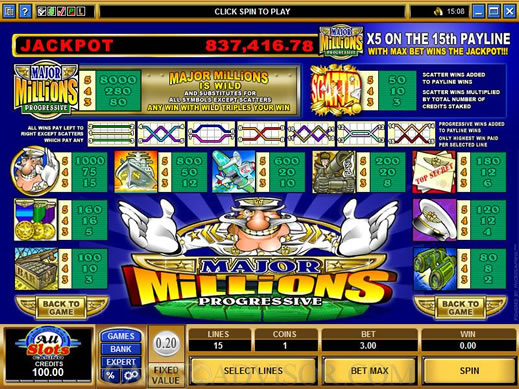 If on the other hand you are looking for fairly high stake progressive slot games to play then do consider playing slots such as Microgaming's Mega Spin Major Millions slot which offers a unique playing structure on which you can play six Major Millions slots all in one window!
There are plenty of progressive slots available that let you play for mid range stake amounts such as Microgaming's Cash Splash slot, Playtech's Beach Life slot and NetEnt's Mega Fortune slot all of which offer large progressive jackpots plus plenty of standard winning payouts can and will be awarded when you play them online.
The one thing that you need to be aware of no matter what progressive slot game you play is that the way the jackpot is going to be awarded to you varies from slot to slot, and if you are playing a progressive slot that can only award its jackpot to maximum bet players then that is how you ought to play them, by activating and putting into play maximum bet wagers.
Some slot games however can and will award you with jackpots irrespective of just how much you are wagering per spin and irrespective of the number of paylines you send into live play, and the following section will enlighten you on the differences of these different paying structures.
Random or Payline Based Jackpots?
Progressive slot games can award you with their jackpots in one of several different ways, many of the older slots will require you to spin in the jackpot paying combination on any activated payline or one selected payline, but some of the newer online progressive slots can award you their respective jackpots completely at random, and these types of slots are proving to be the most popular ones online.
As a random jackpot can be awarded at any time when you are playing one of the slots that have them available, you are going to find these much more exciting slots to play, and what makes most of them even more appealing and exciting to play is the way you are going to be awarded the jackpot.
Most random jackpot slots have more than one progressive jackpot attached to them and it is often the case that you will have to play some form of bonus game to determine which of the available jackpots that you are going to win.
Take the huge number of Marvel Jackpot slots available at Playtech powered sites for example, these slots will award a pick and match type of bonus game at random and when triggered you need to pick off, from a bonus game screen, one location at a time and as soon as you match three jackpot logo symbols you win the associated jackpot. There are four different sized progressive jackpots attached to the Marvel Jackpot slots and you can win one at any time and when playing for any stake amount!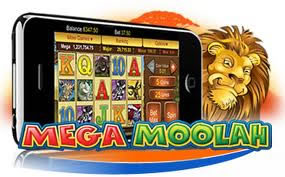 Microgaming also have their own range of random progressive jackpots and these are their Mega Moolah series of slots, you can be awarded a wheel spinning type of bonus game completely at random and you need to spin that wheel to discover which of the four different sized progressive jackpots you have won whenever this bonus game is awarded to you, and much like Playtech's Marvel Jackpot slots this bonus game feature round can be awarded irrespective of the stake levels you are playing the slot for!
Progressive Jackpot Slot Playing Tips
It doesn't matter what type of progressive jackpot slot game you choose to play online, there is no way of knowing when the jackpot is going to be won or just how high the jackpot will climb to before the jackpot is awarded.
But do keep in mind that it is very, very rare that a progressive jackpot is going to be awarded in a short period of time since the jackpot was last won on any slot game, and by only concentrating your playing efforts on progressive slots whose jackpots have grown in value way higher than the average amount of cash they payout that may give you an increased chance of winning.
Take a little time out to check just how much any progressive slot game you are thinking of playing has awarded via its jackpot payouts over the last year or two, and once you work out the average jackpot amount won and paid out then only play that slot when the jackpot exceeds that figure, whilst this is not a guaranteed way of winning a progressive jackpot the higher the jackpot rises the more overdue it becomes!