BONUS OFFER:
150 Monthly Spins
BONUS OFFER:
60% Bonus for non-Slot Games
BONUS OFFER:
Daily Promotions
Looking for a little something sweet to brighten up your day? Sweet 16 Blast may be just the thing you're looking for!
Here's a sugary-sweet slot that's sure to knock out that sweet tooth while delivering some big wins!
Screenshots
Sugar Dipped Sweetness
Sweet 16 Blast is a 6-reel, 5-row slot where the symbols will pay anywhere and comes with a ton of features for the player. While playing along you will enjoy the benefits of:
Cascading Wins
Multiplier Symbols
Bonus Bets
Buy Feature
Free Games
Let's get a closer look at some of these features so that you know exactly what you're in for!
Being a 6-reel, 5-row slot, you will see that you always have 30 symbols on the board. These symbols do not need to be in any order, or any row, or lined up a certain way. They just have to simply be there!
As you obtain a win, the winning symbols will disappear, and any symbols that are left will fall to the bottom of the screen with new symbols coming in to replace them. This also makes it so that you are able to obtain many, many wins on just one bet! If you do have more than one win on a single bet, your running total winnings will be displayed on the left-hand side of the screen and added when there are no more wins.
You can play along with the slot and trigger some free spins, that's always nice! If you're feeling a little on the frisky side or maybe just a little greedy and you don't want to wait you can just buy into the free spins feature!
This will cost the equivalent of 100x the current bet size and you would have 10 Free Spins coming your way! While those free spins are going you are able to pick up more spins. During our testing and gameplay we tried out this feature and ended up getting 60 free spins this way!
After you purchase the buy-in, the spins will start and play automatically and the Bonus Bet feature is disabled.
The Bonus Bet feature will allow the player to increase the odds of triggering free games by adding more Scatter Symbols to each reel. While you have this feature enabled, the current total bet will be increased by 25% and will remain active until the player manually turns it off.
If you use the buy-in feature, the bonus bet will be disabled.
We've talked about some Free Spins and we've talked about how you can buy free spins, (then they're not really free are they?). Let's discuss how you can just get free spins while playing.
Whenever you get 4 or more Scatter Symbols anywhere on the gameboard, 10 Free Games will be awarded. During these free spins, multiplier symbols may appear with a value ranging anywhere from 2x all the way to 100x. These multiplying symbols will stay on the board until there are no more cascading winning combinations.
While going through your free spins, 5 more free spins will be awarded whenever there are 3 or more scatter symbols appearing on the board.
The free games are played at the bet amount that was going at the start of the spin and cannot be changed until they're all over.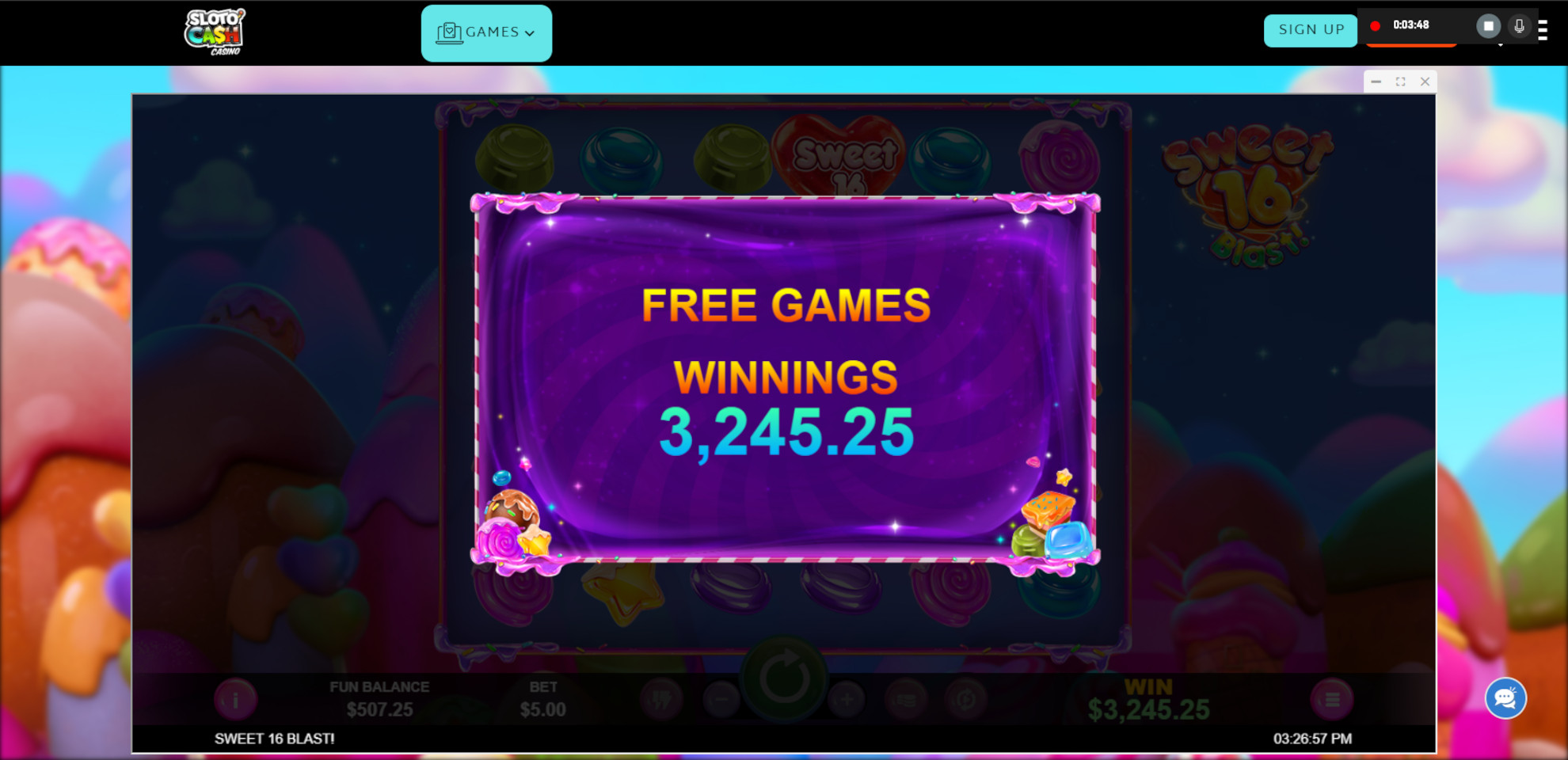 Super Sweet Gameplay
Once you get into Sweet 16 Blast and start spinning away, you're going to have a whole mess of symbols to be on the lookout for to rack up that cash! Falling into your gameplay area you will have these symbols with the following bet multipliers.
| Symbol | 12+ Symbols | 10 or 11 Symbols | 8 or 9 Symbols |
| --- | --- | --- | --- |
| Chocolate Ball | 1000 | 500 | 200 |
| Yellow Star | 500 | 200 | 50 |
| Cake | 300 | 100 | 40 |
| Purple Pastry | 240 | 40 | 30 |
| Red Gummy | 200 | 30 | 20 |
| Yellow Gummy | 160 | 24 | 16 |
| Blue Gummy | 100 | 20 | 10 |
| Green Gummy | 80 | 18 | 8 |
| Purple Gummy | 40 | 15 | 5 |
There are also a couple of other symbols to be watching for.
There's the Scatter Symbol, represented by a Red Heart. Spin 6 of these for your bet x2000, 5 for x100, and 4 for x60. You will also win Free Games when you get 4 or more of these.
Lastly, there's the Green Gummy Bear. This guy is a multiplier symbol and will only come out during your free spins.
Sweet 16 Blast Gameplay Video
Glucose Covered Sights and Sounds
So, we've made sure that you're aware of the theme of this slot. In reality, it's really not bad at all!
The graphics are well done, the developers of this slot are new to us, it seems to be a company called SpinLogic and they did great with this machine. The graphics are nice and clear, and the bright and colorful symbols show that they took some time to design this. We did our test playing over at SlotoCash and the game ran nice and smooth with no hiccups or glitches.
As for the sounds of Sweet 16 Blast, we personally love it!
You're still going to get the sound of "kachunk, kachunk, kachunk" of the symbols as they fall, but it's very quiet and unobtrusive. The wins that you collect as well as the Scatter symbols each have their own chime, but these are also on the quiet side.
For the most part, what you'll hear is a steady stream of a simple tune reminiscent of the older Sega 16-bit days which our older readers will remember fondly. Go play this and tell us that it doesn't sound like Sonic the Hedgehog running around and collecting rings throughout the countryside!
Conclustion
Now, something that we cannot seem to find is the RTP of this slot. Normally we don't like to send people off to a particular slot without this information, but to be honest, Sweet 16 Blast is just enough fun that we're playing it anyway!
There's really only one way to see if you're also a person that digs this machine, so go and check it out and see if you're one of them!