What is the Fish Catch Game?
If you enjoy skill-based online casino games with an arcade element, you are going to love Fish Catch.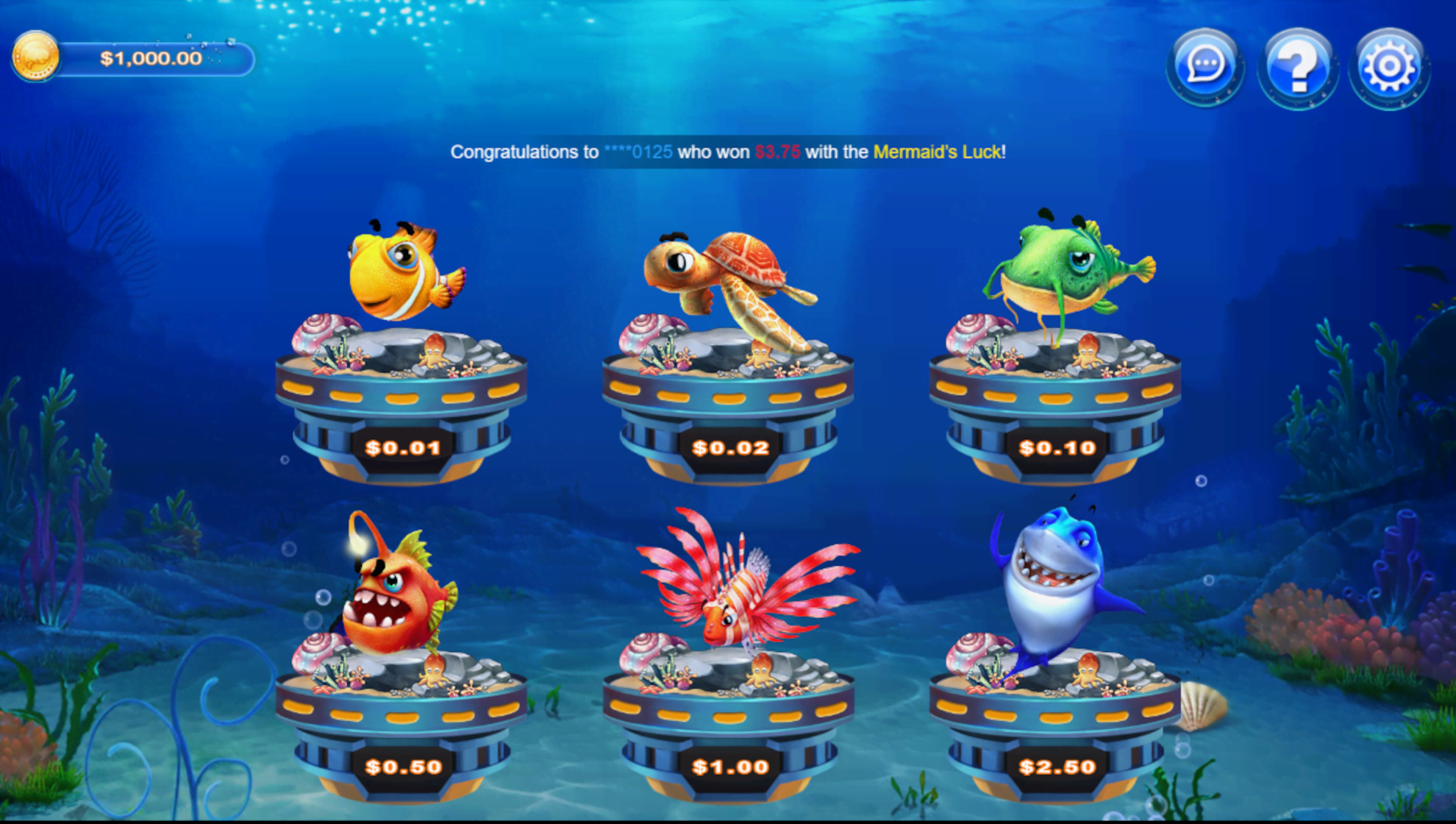 This exciting game is available at a few of our top recommended casinos, and is what is known as a "fish table game."
When you play Fish Catch, you fire cannons at fish swimming across the screen in an attempt to catch them.
It's up to you to select your challenge level. Shoot at an easy fish for a small payout, or shoot at a tough one for a chance to win big.
This article will introduce you to Fish Catch in depth, going over the rules and how to play. We will also explain more about fish table games in general and their history. Scroll down for the full guide, or check our suggested Fish Catch sites below to start playing now!
Where Can You Play Fish Catch?

Some people are still mistaking Everygame for a new casino, but it has actually been around since 1996, making it one of the longest-running casinos on the internet. It used to go by the name "Intertops." Now, that's a name you probably recognize, right?
Despite the name change, what Everygame offers is pretty much identical to what Intertops did, meaning great service, a big game selection, and awesome bonuses.
When signing up on Everygame to play Fish Catch and other exciting table games and slots, you can grab the Welcome Package, which includes up to $5,555 in Bonus Funds. This is split into a series of five match bonuses on your first five deposits. The last one is a $55 Free Bonus.
Other promotions on Everygame include the $30,000 Wheel of Fortune, the Mobile Award, Comp Points you can earn as you play, and some bonuses on some of the casino's promoted games.

We have not been working with Red Dog for nearly as long as some of the other casinos we recommend, but we have already been thoroughly impressed with their game selection, affordable deposits and withdrawals, and of course, their promotions.
When you join Red Dog, you can grab a 225% Welcome Bonus. There is also a "24/7 Bonus," which Red Dog says, "are available anytime: 120%, 135%, and 160% on your deposits of $30, $75, and $150 respectively. Wait, it gets even better: have extra 25% for Neosurf or BTC deposits!" Red Dog also offers bonuses for new and promoted games sometimes.

Roaring 21 is a solid, reliable online casino with a sleek modern site design. It does not have as many games as some of our other recommended sites, but those it does have (including Fish Catch) are amazing.
One of our favorite things about Roaring 21 is the sheer abundance of promotional offers this site features.
When you join, you can claim the 400% Slots Bonus + 100 Extra Spins offer worth up to $8,000. This huge bonus is available to claim two times. There is also a 300% Cryptocurrency Special, a 250% Slots Bonus, and a 100% Monthly Slots Bonus. Those are just a few of the promotions we see right now on Roaring 21. There are a whole bunch more, so check it out for yourself!

The same folks who operate Roaring 21 also run another great site called Cherry Jackpot. It has only been around since 2017, but it has quickly built a solid reputation.
You will discover that navigating the site is almost identical to navigating Roaring 21 and that Cherry Jackpot offers the same bonuses and promotions.

Like Cherry Jackpot, CasinoMax launched in 2017, and is operated by the same team that runs that site and Roaring 21. We can give it the same recommendation we do its two sister sites, as it is much like them.
Bonuses on this site include a 325% Slots Bonus up to $3,250, a 300% Crypto Special, a 100% Monthly Slots Boost, and a variety of other promotions.
What are Fish Table Games?
Fish table games are skill-based games where you shoot at fish in an attempt to win payouts. They take two forms:
Land-based
Online
Why are they referred to as fish table games? Because just like other table games at offline casinos, land-based fish games involve actual tables. The tables are themselves pretty amazing to look at, they are usually extremely colorful and beautifully designed. The top surface is a screen that shows the fish.
What you see on your screen when you play fish table games online on your laptop or mobile device is much the same as what you would see on the tabletop screen on a land-based fish table game.
As an added twist, fish games can be multiplayer. More than one person can play the same game simultaneously. They are all shooting at the same fish around the same table (at a land-based casino), which means if one of them snags a particular fish and prize, another player loses that shot. As a result, fish table games have drawn some comparisons to eSports.
The Rise of Fish Table Games
Fish table games have a fascinating history. While most online casino games have been around for many decades, that is not true for fish table games like Fish Catch.
The first fish table games can be traced back to around 2005 when they became popular in China.
It seems to have taken a while for fish table games to start getting big in the western world, but they have started to catch on (see what we did there?).
If by any chance you live in the state of North Carolina, you might be more familiar with fish table games than other US gamblers.
Why? Because they became the subject of quite a bit of controversy in that state. Basically, North Carolina bans luck-based games, but operators contend that their fish table games are skill-based, and therefore should be permitted.
If you look up fish table games in North Carolina, you can find years' worth of articles about the difficulties operators have faced.
For example, here is a 2022 article in the Wilkes Journal-Patriot about a moratorium from the Wilkesboro Town Council on new establishments for fish games in the town.
The article explains, "The legality of fish game tables, which are large scale table-mounted video games, has been challenged by state law enforcement and N.C. court rulings. Several municipalities have banned such arcades, ruling that the games are decided more by chance than skill, thus amounting to illegal gambling."
Despite the fact that this controversy has been going on for years, it does not look like operators in North Carolina are willing to give up on fish games anytime soon, nor should they. Fish table games have an increasing draw on gamblers in North Carolina and throughout the US and around the world.
One of the reasons for this popularity probably has to do with the shifting demographics at casinos.
Millennial gamblers do not share previous generations' fascination with slots and other games of pure chance. Having grown up with video games, they would rather play games that challenge them to apply some skill.
Fish table games offer the ideal mix of luck and skill elements along with a familiar arcade-style form of gameplay that Millennial gamblers and older players alike can enjoy.
Right now, we still are not seeing a lot of fish table games at US-facing online casinos. Fish Catch is among the first.
Reasons to Try the Fish Catch Game
As just mentioned, skill is a factor in the Fish Catch game and other fish table games.

If you have become bored or frustrated with games that do not feature skills, you will find it refreshing to play Fish Catch.

Play something unique.

If you have never experienced a fish table game, you are in for an entirely novel experience. Fish Catch will remind you more of a classic arcade game than of regular table games at casinos. In fact, if you are a fan of arcade games, you may also appreciate some of the nostalgic appeals of fish games and other arcade-style casino games.

Compete with other players to win the extra prize during each round.

It is exciting to know that if you play better than others, you might snag some extra cash. Rounds are fairly quick as well, so you can play through many of them pretty rapidly.

Delight in the beautiful graphics of the Fish Catch game.

You will love exploring each of the fishing zones and will have fun spotting every type of fish.

Easily adjust your risk and challenge level.

Whether you just want small, easy winnings or you want to go up against tougher fish, you can play at the level at which you are comfortable.

There are multiple ways to play the game.

If you want to manually aim at every fish and click to fire every bullet, you can. But you also can set a target and have the game fire for you if you are getting tired of clicking.
Fish Catch Rules
Now that you know more about fish games in general, let's explain how to play Fish Catch! We will begin by going over the game rules.
According to Everygame Casino, Fish Catch is developed by SpinLogic Gaming and is a multiplayer game.
Fish Catch features rounds.

In each round, you need to try and win as much money as you can by catching fish.

To catch a fish, you need to fire bullets at it from your canon.

The more bullets you fire, the more likely a catch is.

The rules state, "Only bullets that hit fish are counted as real bets."

Catching a fish results in winning the payout associated with that fish.

You can view the payout table to see how much each fish is worth.

We recommend you do this before you start the game, or you will have no idea which fish are worth the most.

As an example, a clownfish is pretty easy to catch, but its payout is just 1.10. A mermaid is the most challenging, with a 1,000 payout.

You can adjust the power of your bullets by increasing the default bet multiplier.
Finally, Fish Catch includes a special feature called "Mermaid's Luck."

Mermaid's Luck triggers at random when you play and this results in a wheel of fortune which spins and lands on a random multiplier.

The multiplier x your current bet is the payout you receive.
If you decide that you do want to go and check out
Red Dog Casino
, don't forget to also use the code "FORTUITY" when making a deposit. This will get you a
230% Bonus
on your deposit as well as
45 Free Spins
that you can use with the slot "
Neon Wheel 7's
"!
And make sure that you also take a look at the article, "
Understanding the Math for Online Casino Comp Programs
" and really know what you're getting into!
How is Luck Involved in Fish Catch?
At first glance, it is easy to mistake Fish Catch and other fish table games as being purely skill-based.
After all, you point and shoot. If you aim well and your reflexes are swift, it may seem to follow that you should be able to walk away with winnings every time.
The reason this is not the case comes down to this rule:
"The more bullets shot at the same fish, the greater the chance of capture."
The key word in this sentence is "chance." The bullets do not damage health in the reliably predictable way they would if you were playing a regular video game. Each bullet that hits simply offers you a chance at catching it.
In other words, there is no rule or guarantee anywhere that states, "If I hit this type of fish with exactly 10 bullets, it will always be caught." You do not know for sure how many bullets might be required to get the fish.
That explains why fish table games are indeed gambling, as authorities in North Carolina assert.
How to Play Fish Catch
Now that you understand the basic rules of Fish Catch, let's explain step-by-step how to play. There are a few different approaches you can take, so we will be going over all of them with you in detail.
When Fish Catch first loads, you will see a screen that shows you six different options.

Each displays a fish that gives you an idea of the types of fish in that zone and their difficulty levels, and each includes a default bet multiplier.

So, for example, if you pick the one with the picture of the clownfish that is labeled with $0.01, that will take you to the area/zone with the easiest fish.

If you choose the one with the picture of the shark that is labeled $2.50, that will take you to the toughest area with the hardest fish.

Remember, the easiest fish are the lowest value ones. The hardest fish are the highest value ones.

Choose any of the options to be taken to that zone. You can always choose a different zone later.

You will now find yourself looking at an underwater backdrop.

As you watch, fish will start swimming around across the background.

At the bottom of the screen, you can see your default multiplier. Let's say it is $0.01. You can click the "+" and "-" icons on either side of it to raise or lower the amount.

Alternatively, you can click on the different cannons to the right, which are labeled with the multipliers x1, x2, x3, x5, and x10. This will also adjust your bet accordingly.

Once you have picked your bet size, you can start shooting.

Just move your mouse around the screen to aim the cannon. Click on a fish, and the cannon will shoot it.
Remember, to get a fish, you may need to hit it a number of times. You can keep track of how much "damage" you have done to the fish by looking at the red health bar that displays the fish you are shooting.
Keep in mind that the fish are constantly swimming on and off the screen. So, you need to try and catch the fish you want before it leaves the play area. If the fish swims off the screen, its health bar will reset by the time you see it again.
That means if you are trying to catch one of the harder, high-value targets, you will need to be ready to click-spam it.
You will notice that if you increase your bet multiplier, some of the fish become transparent. The reason why is that the value you are wagering is higher than the value of those fish.
Thankfully, you do not have to worry about your bullets striking these targets. The game is designed to ignore them.
What happens if one of the bullets you fire hits the edge of the screen? You will see it ricochet. It should then strike a fish.
In the lower left, you can see how much money you have. Eventually, the round you are playing will come to an end. A new round will then begin.
The multiplayer aspect of the game may not seem obvious when you are playing it. But it is the reason why the game features rounds. After each round is complete, the game identifies the top winner. That person receives an extra payout of 0.2% of all the bets that were placed in that round.
Special Features in Fish Catch
As you are playing, you will notice that there are a few additional controls on the right-hand side of the screen. Let's explain what these do now.
Fish Finder:

In the upper right-hand corner of the screen is the Fish Finder. This is where you can select a different zone if you want to try easier or harder fish.

Auto Aim:

The icon for "Auto Aim" is on the right, taking the form of a reticle. If you select this feature, you can lock onto a single target fish. All of the bullets will launch at that fish, even if you stop clicking until you catch it or it leaves the screen.

Auto Fish:

Right below the icon for "Auto Aim" is the one for "Auto Fish," which looks like a little robot with a fish in the center of it. You can use it to select a particular type of fish to automatically target.

Fish Info:

This icon below "Auto Fish" has a picture of a magnifying glass with a dollar sign in it. You can use it to toggle the health bars for all of the fish on the screen simultaneously on or off.

Chat:

If you want to talk to other players, you can click on the chat button in the upper left-hand corner of the screen, which has a pictogram of a dialogue bubble in it with three dots in the middle.

Settings:

In the upper left-hand corner of the screen, there is also a gear icon you can click on to pull up the settings. You can use the settings to adjust music and effects for the game.
Strategies for Playing Fish Catch
We see a lot of strategies out there for playing fish table games, but some of them are not really applicable to Fish Catch online. For example, some people suggest that you shoot only when fish are in a school, not by themselves. But with the easy targeting in Fish Catch, this is not really relevant.
Likewise, you do not need to worry about wasting large bullets on small fish, as this game automatically prevents you from doing that.
Here is what we do suggest:
Avoid long ricocheting shots.

You want to target fish as directly as possible so that you do not waste time while the bullet bounces around. The trick is to get as many shots in as quickly as you can.

Target fish and start shooting as soon as they appear.

The moment a fish is on screen, you should start doing damage. If you wait too long, it becomes more likely the fish will escape before you are able to get it. This is most important when you are shooting at hard fish that take more bullets.

Choose your targets rapidly.

One of the skill aspects of the game is thinking on the fly after you have caught a target. What fish will you fire at next? You will have to decide based on the type of fish, its potential payout, its location on the screen, the direction it is moving, etc. But you do not have time to carefully think through all of these considerations one by one. You need to be able to weigh them all simultaneously at a glance and make as close to an instantaneous decision as possible (we should note this is only relevant with respect to the multiplayer aspect of the game).

Keep an eye on your bankroll, especially when auto shooting.

With so much going on at all times on the screen, it is easy to get caught up in the action and forget to check your bankroll. When auto-firing the bullets instead of clicking the mouse for each, it is extra easy to lose track of how much you are spending. So, make sure you periodically glance down at your bankroll to prevent accidental overspending.
Play Fish Catch Now
Now you know all about Fish Catch, the exciting fish table game you can play online. If you are ready to put both luck and skill to the test, Fish Catch can offer you many hours of fun. To dive into the action and shoot to win, click any of the links in this post to open your account and start playing Fish Catch.
And Make Sure That You Also Check Out These, Not-So-Traditional Games As Well!